With tomorrow being Valentine's Day, many people are thinking back to how they met their significant others. One thing that stands out is how pervasive digital channels have become as a wildly popular way for people to meet and even fall in love. Years ago no one would have thought that connecting with people for dating and developing relationships was going to facilitated so much by technology.
Today, millions upon millions of people turn to online dating sites on a regular basis – and that number only increases as we approach February 14th. Since Dynatrace helps organizations understand and optimize digital performance every day, we thought we would have a look dating services and specialty retailers to see how well – or poorly – their web applications are doing from the end user perspective (because performance must be seen/measured through the eyes of the user).
The data we collected was collected via the Dynatrace Synthetic Network, which proactively tests each site from real browsers located in key geographies across the US.
Dating Services
Let's look at some of the online dating services leading into Valentine's Day.  We can see some of the top performers are Chemistry.com, JDate and OK Cupid.  Some of the bottom performers are SpeedDate, howaboutwe.com and Zoosk.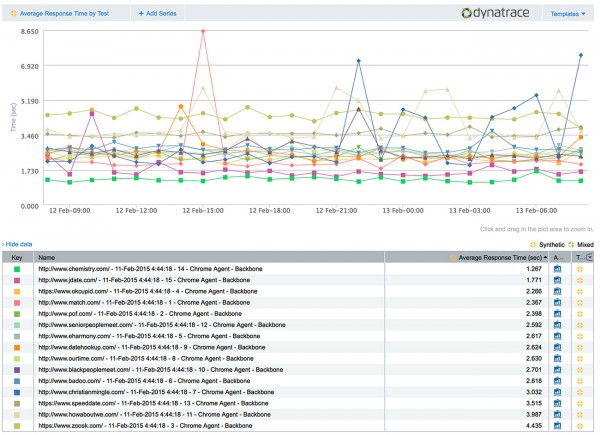 We often get asked why do we look at performance when reviewing these sites.  Performance (how fast a site loads) is one of the primary indicators as to the health of an online application.  Slower applications are more likely to have more frustrated users.  User frustration leads to higher rates of attrition or abandonment, drops in revenue, higher support costs and damage to the brand.
Online Dating Services are highly competitive and each site has to excel if they are going to succeed.  For example, SpeedDate.com appears to be doing everything right in terms of not delivering too much content, not having an overly complex page (network round trips) but are still in the bottom three performers.  Why is that?  In this case it is because they are having issues with their SSL implementation.  Security is obviously a major concern for Online Dating Services, but in this case their strategy is causing a performance bottleneck which is impacting end user experience.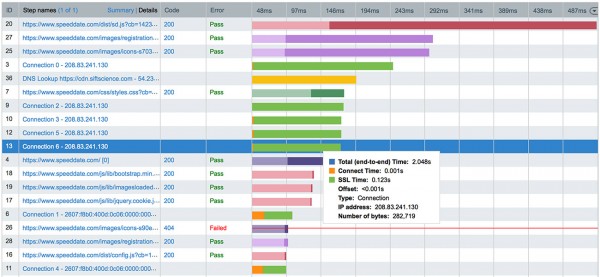 Valentine's Specialty Retailers
Let's switch focus and have a look at the Valentine's Specialty Retailers.  This is a mix of digital services which sell flowers, candy, gifts, etc… which are most often used during Valentine's Day.  In this case we can see that American Greetings, Red Envelope and Things Remembered are the top performers in this category.  Performers near the bottom are 1800Flowers.com, Ashford.com and FTD.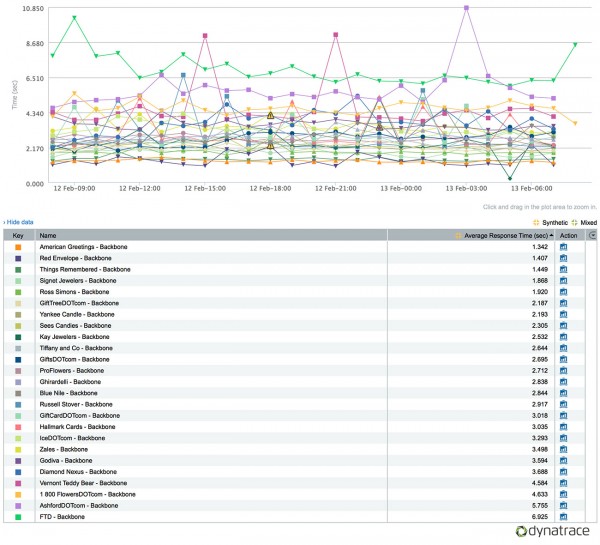 When we look at these numbers we like to know how the performers at the top got there.  As we have commonly seen, the sites at the top are highly optimized for performance.  Their sites are typically less complex (fewer objects and connections), not delivering too much content (byte count) and utilize fewer third parties (social media, ad networks, analytics, etc…).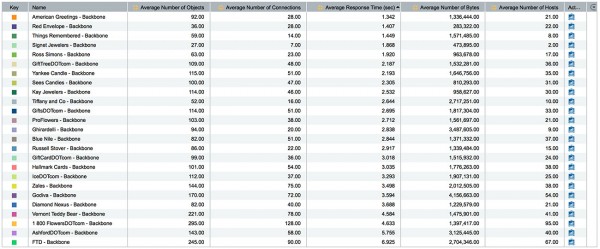 In contrast, when we look at the bottom performers we see sites making over 100 hundred connections to the server every time a page is loaded, or requesting over 200 objects (CSS, Javascripts, Images, etc.).
Now those issues are just on the front end, what about on the server side?  We look at metrics like First Byte Time to give us an indication as to how long it takes the server to respond to requests.  In this case the bottom three performers had an average cumulative First Byte Time close to 5 seconds, whereas the top performers were 0.5 seconds on the server.
So what does this mean to you or me?  If you are rushed and need to order a gift or flowers fast (present company included as we always seem to leave this to the last minute) going on to a slow site to order flowers or a gift can be an exercise in frustration.  Would I stay on a site that is slow? The numbers tell us that if you wait more than 4 seconds for a page to load you're 33% more likely to abandon that session and look elsewhere for that product or service.  Would I use a slow frustrating service in the future? Probably not. Would I recommend that brand to someone in the future? Probably not.  Would I take to the great loudspeaker of our age, Twitter, and voice my displeasure in that online service? Probably yes.
The bottom line for retailers and online dating sites for Valentine's Day?  Performance matters — your hearts (and revenue) will be broken if you don't show your users some love.