Perform 2017 finished as it should: with all 75 presenting customers and partners back on stage to receive a standing ovation. That's what this global event is all about –  customer networking, shared learnings, and proud moments that showcase how Dynatrace's innovative stride makes customers' lives easier and more successful.
"This is a gathering of the Dynatrace family," one attendee aptly summarized on social media.
Fast forward one week and here I am proudly reflecting on the largest digital performance management conference in the world. For those that couldn't join us, or those who'd like to compare notes, here are some of the highlights that have stuck with me:
 We all face the challenge of re-invention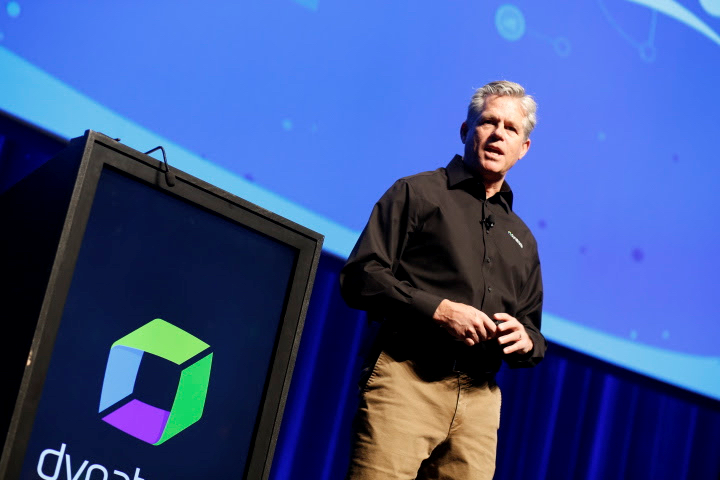 Dynatrace CEO, John Van Siclen, set the tone for Perform 2017 by opening main stage with a poignant discussion about the big challenges facing enterprise IT today.
Cloud and microservices – Rapid adoption and growing complexity. How do we manage the migration and the end state?
DevOps – How do we get faster and better and more confident with each new release?
Customer experience – The ultimate competitive differentiation. How do we tie back end IT metrics to the bottom line, at all times?
Moving beyond a simple discussion about the complex nature of these trends, John brought home the point that new challenges are a constant; something we must always address with new strategies and re-invention.
That's why Dynatrace set about defining a whole new way of monitoring four years ago.
We saw these mega-trends on the horizon and realised that an existing APM approach wouldn't suffice. So we disrupted ourselves, spun off a separate business and created our new AI-powered, full stack, automated platform that's growing at a rate of 1400% (just in this last quarter).
This story about our own re-invention and historical role in the APM space resonated at the event and featured in Peter Cohan's article on Forbes about Dynatrace's APM leadership history: "This surprising rival beats Cisco's AppDynamics, New Relic in $2.6 Billion market"
Ground breaking announcements
My biggest concern leading into Perform wasn't what we would announce, but whether we had too much to announce. We had four solid pieces of news to share with the world, and we wanted each one to have their time in the sun:
Davis + AI
It's fair to say that we all had a bit of fun with Dynatrace's human interface "Davis®" throughout Perform. Whether in the demo lounge, on stage or in a media interview, "Davis" was put to work as the human-like interface to Dynatrace's AI-powered platform. Accessed via Slack or Amazon Alexa, "Davis" lets our customers extract precision APM data and insights using simple voice or chat commands – and they simply love it.
As Jeppe Lindberg, from CooP (Denmark's largest retailer) testifies: "I've never seen anything like this before. It's just like you're talking to another human IT team member, except a person would never be able to detect and bring to the surface root causes with such speed and precision."
Quotes like these were hugely satisfying to hear, backed up with some stellar global media coverage in Forbes and The Australian
UFO
Next up, we announced the availability of the Dynatrace UFO – a device that helps DevOps teams visualize the health of deployment pipelines. Now available for pre-order the UFO lights up when issues are detected in application code – perfect for distributed teams wanting to improve every stage of the development process.
Here is Andi Grabner — dressed in Lederhosen — announcing the UFO  on the main stage at Perform: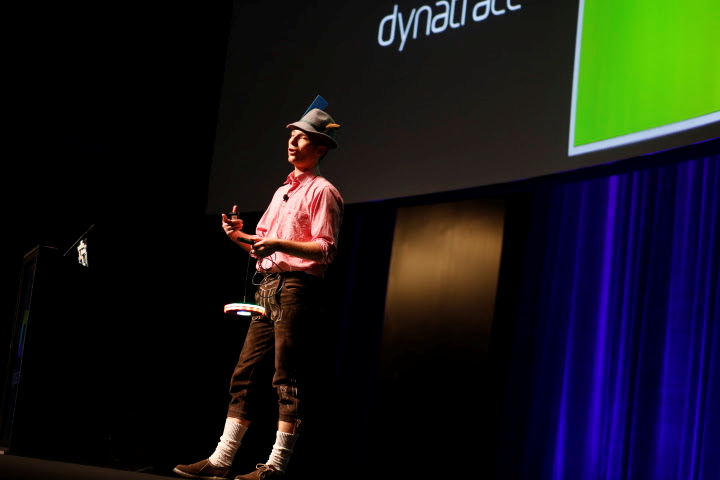 The Register in the UK was one of several media outlets who drummed up coverage of the UFO news.
IOT Open Agent and SaaS Vendor Real User Monitoring
As apps extend into IOT devices, the challenge of being able to troubleshoot performance issues increases exponentially. As such, there's a surging need to monitor devices on a much deeper level – and not just the device itself but the application behaviour of the device and how it interacts with cloud services.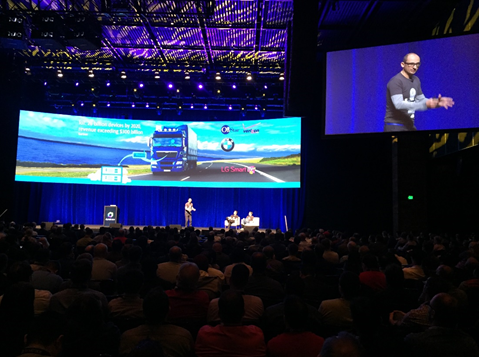 This opens up a whole new world of complex monitoring needs, and one we're heading off at the pass with our Dynatrace OpenAgent. (Stay tuned, we'll have our CTO, Bernd Greifeneder blog about this one in more detail soon.)
In the same breath during his opening presentation, Bernd also announced our SaaS Vendor Real User Monitoring capability, which addresses the need for businesses to measure and monitor how real end users are accessing SaaS software remotely.
Combined, OpenAgent and SaaS Vendor Real User Monitoring, underscore our mandate to give our customers the deepest level of insight into every user, every app, everywhere.
Visually Complete for real users and synthetic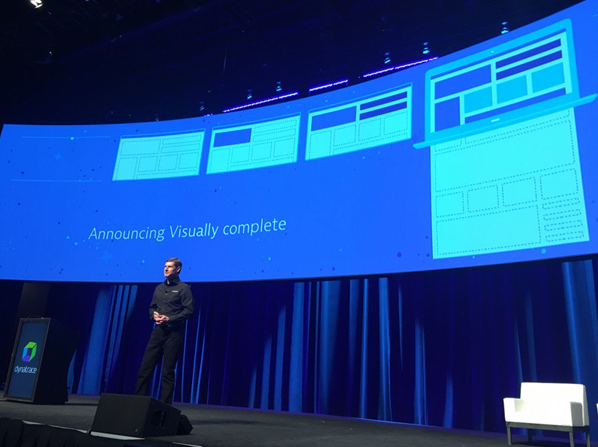 Finally, our head of DX, Marc Olesen (above) announced our game changing user experience metric – Visually Complete – which will detect how fast a web app renders above the fold on a user's screen. In an industry first, Dynatrace will be integrating this into both real user and synthetic monitoring, which means teams can correlate real user Visually complete performance against metrics like bounce rates and conversions.
As retail giant Neiman Marcus said at Perform: "This is the magic metric which we have been looking for, for the customer experience. This is a game changer for Dynatrace."
Customer Stories
Last, but not least, I have to sign off by mentioning a few of the customers who gave us incredible support last week at Perform. As I said in my opening, they are the lifeblood of this event.
Discovery
I took to the stage in a Q&A format to interview Andre Nell and Lester Hill from Discovery on the main stage. Their quotes about how Dynatrace impacts their business, are some of the best I have ever heard:
Westpac
The Westpac presentation felt like a camp fire story. Richard Jarrett shared candid insight into the company's recent digital transformation, which saw them move to faster release cycles and a much more sophisticated, seamless customer experience. I particularly loved this quote (see below) about how Westpac felt Dynatrace's drive for innovation aligned with their own vision for digital greatness.
You can read more about the Westpac case study here, on ZDNet.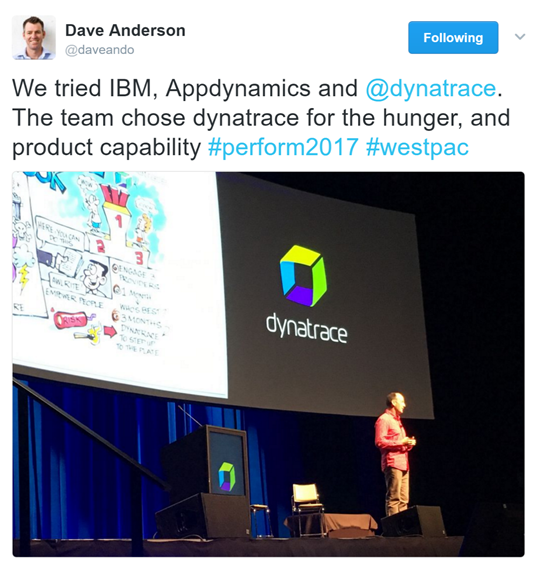 CooP
I was personally involved in this story prior to the event, and feel that 20 minutes on stage doesn't justify the significance of the story.
Using Dynatrace, the CooP team lives to tell the tale of how they avoided a huge potential outage on launch day of their new loyalty member app. Our friend and customer, Jeppe Lindberg, says that Dynatrace saved the retailer from having to possibly close 1000 stores.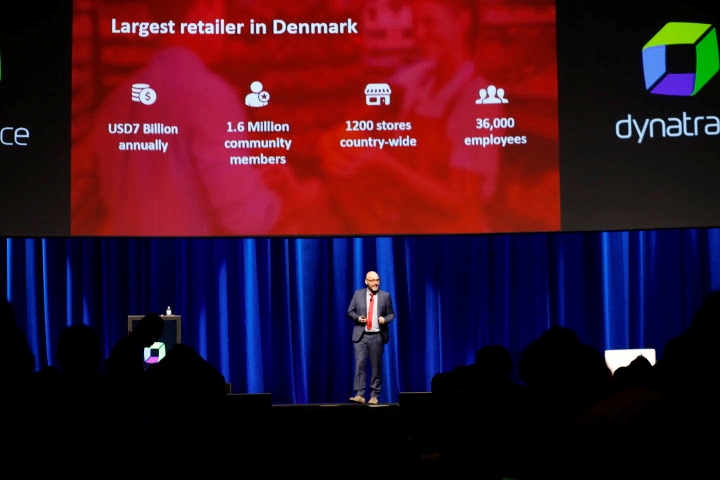 But the CooP story goes beyond problem resolution and into "davis", and integration with Azure and ServiceNow. Stay tuned for a case study video we recently shot with Jeppe (we'll update here when it's live).
Until next year…
This is possibly one of the longest blog posts I've ever written so I'll make the ending short.
A big thanks to everyone who contributed to our great event. We couldn't have done it without you. And for anyone keen to take part next year, we're already in planning mode so please get in touch with your content ideas. We'd love to hear from you.