Mark Tomlinson from PayPal was a man about town at Perform 2018.  You could find him discussing the new landscape of IT Complexity on mainstage with BARBRI, captivating attendees during the enterprise monitoring breakout session and if that wasn't enough, his podcast, PerfBytes, was broadcasting live from our Marketplace. That was more than enough to make his time at Perform 2018 memorable, but it may have been the Paul Stanley sighting that put the icing on the cake!
During Perform 2018, many of our customers talked about their digital transformation journey.  Many of these journeys involve adopting cloud technologies to take advantage of automation, scalability, speed, and faster delivery of applications.  The pace has never been faster for organizations today and the view into performance must be continuous and automated.
During the enterprise monitoring breakout session, Mark spoke to a full-house, where he discussed the success he's had with fully automating the performance feedback loop and providing it as a self-service to developers.  Most things in life are never a one-time thing and don't just happen. Let's take a marathon, for example.  Most people don't wake up and think, I'm going to run 26.2 miles today.  You train – continuously – and that training leads you to peak performance the day of the event.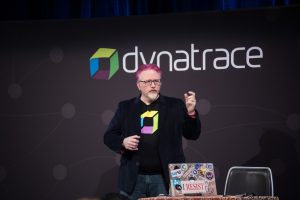 This "marathon mindset," should be embraced by your corporation. Performance isn't a one-time thing you check on, or get a snapshot in time from a week ago.  It's real-time, continuous, and data driven, to make the right business decisions for your overall IT health.
PayPal successfully gains continuous performance by analyzing each point of the lifecycle. From code, to testing, to logs, they have insight at every layer and can analyze and make decisions, always based on data – no guesswork or hypothesizing.
To gain continuous performance, Mark relies on these 3 tools for their typical performance testing team:
Unattended automation
Data trending/visualization
Test notifications
When it comes to data trending/visualization, Dynatrace provides PayPal deep data-driven metrics that easily integrate into their existing DevOps processes.  Mark said he loves the layer breakdown and drill down capability and gets the following benefits*:
Connection to a time-series database (e.g. InfluxDB)​
Separation of dashboards by app​
Combined dashboard for all traffic​
Drill-down capability: digging deeper into metrics​
Consistent coloring, helps to remember metrics​
Advanced features for viewing timeframe and refresh
Advanced metrics querying, granularity and aggregation
*Using Dynatrace in conjunction with Grafana Labs
Mark ran out of time before he could leave us with some of his best practices for creating a continuous performance model, but here are some of the questions he recommends you ask before you get started:
Are your stakeholders/customers ready for continuous feedback? How will they react? Will they value faster feedback? ​
Do you use information radiators/visual mediums to deliver the performance trends visually? ​
Do you have notification systems (email, ChatOps, Slack) for communication to results and trends? ​
Are your test environments configured to support unattended, non-stop test runs? ​
Do you have the tools and licenses ready for more executions? ​
If you answered yes to the above, Mark recommends starting off slow and suggests you consider just 1-day a week to run non-stop testing.  It takes time to improve, start with dev, then add production, but in the end, the adoption of continuous performance will be a game-changer for your organization.
As I mentioned, Mark did not get to finish his breakout session. To hear more from him, check out the new Dynatrace webinar with PayPal and BARBRI, as they share their thoughts on the Dynatrace "Lost in the Cloud: A 2018 Global CIO Report".  In the webinar, Mark is joined by Mark Kaplan, Director of IT at BARBI.  They discuss how their organizations are using AI and full automated performance monitoring to control complexity and set the stage for continuous improvement and growth.
Don't forget to check out our Perform highlights to access all the videos and presentations or better yet, register to join us for Perform Europe taking place May 23-25, 2018 at the W Hotel in Barcelona!