At Perform 2018, Optum walked us through their APM journey, explaining how they are changing the way they do agent-based solutions.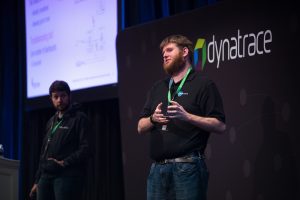 Optum shared an overview of their technology – web, app, database, mainframe, platform – all these with 100 critical business applications and thousands of middle tier applications. Optum began their journey with AppMon, which set itself up to be a war room hero to solve problems. While AppMon did a good job in establishing itself in that space, complexity led to Optum adding multiple monitoring tools, all doing the same thing. Optum decided they needed to take a different approach.  Enter Spyglass.
Spyglass is Optum's application initiative of doing end-to-end monitoring. This helps them in an extremely competitive marketplace with:
Net promoter score (gauges customers overall satisfaction)
Supply chain (map out dependency chains and get answers)
Driven by technology and business leaders at Optum, Spyglass moves from a reactive to proactive state.  This allowed for Dynatrace to be implemented over other solutions and displace the competition with the ability to get deeper and more actionable data:
100% transaction tracing
Mainframe monitoring
Transaction tracing
As Optum moves to a big data solution, they are looking at Dynatrace for the future.  Optum credits OpenShift for bringing a whole new idea to their APM solutioning.  With the ability to scale and the highest quality data, Dynatrace is built for hybrid multi-cloud and dynamic microservices environments.  Optum looks forward to the following benefits Dynatrace will bring to their organization:
Full stack, robust, easy integrations
Top down, AI detailed with sculpted views
For more information, check out our Perform highlights to access all the videos and presentations.
Better yet, register to join our Perform Europe Livestream, taking place May 23 – 24, 2018! You'll see all the Main Stage sessions from #Perform2018, live from Barcelona!