The OpenStack Summit at the Hynes convention center earlier this month was a blast. Exciting keynotes where we heard that we're in the age of 2nd generation private clouds, where everything is virtualized and the focus shifts on the applications again. That enables the OpenStack community also to engage with other OpenSource projects like Kubernetes or Cloud Foundry.
On the second day there was a live interview with Edward Snowden, who called in remotely. It was an interesting conversation with insights on how running your own private cloud allows you to gain and keep control over your data. Also, as presented in Barcelona last year, there was an interoperability live on-stage demo with several companies and public cloud providers joining a distributed Kubernetes cluster. There were discussions about running Kubernetes on OpenStack and running OpenStack on Kubernetes. In fact, I heard several people referring to the event as the "Kubernetes Summit".
It seems the prophecy is being fulfilled: private cloud is finally all about applications and orchestration. However, this means that the health and user experience of applications becomes even more important. I overheard, and had many conversations, about monitoring and troubleshooting capabilities, not only for applications, but also for containers, orchestration tools, and cloud platforms. This topic also resonated through the expo area, where several monitoring vendors — including Dynatrace — had booths.
There was constant traffic at the Dynatrace booth and, to be honest, our staff needed some recovery time after showcasing our product and its capabilities throughout the four days. Everybody wanted to see what Dynatrace brings to the table when it comes to monitoring OpenStack environments, and they were blown away how easy it can be. Many booth visitors came by after they visited other vendors in the monitoring space. One attendees said, "so you not only gather more data, but you also correlate it, and make sense of it. That's powerful". Another interesting memory: a well-known figure in the OpenStack community — I'd met her at several other OpenStack events before — stopped by the booth and started a conversation with me. She said that she's so glad that Dynatrace addresses the gap of full stack monitoring in the OpenStack area, because it was a need that no other company had been able to address .
Hands down, the best conversation I had during the summit was when another attendee came to our booth and starting asking how we monitor the OpenStack services, and how we notify our customers of problems in their environment. I explained that we monitor several aspects of the OpenStack services such as response time, availability, resource utilization, and even log files. Dynatrace provides integrations with several incident management systems (ServiceNow, PagerDuty, OpsGenie) as well as Email and web hooks. I demonstrated to him how Dynatrace handles those problems and, while it allows you to define custom alerts that are sent immediately, Dynatrace usually refrains from overloading users with alerts. His eyes lit up, he said "That's what I'm looking for!", and started to show me the list of alerts on his mobile that he obtained from his current infrastructure monitoring solution. He then told me that he had given up reading the alerts because there were simply too many to process.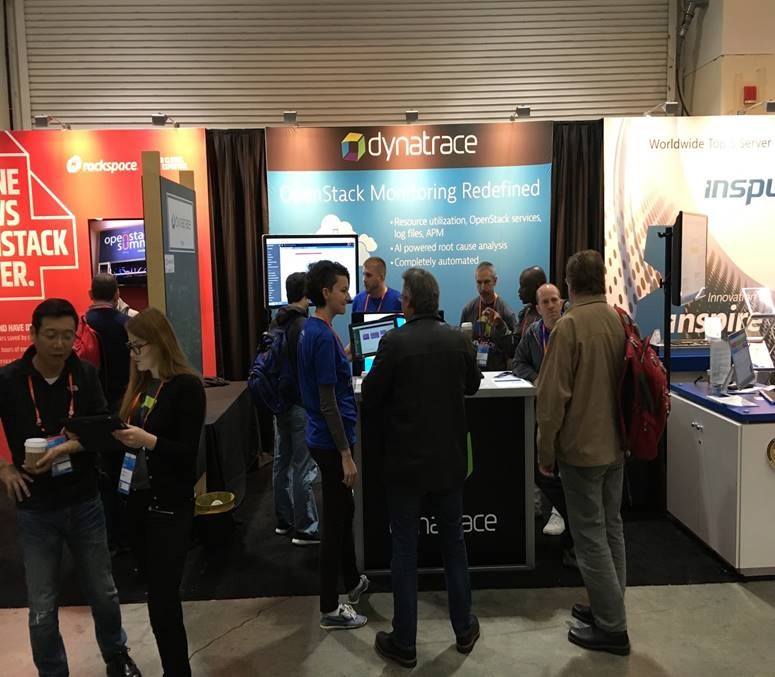 With large cloud environments the amount of data, metrics, and log messages that need to be monitored is simply too large to allow a manual analysis. To top it off, automatic alerting for all those data points is also not a viable solution. Dynatrace OpenStack monitoring offers a smart and unique way to stay on top of complex and large scale environments of several thousands nodes and VMs. The setup takes ten minutes at most, is easy to integrate into an existing configuration automation tools like Ansible, Chef, and Puppet. It also provides a single pane of glass view for your OpenStack infrastructure and also for the workloads and applications that run on top — including real-user monitoring for your web applications. With automatic AI-powered root cause analysis and full stack monitoring, Dynatrace is the troubleshooting and monitoring jack of all trades!
For those that have experienced Dynatrace, especially any OpenStack Summit attendees who came by the booth, what do you think sets us apart?  We love feedback – it's crucial to our ability to address the complexity challenges our customers face today and in the future. So please let us know your thoughts via the comments section below.