Several weeks ago we had a look at Fantasy Football site performance as football season kicked off.  Autumn is also the time to watch the Major League Baseball pennant races. Baseball is particularly exciting for me this year as the Blue Jays are leading the AL East just a few games up on NY. It reminds me of when the Blue Jays won the World Series in 1993 when, according to an MIT study, there were only 623 websites in the world! Obviously, much has changed since that time. For example, the experience of lining up or dialing in to purchase post-season tickets has been fundamentally changed by digital technology. This year post-season tickets for the Blue Jays went on sale at 10am on Sept 24, and here is how the site performed.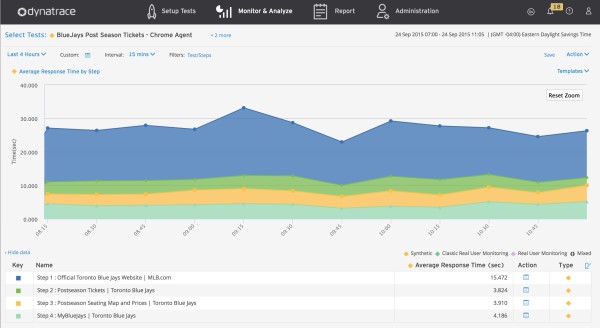 That is pretty solid performance! Tens of thousands of fans simultaneously visited the site hoping to purchase playoff tickets. Given the site's complexity it is evident that, even under heavy stress, applications can perform very well.   The screenshot below illustrates just how complex the site is.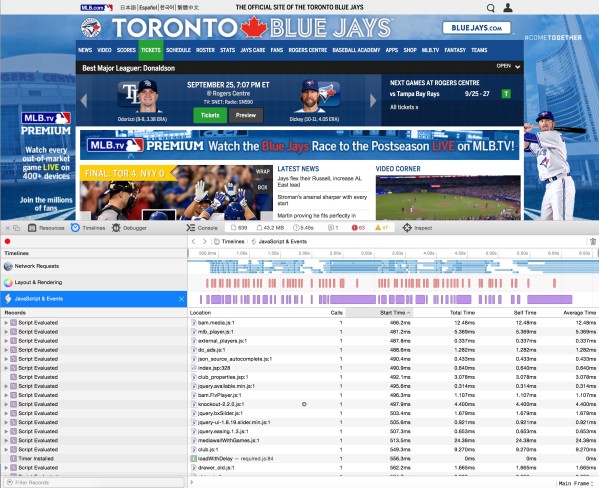 With many objects being requested it is essential that your browser cache strategy is fully optimized. In addition to optimizing front behavior like the browser cache, you must also focus on the server side. The image below illustrates the average W3C Request Time, as part of the W3C navigation-timing API, and is a strong indicator of the amount of time required for the server to respond to requests. In this scenario each request for every step in the transaction was completed in less than 0.2 seconds.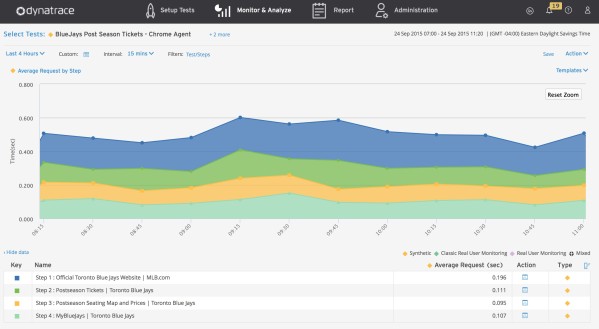 Server-side monitoring is essential with high volume transactional sites, and the post-season ticket rush is a perfect example of a peak traffic moment. Pro sports traffic can obviously be very seasonal. For example, below is a view of the MLB Mobile Home Page over the past 12 months. The off season is the perfect time to try new things. We can see that during January and February MLB made several modifications to their Mobile Home Page but — when the season was under way –they made very few changes.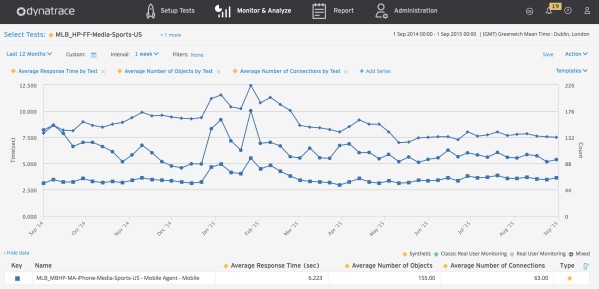 Digital Performance Management for All Seasons
Since we are talking about competitive professional sports let's take a look how the primary US professional sports leagues fared against each other.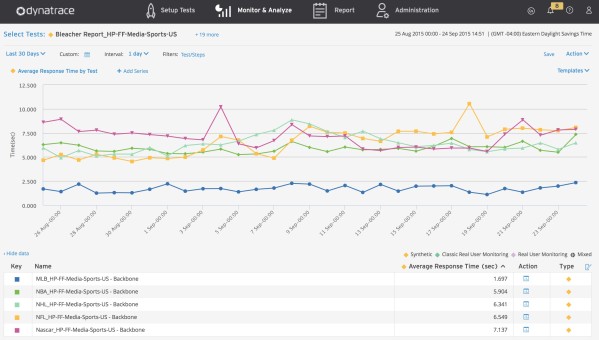 It appears MLB took the top spot, followed by the NBA, with the NHL coming up third. When we examine some Key Delivery Indicators we can see that while MLB had moderately complex pages, while those of the other leagues were significantly more complex.

The team here at Dynatrace has been talking about how Digital Technologies have been impacting industries for some time now. Professional sports is a perfect example of how an industry has embraced the transformative nature of digital touch points. Providing web, mobile web, mobile apps and streaming services, professional sports IS a technology industry which just happens to deliver entertainment.
In 1993, as I watched Joe Carter smash that 9th inning walk off home run, I could never imagine the digital experience that would be available to me twenty-two years later. However, managing the complexity of this digital experience has its challenges. As a wise man (who will be surely missed) once said "You can observe a lot by watching".  Digital Performance Management allows us to "watch" this complexity to help ensure a quality experience for everyone who enjoys professional sports.