In September, Macy's announced that they will invest 1 Billion $ into their omni-channel strategy. When spending so much money the question that immediately comes up is how to measure the success? Key questions as "Are conversion rates increasing as planned?", "How good is the User Experience for each channel?" need answers. Since my first blog about omni-channel monitoring, I came across a variety of customer implementations. Today, I want to share with you how Solocal Group, provider of the French Yellow Pages (PagesJaunes), brings all key metrics together on a single dashboard.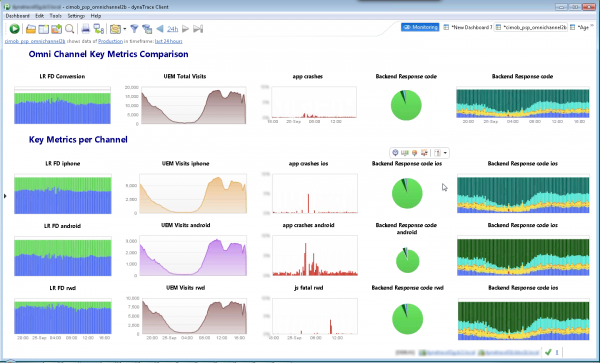 Step 1: Identify Your Channels
For omni-channel monitoring, as a first step, it is important to know the channels and also how many users are coming in through each channel. Solocal Group has three channels they monitor: a mobile app for iOS, a mobile app for Android and a responsive website for mobile and desktop browsers. Below we can see the three charts visualizing the number of visits per channel.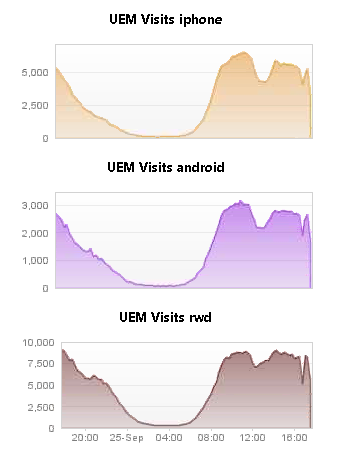 Step 2: Identify the Conversion Targets
Each application/company has a different business model but all of them share a common objective: generate revenues at key steps, measured via conversion goals. For E-commerce stores and booking platforms it is pretty obvious: the user should buy a product or should book a trip to generate revenue. Banks, for instance, are looking at money transfers or stock orders. For PagesJaunes, a successful conversion is when people look at the details of an answer item in the search results. The screenshot below displays converted and non-converted visits percentages.
Step 3: Identify the Most Business Impacting Issues
If people are not converting or generating revenue this can be caused by not having the right offers for the customers , or due to severe technical issues. Looking at the dashboard from PagesJaunes we can see that both areas are covered. the pie chart we can see the overall distribution of the response codes to a search request. The green area indicates that the search was successful, which raises the question of the definition of a successful search. In this example successful means that the search result list is not empty and the request did not run into a technical issue. The bar chart to the right is breaking down the request with issues according to the reasons of failure: business related ones as well as technical ones. The bar chart focuses on the <8% of users for which the system wasn't able to generate search results, and helps understand the reasons: most of the time, it is due to search business issues e.g. people searching for a specific car dealership near their location but there isn't one within the search radius in the database. The chart would also immediately show failures in the underlying back-end infrastructure in case of technical issues affecting the search results.
On the user's side technical errors on the device are shown separately since the impact of a mobile app crash or a severe JavaScript error on the responsive design website has the biggest impact on the user experience.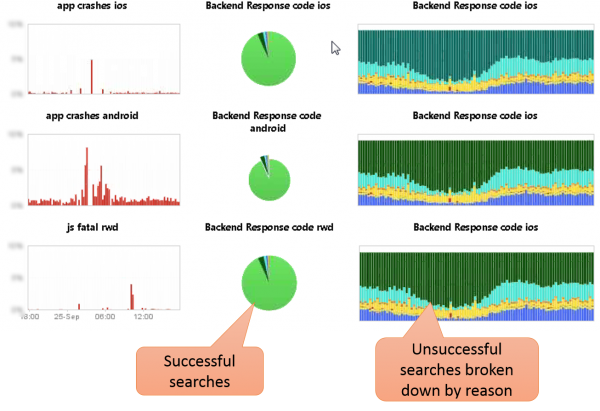 Step 4: Bring it all together in a single view
Key to this is that we look at the data from all your users and start the aggregation based on these numbers to not run into the problem of blurry data and resulting misinterpretations. It is also key to have the data from a single source which allows us to look at all channels the same way with the same KPIs (Key Performance Indicators). What if we would have for each channel a different solution providing us with data – would we be able to integrate and compare? Would we be able to compare the data over all our channels? Would we see—like in this example—that the iOS and Android users convert differently from users on the responsive web site?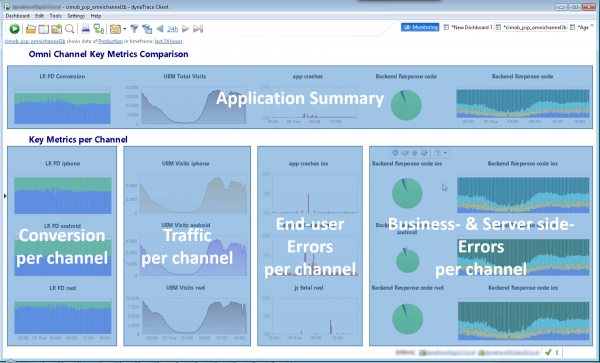 Conclusion
Omni-channel investments need unified omni-channel analytics to make data-driven decisions and to allow us to prove that our strategies work. Having that strong base also helps us to iterate and to improve further. We're now in a BizDevOps age and unified analytics with the right solution in place, will bring value to business and technical teams.