We've introduced a slick and elegant re-design of Dynatrace menus and global navigation features.
These enhancements represent another important step toward our providing you with the best possible user experience and making Dynatrace as intuitive and user-friendly as possible. The new navigation design makes it easy to move around Dynatrace and explore all that it has to offer.
Redesigned header
The entire application header has been redesigned. It's now a bit taller, which makes it easier to use on touchscreen devices. The Search field and the main menu button are located on the left side. The right side of the header is dedicated to user-oriented features and external content. Read on for full details.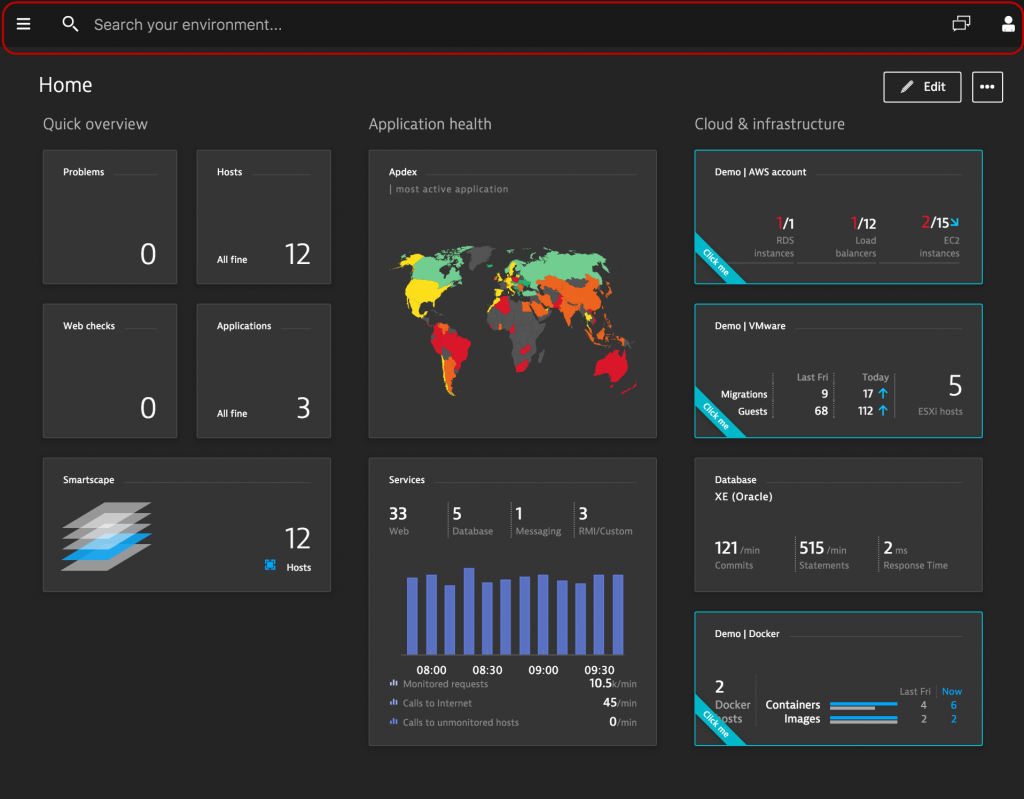 Global navigation bar
The long-awaited global navigation menu is finally here! Access it by clicking the menu icon on the left side of the header. From this menu you can easily see and access all the monitoring and analysis features that Dynatrace has to offer.
Dynatrace super search
Have you ever used Dynatrace super search? The Search your environment field offers much more than simple web searching. Give it a try and see how valuable it is. It returns listings of the monitored entities in your live application environment! Use it to search for specific hosts, processes, or services in your environment that you want to analyze. This makes it super easy to navigate from one analysis view to another. It even provides links to related Help topics. Once you start using it you'll wonder how got along so long without it.
More search enhancements are on the way, so please stay tuned!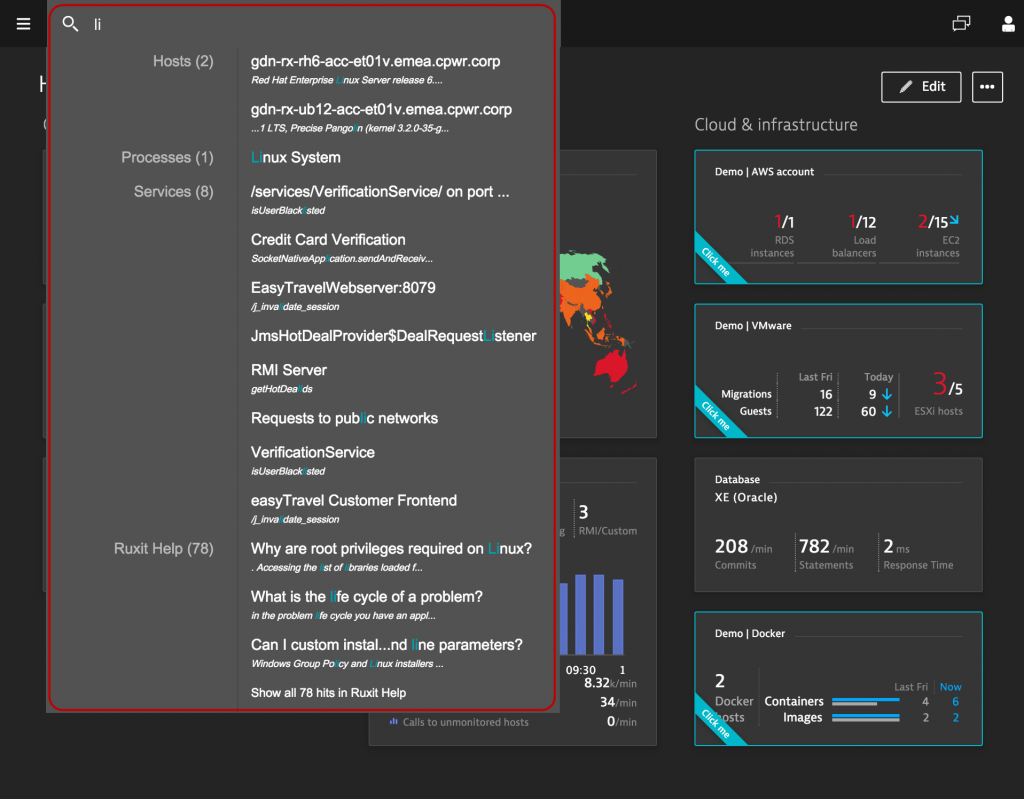 Problems notification, Chat, and User menu
We've moved the Settings menu from the right corner of the header to the bottom of the new navigation bar. So now the upper-right corner of the UI is dedicated to you. If there are any active problems in your environment you'll see a Problems icon here. Click this button to link directly to your Problems page.
The Chat button provides you with quick access to live customer support. No change here. Don't hesitate to start a chat if you need help using Dynatrace. Our Sales and Support teams are eager to assist you with any issues you encounter while using Dynatrace.
The User menu button provides access to your account details, mobile-app downloads, Help, the Dynatrace blog, and other community assets. Naturally this is also where you go to Sign out of Dynatrace.
Once you've had a chance to try out the new navigation features, let us know what you think. Remember, we love hearing your feedback!
One last thing: You may have noticed that we've updated our brand name to "Dynatrace."
Cheers!