Well, hello there, shiny new Dynatrace Partner Portal…
If you follow Dynatrace on social media, visit dynatrace.com, read our blogs, or see us at events, you'll notice that our product plays a very central role. That's because we're extremely proud of the value the product delivers to our partners and to our customers.
We're also very proud about how we develop and deliver product. If you've not already seen the Forrester report: Dynatrace's Journey Toward Delivering Business Transformation then I highly recommend investing 10 minutes to learn about how we improved agility AND quality through complete automation of the delivery pipeline.
Which leads me to the business side of our Journey to Delivering Business Transformation. The Partner Organization here at Dynatrace is undertaking a transformation of our own to better serve our increasingly important Partner community. While some of our initiatives are improvements under the hood, several are externally facing to our Partners and none more directly than the Dynatrace partner portal.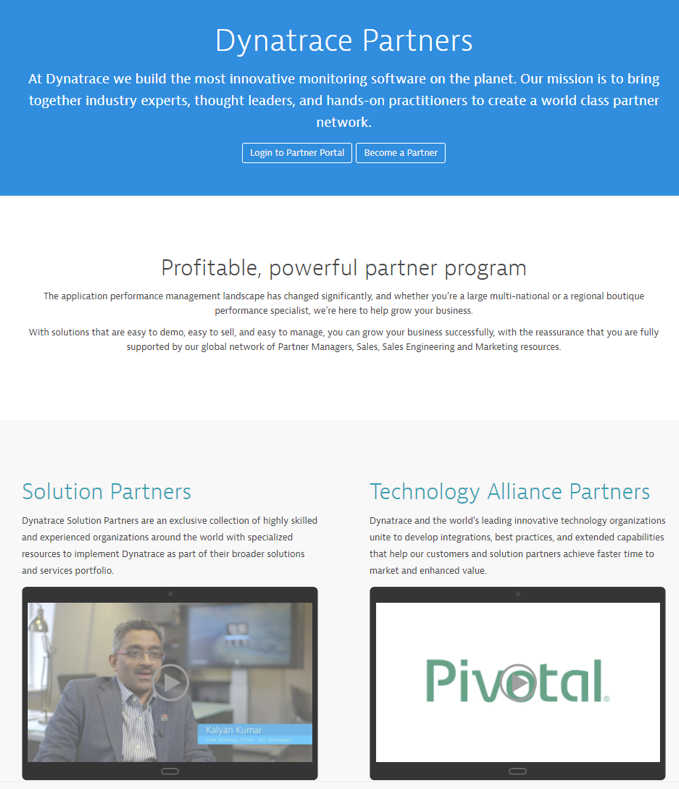 And I'm pleased to announce that the new portal is now live. When moving into Partner Marketing 6 months ago, rebuilding the partner portal was top of the priority list. Providing our Partners with real-time access to the latest training and education, deal registration and management, sales and marketing resources, and competitive intelligence in a self-service manner, all contained within a single location is a significant step forward in how we redefine ourselves while improving how we work with our Partners.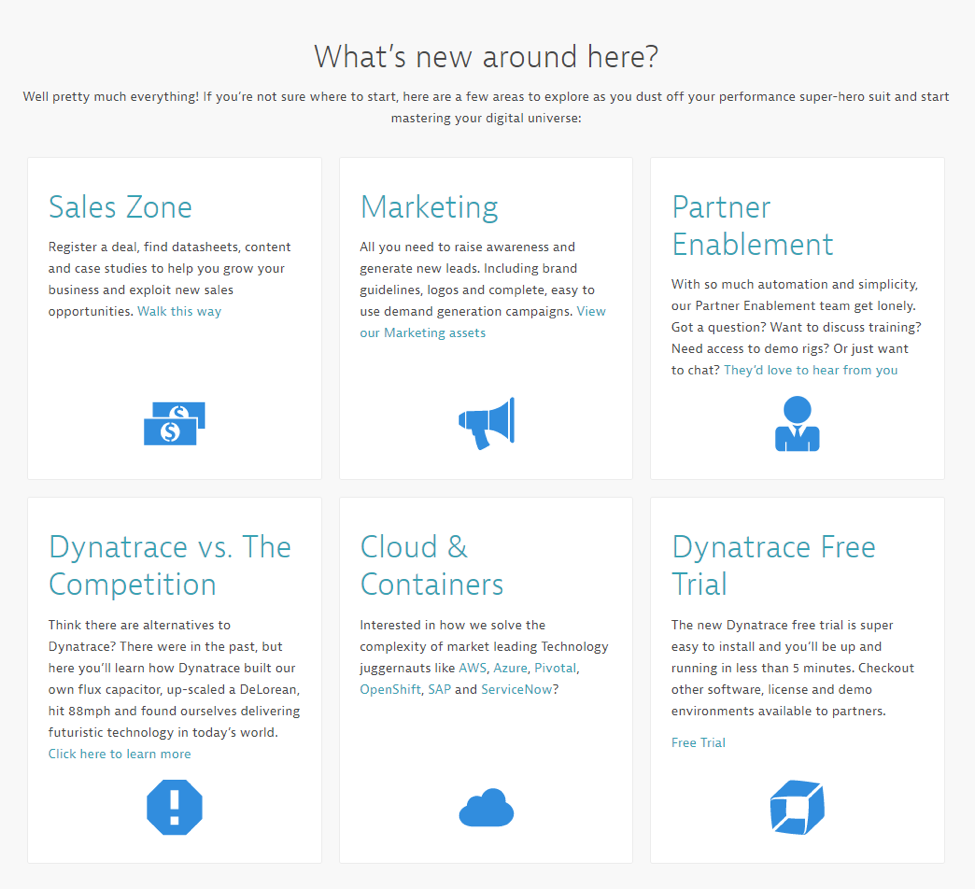 Easy navigation to powerful Partner content
Phase 1 of the portal is just the first step, it's laying the foundation on which we can build successfully.  Echoing the agile, high-velocity approach adopted by our colleagues in Product Management, we're already hard at work on Phases 2 and 3 of the portal which will enhance existing functionality, add new features, and update content.
Let's a look a quick look at a couple of the sections available now.
Dynatrace vs. The competition
One of the biggest challenges Dynatrace faces is differentiation from our perceived competition. This is because vendors can sound the same in their marketing collateral, so we decided to take a different approach and help our partners really understand the difference between marketing a product and using a product. One of the ways we achieve this is by providing links to relevant documentation from the likes of AppDynamics, NewRelic, and Datadog.
Let's use a specific example to illustrate what we mean: If a software product states that it provides 'Cloud Auto-Scaling' capability you'd expect it to be automated and therefore trivial to implement. But this would be an incorrect expectation. Here's a link to AppDynamics documentation on 'Cloud Auto-Scaling' and within a 15-second scan, you'll quickly find what you need to do is an awful lot of manual, time-consuming work that includes:
building templates
installing machine agents on every machine (different machine agents if you're running .NET)
configuring the agents
creating workflows (complex and ugly)
configure the UI
manual checks and balances
…and then follow several more steps to 'Make Cloud Auto-Scaling Visible on the controller UI'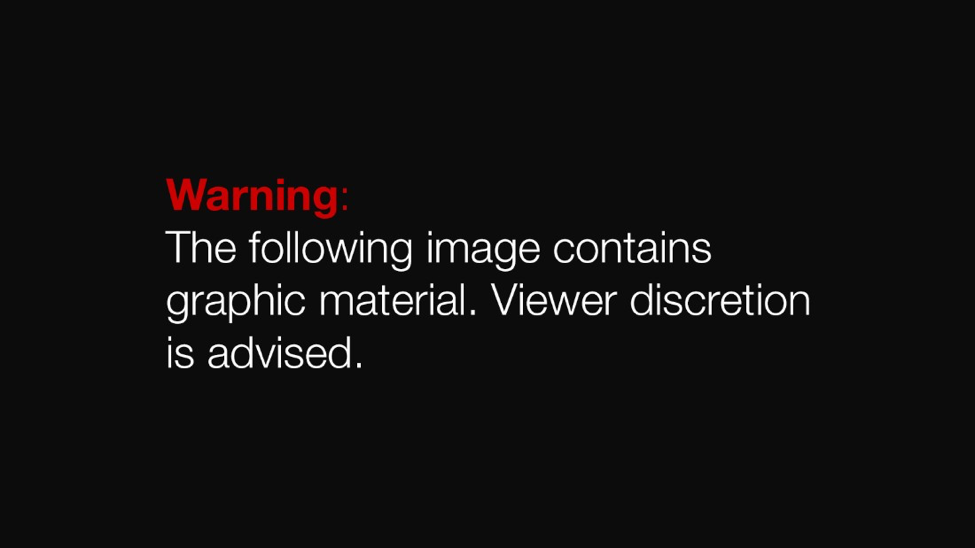 We wanted to show a screenshot of the AppDynamics documentation for Cloud Auto-Scaling, but our legal team censored it.
And this is just for the hosts you want to monitor, it doesn't cover your applications running in the cloud or the end user experience – these are the things you care about most! Further, if your environment changes, you need to have pre-defined and pre-built how scaling is going to happen and work it into the scripts, workflow, and processes. Doesn't sound quite to 'Cloud Auto-Scale' now, does it?
So, one of the core objectives of the Partner Portal is to educate our Partners and help separate out noise from competitor marketing departments from actual product capabilities with the objective of helping Partners (and their customers) avoid being misled when a competitor says, 'yeah we do that just like Dynatrace'.
You can check out more at Dynatrace vs. The Competition on the Partner portal.
Marketing Resources
As well as educating our Partners on the market shift to highly dynamic, complex, compute and application environments, we also want to help our Partners educate their customers and prospects, and drive new opportunities for Partner services in and around Dynatrace.
Within the Marketing Resources section of the portal, Dynatrace Partners will find a range of easy to use assets, guidelines, content, and campaigns to help build their association with Dynatrace, their digital and social presence, and execute demand generation.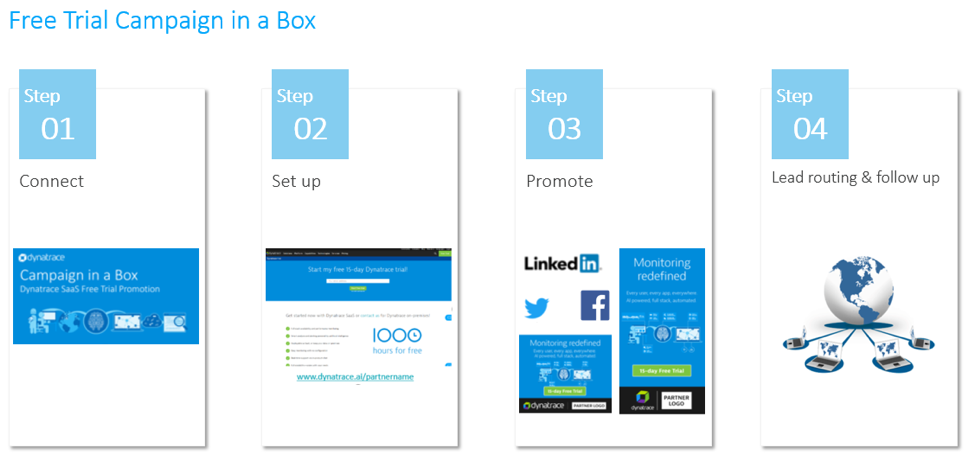 4 simple steps to fire up the awesome Free Trial Campaign in a Box
Talking of demand generation, Partners can take advantage of the 15-day Dynatrace free trial campaign in a box. The Free Trial is a fundamental way for Dynatrace Partners to:
Immediately differentiate Dynatrace from the competition, helping to clearly separate out competitor's marketing claims vs their actual product capabilities.
Align with modern buying processes that have evolved to include free trials as an essential evaluation component. Customers nearly always utilize a trial period and even make decisions before they engage with a salesperson.
Dynatrace will ring-fence partner leads generated through free trials and route those leads directly back to our Partners for follow up. It's a slick process and super quick to setup and promote. You can download the Free Trial Campaign in a Box from the partner portal.
Walk this way…
…and take some time to explore the Dynatrace Partner portal. It's a foundational step in the transformation of our Partner organization, so be on the lookout for rapid releases of new content, features, and competitive intel that will make working with Dynatrace even more rewarding.
Partners with Community & Support accounts can log in here. If you are a Partner and don't yet have an account you can head over here to register for an account.