In one word, yes.
The debate of web vs. apps has been raging since the inception of mobile. Earlier this year Forrester's Thomas Husson wrote a report titled 'Why the "Web Versus Application" Debate Is Irrelevant to Your Mobile Product Strategy'.
The title says it all – he contends that because the mobile web and apps offer different benefits (agree) and serve different audiences (agree a little less), it is not an either/or choice between apps and browser-based solutions. Consumers are using both, and one will not fully displace the other – yet.
Along with the fast-paced growth of mobile device has been the explosive growth of what is now a multi-billion dollar mobile app industry. Mobile apps have become more sophisticated and have moved from being the domain of a few niche players to being a critical part of the branding and engagement strategy of most companies. Mobile apps are everywhere now, and people are even basing mobile device decisions on which platform supports particular apps.
However not everything is bliss in the land of mobile apps. Mobile app performance problems are common often resulting in subpar mobile experiences which in turn hurt uptake and the bottom line. Recent research from Deloitte confirms this – 80% of branded apps struggle to achieve 1,000 downloads.
What's the Impact of Mobile Performance Issues on Your Business?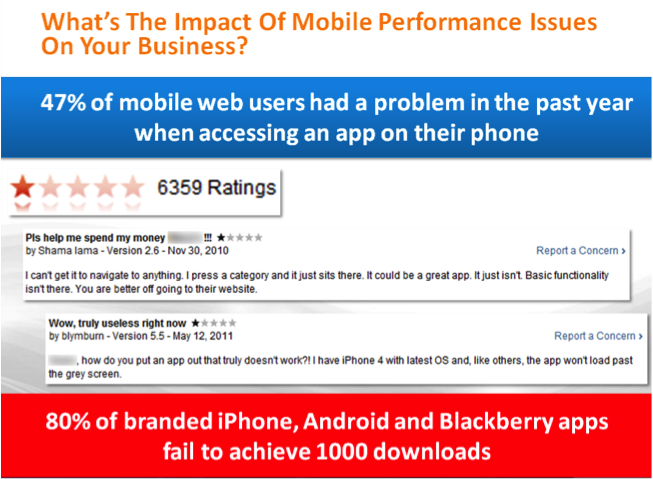 Enterprises are now building their own stores, major brands are offering app downloads on their websites, solutions companies are extending their services via custom‐built apps, and app providers are partnering to sell their apps as part of a bigger solution with lucrative bundling and integration deals. The truly innovative apps and mobile sites leverage mobile's unique characteristics and capabilities.
Adopt Your End Users' Point of View
For now, mobile apps make the most of smartphone features because they integrate more deeply and more widely with the unique features of smart mobile devices that use an operating system. However, mobile websites cost less to reach a wider audience and mobile browsers are become more sophisticated. Whether it's through faster/better browsers or support for the HTML5 and device API specs the mobile browser is quickly catching up to mobile apps. Watch this session from this year's Google IO to learn more about web vs native apps.
While many companies have raced ahead with the mobile, many are stumbling when it comes to creating an engaging mobile web and app presence that satisfies customer mobile web performance expectations. Our recent global consumer survey results show that mobile experience expectations are not being met – for both apps and sites.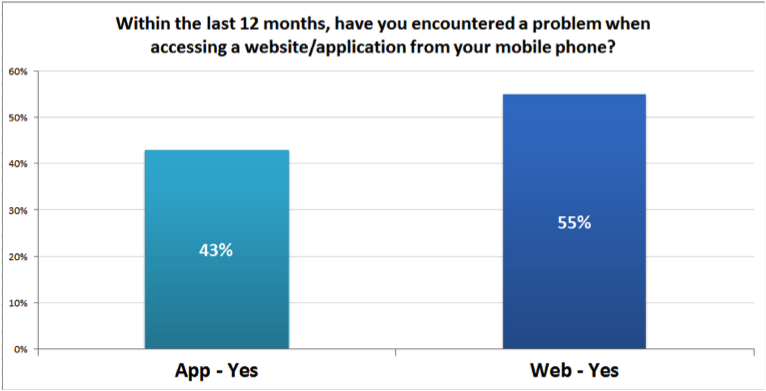 Mobile users typically use their devices for urgent needs, such as checking flight status, confirming reservations, comparing price options and making appointments – urgency sets expectations. Ongoing challenges including device diversity, conflicting standards, limited management tools and a lack of established best practices have made it difficult to deliver fast mobile experiences.
Forrester and a number of others expect the boundaries between apps and the mobile sites will continue to blur stating 'most companies will need to use both apps and mobile sites to make the most of global mobile opportunities.' This will include using the cloud to offer a seamless user experience across multiple platforms to deliver exceptional mobile web performance experiences.
In a future post, I'll discuss the impact of mobile and cloud computing.