Google projects 'that 44 percent of last minute searches for gifts this holiday season will be mobile searches.' This trend represents both an opportunity and a threat for retailers.
Google recently launched GoMo, a new program that will offer participants data on why they should create a mobile website. Businesses can see what their websites look like to others, find examples of great mobile websites, and read case studies and best practices.
With the explosive growth in the mobile web, and users expected to leverage their mobile devices even more this holiday shopping season, the need for fast and reliable mobile sites is more important than ever. With programs like GoMo, retailers will see how their mobile site works for users.
According to Google, 61 percent of visitors to a non-mobile site are unlikely to return, 'Just because users can see your desktop site on their mobile phone does not mean that it's mobile-friendly.' Consumer engagement increases by 85 percent when a mobile website is available.
Mobile user' expect their mobile experience to be as good as their desktop experience and are only willing to wait five seconds or less for a web page to load before leaving the site according to a recent mobile study.  With 75 percent of top companies across multiple verticals providing mobile page load times of five seconds or more, users' expectations are currently not being met.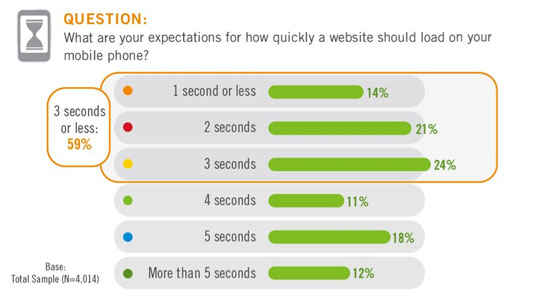 Poor performance can prevent companies from taking advantage of the opportunities being provided by increased mobile access. The same mobile study found that the majority of users that have a bad mobile experience on a site are less likely to return to that site and a strong percentage will go to a competitor's site.
Will GoMo make retailer's mobile sites more effective this holiday season? It's certainly a good first step. Retailers can also adopt a few basic strategies for stronger mobile site performance this holiday season and beyond:
Commit to Right-Sizing. One rule of thumb for mobile-optimized sites is to "keep it light" by reducing unnecessary heavy content, thereby maintaining or enhancing speed. But don't go so far as to take away too much content and leave your mobile site barebones, which may drive mobile users away.
Focus on User Scenarios. The key is to tailor content based on what your mobile users expect and want on- the-go, both in terms of functionality and design. If your main website features 50 or more sections and features, your mobile customers may only use three of these, or they may be navigating store aisles and perusing the web with just their thumb. You need to identify key user scenarios and streamline the experience through those, keeping the content that helps monetize your site and scrapping the content that doesn't.
Manage Third Parties. Like the PC web, mobile sites are growing increasingly complex, featuring a variety of third-party services and plug-ins including shopping carts, store locators with Google Maps as well as integration with social networks, all designed to enable a richer mobile experience. If you're calling out to a third-party component and it slows down, your whole mobile site is apt to slow down, so proactively measure and optimize their performance.
Measure Performance from the True User Perspective. Whatever your mobile users are doing on your mobile site, is it easy to use? Is it satisfying? Are they enjoying the experience? Beyond third-parties, there's an even wider range of elements throughout the wireless ecosystem that can impact the user experience including content delivery networks, ISPs, carriers, mobile devices and browsers.
Retailers that are embracing the mobile opportunity, those that provide the fastest, most consistent performance, will emerge as the winners in the hearts of their loyal customers and in their respective retail categories.
To see how well top U.S. Retailers' web and mobile sites are performing and how satisfied users are with their online experiences during the 2011 holiday shopping period, keep an eye the Gomez Performance Index.