Who is LISA?
"The LISA 4 Complete SOA Test Platform is a comprehensive testing solution that reduces the effort and cost of SOA test creation and maintenance, while allowing your team to drastically improve quality levels over time through test reuse. The complete suite contains the test capabilities of all LISA modules in a single, easily installed application." – taken from http://www.itko.com/site/lisa/
What does Dynatrace do with LISA?
With Dynatrace's open integration points to Web- and Load Testing Tools the development group of iTKO LISA was able to easily link the two solutions together.
You can now take a test case that you have created for LISA and tag the individual test steps with so that they show up in the Tagged Web Requests View in the Dynatrace Client.
This integration allows you to dive deeper into the problems of your Enterprise SOA Application than just knowing that you have performance problems under a certain load. Dynatrace gives you the ability to track down those problems identified by iTKO LISA to the source code in your distributed heterogeneous application. Each individual Web Request from LISA will result in a captured PurePath.
Here is how it works: You simply place an additional custom HTTP Header to your LISA Test Case Step. The HTTP Header allows you to specify a logical timer name and a context. The Timer Name will show up as the name of the request in the Tagged Web Request View in the Dynatrace Client. As context we pass the information about the unique Virtual User ID so that we can actually trace individual simulated end users: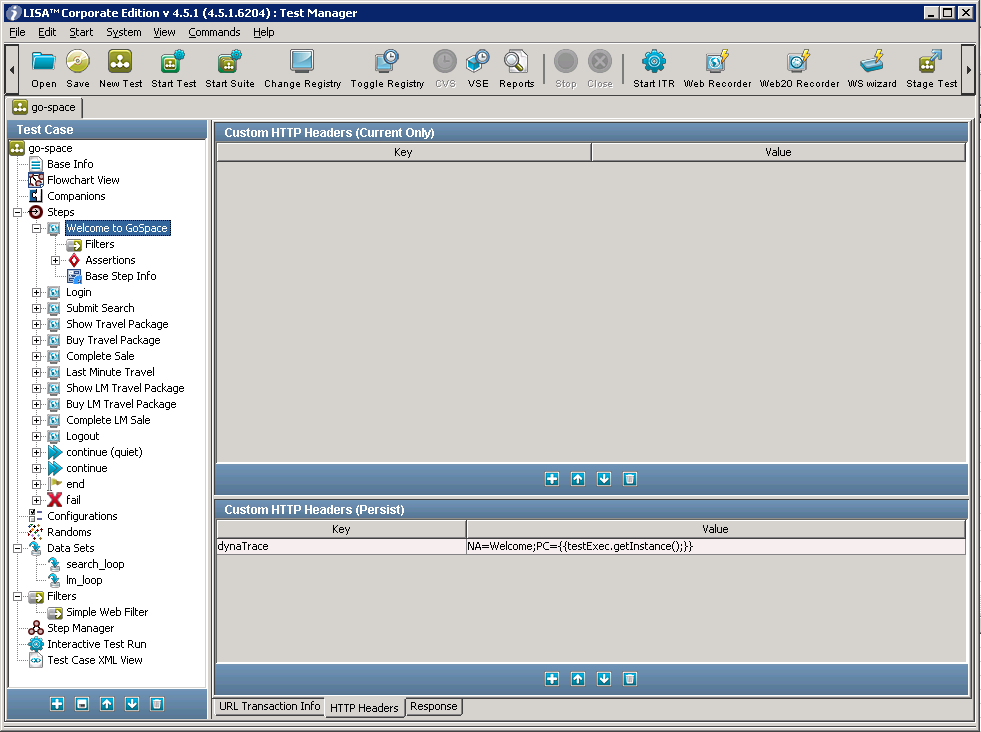 Executing the Test Case with LISA to test your SOA Application will give you the PurePath information in the Dynatrace Client for each individual request that was executed by LISA:

Conclusion
This is another great example of an integration with other tools to extend the visibility into the application that is tested or monitored.