Velocity has transformed over the last couple of years – such as how organizations transformed their way of building, scaling and maintaining the software that powers their business. I remember the early days of Velocity where it was all about Web Performance Optimization, then it moved over to Web Scale, DevOps, Building Resilient Systems and now we arrived at this years theme which is: Building and maintaining complex distributed systems!
Last year I was fortunate enough to get Steve Souders on our PurePerformance Podcast. Steve started Velocity and has been a major contributor to the Web Performance and DevOps community. Listen in to hear what motivated him to go on this journey: Listen to "PurePerformance CafeVelocity 2016 with Steve Souders" on Spreaker:
Here are my highlights from both days as I was doing some "live blogging"
Thursday, June 22 – LIVE Update from Day 2 @ Velocity 2017
This morning I got in line for Speed Networking. As explained yesterday it was a new concept I haven't seen before. But its REALLY COOL! Got to meet several new people in a short time frame which I probably wouldn't have met otherwise. I encourage every organizer of events to think about this concept!
Keynotes & Sessions Day 2
Dave Andrews (Verizon | @daveisangry)
Giving us a glimpse into how Verizon is building against "Cascading failure at scale(s)". Besides Load Testing, Monitoring and Traffic Routing it is about containing potential problems. Some interesting insights into how the contain traffic issues on local and regional level. More to learn from him on twitter
Dharma Shukla (Microsoft | @dharmashukla)
Giving us insights into ComsosDB. Want to learn more – check it out online!
Cliff Crocker (SOASTA | @cliffcrocker)
Talking about "The False Dichotomy of Finders vs Fixers". We have all a lot of tools to find problems and highlight them. But we are not really good in actually fixing things. While this is a great business model for consulting companies that are "finders" – but it wont help you in the end!
Reminding us that a lot has changed on the tool and technology space that allows us build better tools that are not only finding but also provide better insights to fix things! But there are also great new web technologies to provide better end user performance, e.g: Preconnect: Resource hints or Server Push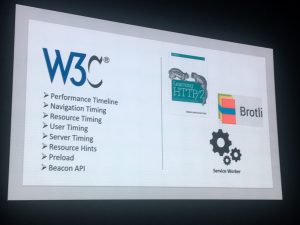 Dianne Marsh (Netflix | @dmarsh)
Talking about careers on how we have to look back in order to move forward! Giving us insights into her career path and lessons she learned as an individual contributor but also as manager. Reminded us about "Repeating Trends"
Interesting final thoughts and question: "Who has experienced the impostor syndrome?" –> Most people in the room raised their hands! But don't feel like a fraud – there is simply too much to learn!
Tammy Everts (SpeedCurve | @tameverts)
A veteran when it comes to web performance. She shared a lot of experience she built up over the years when she did user experience testing, analyzing the impact of performance on user behavior and how that has changed over the years. There is plenty of material from Tammy on the web – so- check out some of her presentations.
She quoted Steve Souders which I thought was very interesting – we are all "Perception Brokers". See here: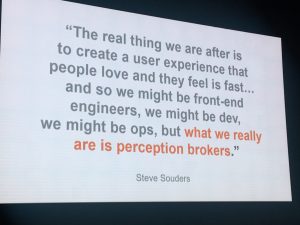 She also talked more about her study she did with Pat Meenan from Google. Thorugh machine learning they tried to find out which metrics are most impacting end users. All metrics to – but some metrics standout such as Speed Index, Visually Complete, Start render, TTFB, …
She also reminded us that the best metric would be those specific to your web site and business. Using User Timings is a great way to capture it, e.g: when does the "hero image" load or when is the checkout button available.
Interesting stats on user behavior change: from age 25 to 60 the way we use the web is slowing down by 0.8%. Seniors of age 65+ are typically 43% slower using the web than if you are between 21-55! Interesting stats to consider when talking about web performance!
Remember: You don't understand what you can't measure! AND – You can't measure what you don't understand!
Ray Bango (Microsoft | @ReyBango)
Key message from him: "You don't have to know everything!" especially in a technology world that is moving extremely fast. Make sure though you focus on the core web principles and foundational technologies: HTML5, CSS3, JS.
Interesting perspective on how technologies are rapidly changing. Sometimes so fast that they are gone before we know them well. So: embrace opportunity but choose wisely!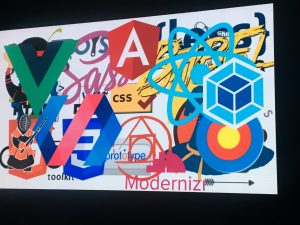 Aria Stewart (CloudCity.io | @aredridel)
Very interesting views on how the internet has positively but also negatively impacted communities. How algorithms of social networks are never really neutral and force us into certain communities or lock us out of others. A lot of interesting thoughts on building inclusive communities. For more check out the work from Aria!
Maximiliano Firtman (@firt)
Author of several mobile web and mobile web performance books. Talking about the frustration of users, developers and business with the changes in recent years when it comes to web and mobile development. Coming to a similar conclusion like Ray Bango using this quote: "I only know that I know nothing" – Socrates
Final thoughts:
We are going back to the same ideas. Just better implementations! And new names!
Don't use technology/buzzword as goals
Don't underestimate mobile
Don't frustrate your user
Addy Osmani (Google | @addyosmani)
Talking about Progressive Web Apps (PWAs) as he believes it is the new normal. Seems that it is really been implemented by a lot of companies.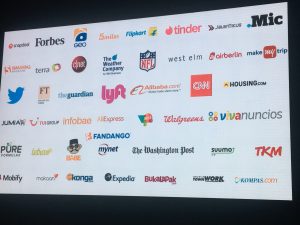 Got to admit that the idea of doing his presentation in the style of an old video game was really cool 🙂
Impressive numbers from Lyft and Twitter on how small their PWAs are as compared to iOS and Android native apps. More impressive the business impact: 65% increase in pages/session, 75% increase in Tweets!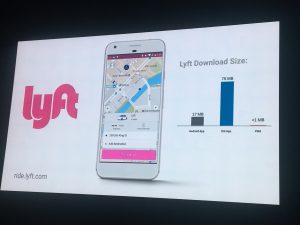 Even on iOS where Safari Mobile doesn't fully support PWA companies like Lancome see 53% increase in session length by iOS users!
Gartner Research: "By 2020, Prgoressive Web Apps will have replaced 50% of general-purpose consumer facing apps."
Reminds us of Lighthouse – part of the Chrome Dev Tools
Some new frameworks and extensions to remember:
Create-React-App which now by default creates Progressive Web Apps.
Preact and Preact-CLI.
js and "vue create pwa"
Final quote: Progressive Web Apps are the new NORMAL!
Wednesday, June 21 – LIVE Update from Day 1 @ Velocity 2017 San Jose
My personal highlight was to bump into the "godfather" of Web Performance and key initiator of Velocity. I am also glad to call him a friend as we have been doing a lot of work together over the years.
I am sure you figured out who I am talking about: Steve Souders who I bumped into this morning. And I have picture & tweet to proof it – also got the chance to show him the exciting stuff we have been doing at Dynatrace lately 🙂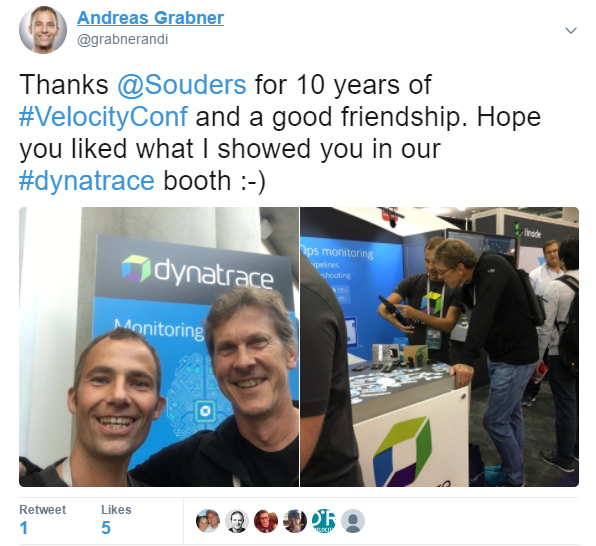 Speed Networking
When entering the conference venue I was wondering why there are hundreds of folks lining up facing each other chatting in pairs. Turned out that this was "Speed Networking" – similar to Speed Dating it was a chance to meet new folks and network in a very casual way!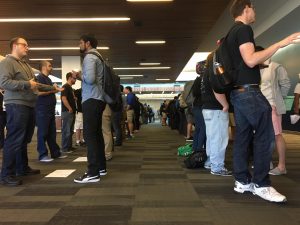 Keynotes & Sessions Day 1
I only got to see the Keynotes today as I tried to spend as much time socializing in the expo area. But there was plenty of material at the Keynotes and several notes I took. I also encourage everyone to watch the recordings because it is hard to summary some of these excellent presentations in a couple of sentences!
Artur Burgmann (Fastly | @crucially)
Giving us a history lesson on how Velocity started – giving credits to the people that allowed Velocity to grow over the past 10 years.
Back in 2005 nobody "really" relied on the internet – that has changed. Look at Twitter -> probably the last company that could afford big outages in the early days without loosing the user base. Now – in 2017 – that's no longer possibly. Everyone relies on the availability of systems! It is still OK to fail but its about blameless postmortems and learning from these mistakes.
We grew up seeing systems grow – learning what it takes to scale. New engineers might not have this learning phase. We need to come up with more best practices around building scalable, reliable and "fail safer/secure systems" – because: "An insecure system is not a reliable system!" -> Safe & Secure by Default!
Martin Woodward (Microsoft | @martinwoodward)
3 major cultural changes at Microsoft since 2009! Mayor transformations from On-Premises enterprise software with release cycles of years to deploying changes every day. Microsoft Dev Tools are now also used by ALL development teams within Microsoft!
Here some high-level bullet points on what drove the Microsoft transformation
Build-Measure-Learn
Focus on Mean-Time-To-Repair
If something hurts, we do it again (and again)!
Treat customers as individuals, not a bag of sand!
Allow smart people to take ownership of their own problems
Optimize for people, not tools!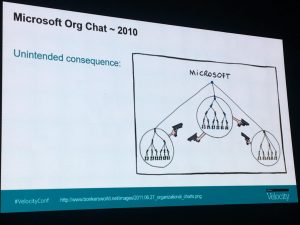 Corey Scobie (Akamai | @cscobie_akam)
Starts with enlighten us that the requirements from consumers to software and services have changed in the last years
We crave speed! (Instant)
We love quality! (Never go back once you saw 4k)
We need scale! (everyone is connected)
We expect Reliability! (otherwise you loose your customers)
We demand security! (every day we hear news about breaches)
We insist on agility! (we need to react fast on demand)
BUT – the internet wasn't initially built for these requirements – it organically grew into it!
Good news is that the internet is adapting to the new requirements. Check out some of the latest developments such as the QUIC Protocol or TLS everywhere approaches!.
Also check out Akamai's State of the Internet report: http://akamai.com/soti
Peter Alvaro (University of Santa Cruz – @palvaro)
Is your distributed system built to tolerate failure? But will it? Even if it is just a partial failure?
Peter introduces us to his research on Lineage-driven Fault Injection used by several large organizations such as Elastic, Uber, Netflix …
Punch line: Automate these "Fault Tolerant Analysis" Experts away!
Dawn Parzych (Catchpoint | @dparzych)
Dawn enlightens us that we are all biased – in many different ways. When it comes to performance we are all biased by what we have learned in the last years through Web Performance Optimization Best Practices.
Tips to avoid bias when looking at data
Create your own anchor -> look what makes sense to your business instead of industry averages
Ask questions -> don't shame people if they ask an obvious question
Accept the answers -> if you can't accept an answers that contradicts your believes you are biased
Adam Jacob (Chef | @adamhjk)
Another reminder about what happened 10 years ago: start of iPhone, EC2, Twitter
Another reminder of companies founded out of Velocity: Chef, Fastly, PagerDuty and more
His summary about what the Velocity / DevOps Culture is all about: Open, Innovative, Human, Driven
The goal of Velocity is to figure out how to use and apply new technology to innovate – especially allowing "traditional enterprises" to steer business through technology but not being steered by technology!
Giving us a glimpse of the future: Data Centers in our shoes J
"We as humans are the most complex working distributed system!"
Kristopher Beevers (NS1 | @beevek)
Introduces us into a new dependency that we have introduced in the last years: Cloud Services! What if they fail? Through Software Faults, DDOS, Operational Outages …?
He talks us through the approach of building fault tolerant DNS cloud services as one of the examples of cloud services that could fail!
Davis Hayes (Pager Duty | @eurica)
Giving us an overview of how PagerDuty changed over the recent years to make operations and incident management easier. Lots of things have changed in their space.
An interesting concept is "Mean Time to Promotion". It is hard to measure and promote successes but that's what you should be doing.
Camille Fournier (Two Sigma | @skamille)
Introducing us to her talk with the following quote from Cliff Moon: "You either die an engineer or live long enough to see yourself become the business person"
Promoting her book on Technical Leadership. It is about "The art of guiding technical decisions". The hardest thing as a manager is to "debug" the hardest problem which is: "The team is slow"!
As an employee we are looking for managers that understand what you are doing, that shows appreciation for the work you do because they know that it is hard.
As a manager it is important to understand what gets the team excited (new technology) as well as what makes them frustrated.
Really interesting insights and learnings. Check out her book "The Manager's Path" in case you want to move towards Technical Management.
John Allsopp (Web Directions | @johnallsopp)
Voice: Recent advances in voice recognition. Its in our browser already – but we are getting more – such as recognizing the mood/tone of voice of the speaker! So lets build the next generation of innovation. Find out more webdirections.org!
Sean Regan (Atlassian | @seanjregan)
Introducing us to their DevOps Health Monitor. On a constant basis get easy (thumbs up/down/neutral) feedback on different aspects of a project that impacted dev and ops. The best practices and play books the Atlassian guys put up on the web are a great way to see how you can do these types of retrospectives with your own team!
Jenn Schiffer (Fog Creek | @jennschiffer)
Introducing us to a new platform called glitch.com – with the promise to bring people together to implement real ideas instead of just talking about fake ideas J – check it out: www.glitch.com
Tim Kadlec (Snyk | @tkadlec)
Blown away by this presentation on giving us a real perspective about that – even though the web should be for everyone – it is not equally distributed and accessible in the moment. I encourage all of you to watch the recording of this session as it is very inspirational to the larger web and application performance community
Kelsey Hightower (Google | @kelseyhightower)
Demoing https://istio.io/ with some interesting use cases when instrumenting his micro service app. Through VoiceOps he demoed a couple of interesting phrases through his phone: What's the topology of the service? Block HTTP access to service X! Route mobile traffic to backend version 2! Reminded me of Dynatrace AI and Davis®.
LIVE Blogging continues on Thursday
One day down – another one to go! I will continue with covering tomorrows Keynotes and Sessions!
Find me in the hallways or at the Dynatrace booth 611
If you are at Velocity, please feel free to reach to find me. I am always eager to learn from others as well as sharing my own experiences. Reach out to me on Twitter (@grabnerandi) and LinkedIn (Andreas Grabner). I will either be dancing through the hallways or you can find me at the Dynatrace booth 611 during Expo hours. See you there!