This year I was invited to present at DevOpsDays Berlin, the most-awaited DevOps gathering in Central Europe. A two-day event, it is informative, delivers insights from industry thought leaders, and is attended by people eager to share experiences and learn from each other. This blog post summarizes the activities of Day 1.
Keynote by John Willis
The morning began with a keynote presentation by DevOps thought leader John Willis (@botchagalupe) who reminded us that DevOps is based on lean principles, and examined the influence Arthur W. Deming's work had on the lean movement and lean manufacturing in particular.
"Power in the Workplace and Women in Tech" by Inga Höltmann
Inga's (@ihoelt) talk was a statement about how power in the workplace not only demands great responsibility, but, in the hands of a true leader, has the potential to overcome challenges (referring to the work of the German sociologist and philosopher Max Weber). She also explained that being a leader is an active decision requiring much more than simply being a "boss".
"A true leader is not afraid of his colleagues. A true leader can turn his colleagues into leaders."
Inga Höltmann
She then continued that it requires an act of power and leadership to create diversity in the male-dominated IT industry. Why? Because it is a scientifically proven fact that diversified teams are more creative, tackle problems from different angles and are — overall — more successful than teams that are not.
"Containers, DevOps, Apache Mesos & Cloud: Reshaping how we Develop and Deliver Software" by Marcelo Sousa Ancelmo
Architecting for Microservices and Cloud
In his presentation, Marcelo (@marceloancelmo) presented some of the potential pitfalls of migrating to the Cloud or to a component-based architecture, such as microservices. Generally speaking, we need to reconsider our architectural design: "take care of proper decomposition, architect for scalability and graceful degradation."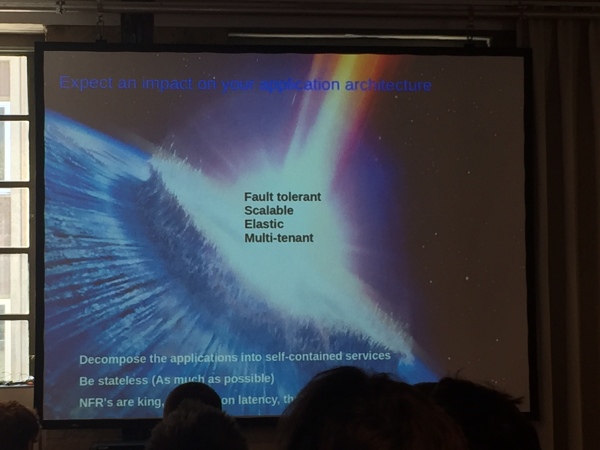 "If you simply split up a monolith into services, e.g. by carving out arbitrary classes, you'll not end up with microservices! If one service fails, every service that depends on it will fail, too. This is not good architecture, and will create new, even more difficult problems for you to solve."
Marcelo Sousa Ancelmo
Containers
Containers change the way we think about our applications. With containers, when we talk about an application "we don't think in terms of binary artifacts anymore that run on this particular server and only this one." Instead, "we see it as a bunch of processes running on some server (possibly in the Cloud)."
Also, containers help enforce collaboration between Developers and Operators and, due to their self-contained nature and immutability, tie nicely into the concepts of the Continuous Delivery build pipeline: "inside a container you have everything you need and it can run in any environment."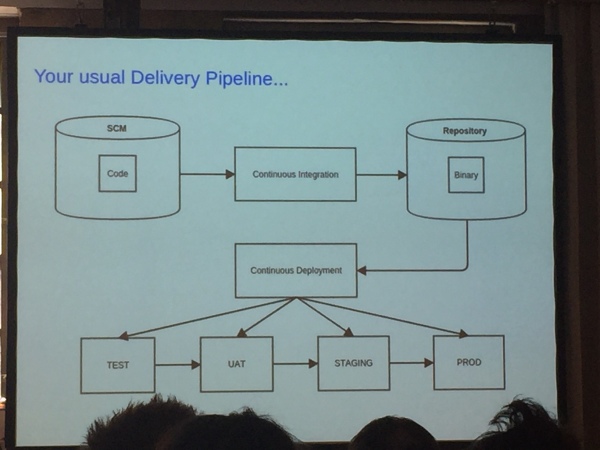 Finally, Marcelo gave examples for deploying containers on Apache Mesos and Kubernetes, how cluster node failures can be mitigated using Marathon, and presented the principles behind blue/green deployments and canary releases on top of these frameworks.
"War Games" – by David Mitton
David kicked off his presentation with some impressive numbers on the cost of uptime of cloud providers in Q1 2015:
Amazon: $ 1.2 Bio.
Google: $ 2.9 Bio
Microsoft: $ 4.1 Bio.
Still, outages have occurred regularly in the recent past. David's business has to be highly available and, as they rely on a Cloud provider, had to prepare for those outages. To summarize, his teams started to simulate outages of various components and, by constant preparation and practice, were able to drastically reduce their MTTR.
"Constant practice gave our teams the confidence to go through difficult situations without panicking. We were able to better coordinate measures as everyone knew what they had to do." David emphasized that isolated failures are a thing of the past: "Usually, it's a huge cascade of events taking place that threaten your application."
Open Space Sessions
In the afternoon, the audience had the chance to vote for 15 topics to be discussed in the open space format (the topics themselves were also proposed by the audience prior to that). Here are some of the sessions that I found particularly interesting:
DevOps in the Enterprise: legacy, culture, change
DevOps means development and operations. What about QA?
Infrastructure as Code
Secrets management in a DevOps World
To do or not to do? Value Stream Maps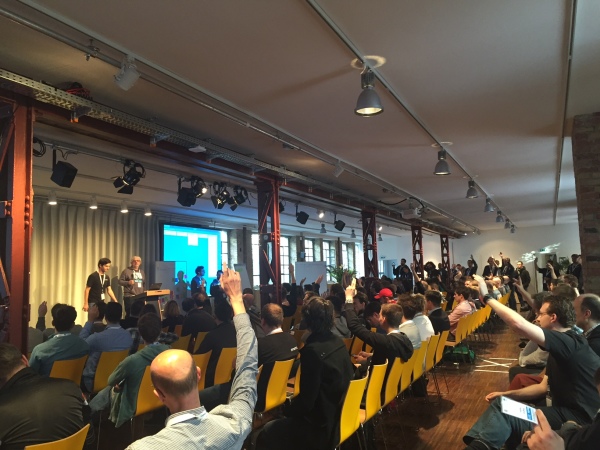 That's all for Day 1. I enjoyed the presentations today, and the open space sessions generated plenty of lively discussion. Stay tuned for Day 2! Here's all about Day 2!