Google, Amazon, Netflix, Facebook, Etsy, and Microsoft have adopted DevOps principles. So have The Gap, Nordstrom, the World Bank and GM. And just about every tech start-up has it in their DNA.
These organizations know that their revenue, their market share—their very futures depend on satisfying their customers' ever-increasing demands for new features, greater speed and their personal 'perfect' experience—every time.  These companies continuously deliver new value to their customers because they understand the alternative…
Are you thinking: Wasn't DevOps just last year's buzzword?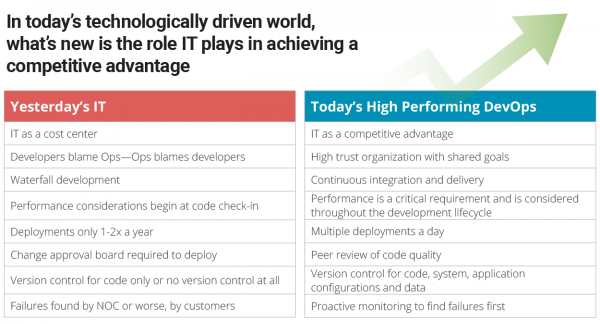 The principles that make DevOps work are far from new.  Lean manufacturers embraced them in the 1980s to build with unprecedented speed and quality. For years, organizations like big-box retailers and service firms have gained a competitive advantage by leveraging cross-functional teams, shared application performance metrics and workflow automation. And Agile software development has been around since 2001.
Are you wondering: What are the results of all this?
Leading "Internet-born" businesses elevated these practices to a new level:
Flickr was the first to announce they were following DevOps principles with 10 deployments a day way back in 2009.1
TurboTax recently made 165 production changes during peak tax season resulting in a 50% increase in website conversion rates.2
Amazon deploys at an amazing pace: every 11.6s with 23,000 deployments a day. They have had 75% fewer outages since 2006, 90% fewer outage minutes, and only 0.001% deployments cause a problem.3
As leaders took DevOps practices beyond early adoption, some pretty convincing results have caught the eye of the greater IT majority.  We have these leaders to thank for paving the way, allowing us to learn from their mistakes, build on their successes and using them to further our own internal performance culture.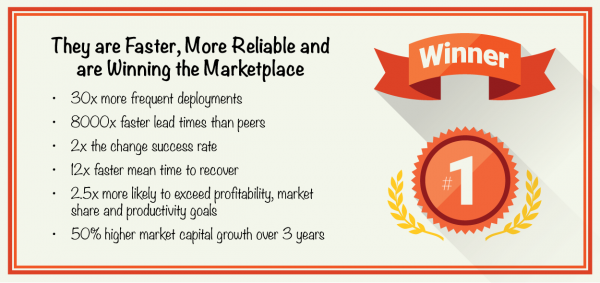 Dynatrace, built by design for lifecycle, gives you visibility from code through conversion, delivering actionable performance management insights at every step in your application lifecycle – in a way that all IT groups can understand.  Visibility » common insight » action = reliable, repeatable outcomes.  Blind faith has no place in developing, testing and releasing applications that are essentially driving your company's future.
To learn more, check out "DevOps: Hidden Risks and How to Achieve Results. Industry Insights from DevOps Experts." This eBook will give you more in-depth insight into why DevOps is important, what makes the DevOps leaders successful and provide guidance on how you can accelerate your results.
More resources of interest:
Free Application Performance Monitoring Trial
Dynatrace Performance Benchmarks
Sources:
1http://www.slideshare.net/jallspaw/10-deploys-per-day-dev-and-ops-cooperation-at-flickr and Gene Kim, Excerpt Points from Live Presentation, Dynatrace Perform Conference, 2014.
2Gene Kim, Excerpt Points from Live Keynote, Dynatrace Perform Conference, 2014.
3 https://www.youtube.com/watch?v=dxk8b9rSKOo – Amazon, 6/20/11 Velocity Presentation.
4https://puppetlabs.com/2014-devops-report and https://puppetlabs.com/2013-state-of-devops-infographic