We get it! There's a lot going on at AWS re:Invent this year. Six locations. Five days. Four hundred plus sponsors, and about a bajillion breakout sessions. It's almost overwhelmingly awesome. But exhausting.
And if you're like us, you're already battling some major FOMO (Fear Of Missing Out) trying to figure out how you can fit it all in, without stressing out.
It's okay though. You can relax—and even slack—and still get all the best things out of the show. We've got you covered with these nine insider tips that will have you navigating Re:Invent 2017 and Las Vegas like a boss.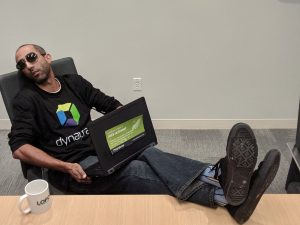 Hit the important talks and don't stress about the rest.
Did you know that most Re:Invent talks are recorded and posted on YouTube? (Here's a GithubGist link to last year's talks.) This should take some of the stress off trying to juggle your schedule and let you focus on things that get you really jazzed. (See below!)
Don't skip the Aria QUAD.
Come for the Builder's Fair, stay for the Lego Pinewood Derby. Some of the most innovative and talked-about things at re:Invent are going to be going down at the Aria.  From AWS IoT to Artificial Intelligence & Machine Learning—this is where the sexy will be. Don't be that sad person that missed it all.
Go back in time.
Want to venture off on your own and experience something really cool and unique in Vegas? Check out The Laundry Room, a 1920s-style speakeasy bar that is tucked away in the Downtown area. Yes, you'll need a cab. You also need a reservation just to find it. Send a text to (702) 701-1466 and they'll text you back instructions on how to get in. Then tuck your phone away, because this trip back in time includes a strict "no phone" policy!
Be lazy about walking. (Really. It's okay.)
Not everyone wants to take a shuttle, walk a mile, or battle the crowds to get a front row seat at a keynote. Some of us are cool with a cold drink and a livestream. Here's a list of the re:Invent Keynote Overflow locations, where you can sail in and watch the keynote livestreams without all the hassle.
Get a UFO sighting.
This is a shameless plug for our booth. But seriously—you'll want to visit us and see our super cool 3D printer in action. It will be revv'd up at the Venetian and printing up UFOs. Plus, play our game for prizes at either the Venetian (BOOTH 807) or the Aria QUAD (BOOTH 205) and win awesome prizes!
Get your broom on.
Did you know Amazon has a thing for Broomball? It's like a cross between soccer and traditional broomball (whatever that is) and not at all like dodgeball (thank God). Email Amazon now and enter your team for the tournament, or just wander down and spectate during the welcome reception.
Download the app.
Do we really even have to include this one? Seriously though, slacker or not, you can't wing this show. Download the app. It's got maps and stuff and you can even reserve seats. You'll need it, because this campus is ridiculously huge. (That said, if you're a stubborn Luddite, you can download and print a map, here.)
Meet US!
We're very cool. (UFOs, remember?) But more importantly we will blow your mind with a three minute demo of how our solution can illuminate and give you AI insights into even the most complicated enterprise environments. We'll be that thing you are chattering about to the person next to you on the plane home. (Don't be that guy, though.)
Sneak off for golf.
We actually don't think you should leave the show. There's too much to do, from incredible sessions to pub crawls. But if you don't think a trip to Vegas is complete without some relaxing time on the links, we think the best course to hit is the Shadow Creek Golf Course. Just be sure to go early and get back in time to catch a few sessions. (You'll need them to justify your expense report.)
Have you got any pro tips? Share them below or leave us a comment on social media. You can find us on Facebook, Instagram, LinkedIn & Twitter!
Above all, remember to pace yourself, chill, and have a great time at the show. And come say hi to us. We'll see you on the other side!