LATAM Partner Summit 2017 – Day 3: Innovation
Good morning and welcome to Day 3. You can recap on Day 1 and Day 2 blogs, and today is all about innovation. Day 3 is a half day allowing for travel, and after a great awards dinner and celebrations last night we're nearly at full capacity – not too many casualties…I'm sure anyone that's missing is just wrapping conference calls….
Innovation
There's been a lot of interesting discussion around innovation and how Dynatrace has completely redefined monitoring, and the simple slide below illustrates this perfectly. Where we see Dynatrace (appmon), AppDynamics, and New Relic all designed for application complexity and relatively simple and static infrastructure, while Dynatrace makes an epoch leap to address both application complexity AND liquid infrastructure that is software defined, and highly agile.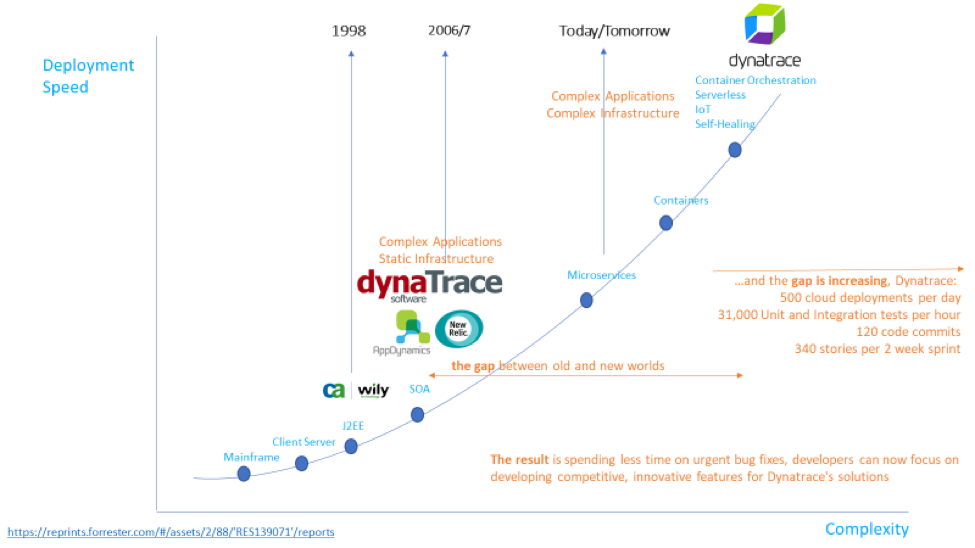 And while Dynatrace is clearly in a league of its own, the gap between Dynatrace and the competition is growing at high velocity. If you haven't seen the Forrester report (not commissed by Dynatrace – Forrester produced this on their own dime due to the innovation at Dynatrace ) 'Dynatrace's Journey Toward Delivering Business Transformation: A Software Vendor's Evolution From Waterfall To DevOps To NoOps' then you may not be aware of how Dynatrace has transformed the way product is built and delivered. Highlights from the report include:
500 cloud deployments per day via automated run books
31,000 unit and integration tests per hour
120 code commits per day
340 stories per 2-week sprint
All this automation, hyper-velocity, and high-quality means is that Dynatrace spends significantly more time innovating products than finding and fixing bugs.
I can tell you for certainty, AppDynamics and New Relic do not have anything like this product delivery capability.
And that leads us nicely into the first session of the day….
Shift Left Performance & Shift Right Ops
…with Mike Villiger, Snr Tech Partner Manager, who explains the need for shift left quality metrics as well as shift right production ops metrics. Both need to be considered to execute DevOps effectively.
And a great example of this is highlighted through Verizon's experience of Dynatrace. Highly impressive.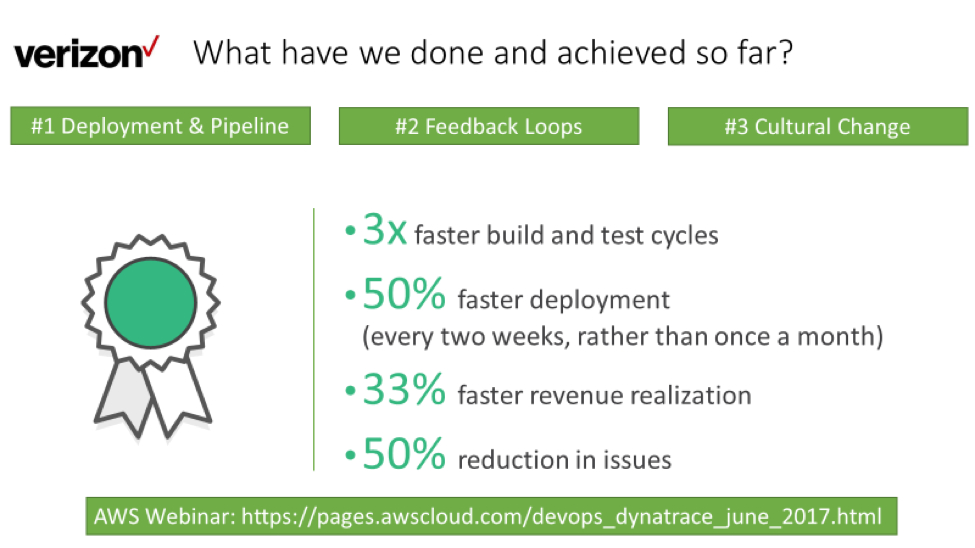 However, a report from our friend Gene Kim, published author, keynote speaker, and one of the founding fathers of the DevOps movement, highlights that adoption of DevOps is low. This represents good news for Dynatrace Partners who have 98% target market to attack and transform!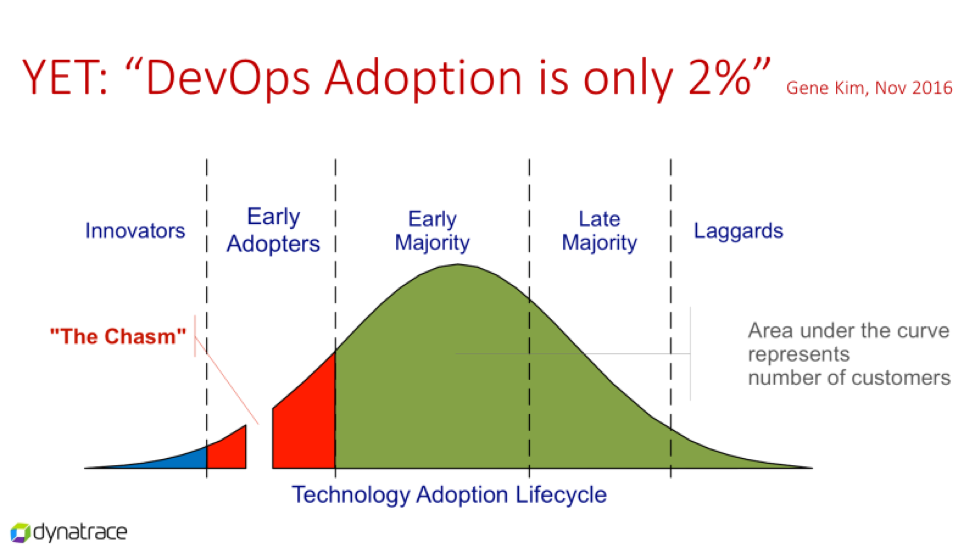 And hot off the press – you can register for Andi Grabner's new webinar – 'AI Supported Performance Testing with Dynatrace'
Introducing D.A.V.I.S.
Ricardo Aguilera, Sales Engineering Director for LATAM, steps up with his friend D.A.V.I.S. (Digital Assistant for Virtual Interaction Services – in case you were wondering), which provides a natural language interface to enable broader use of Dynatrace.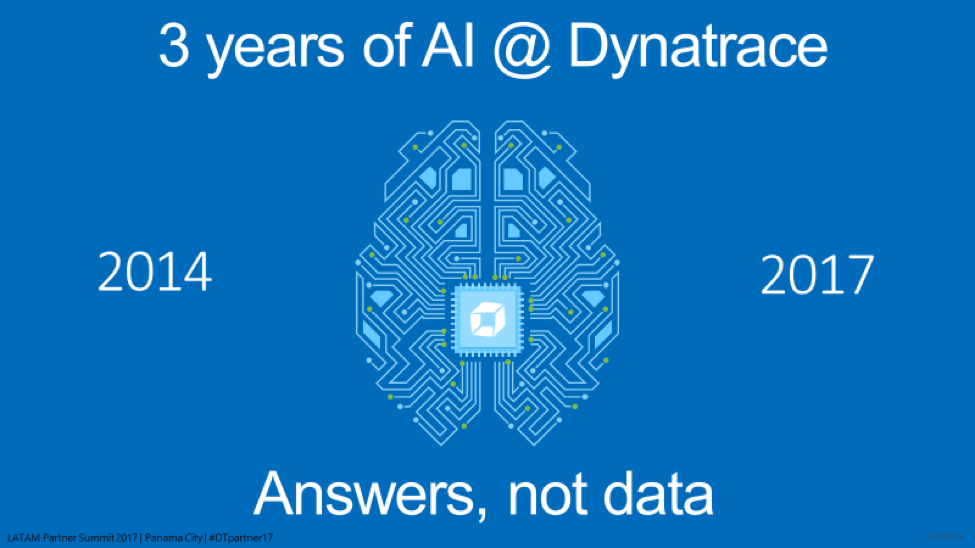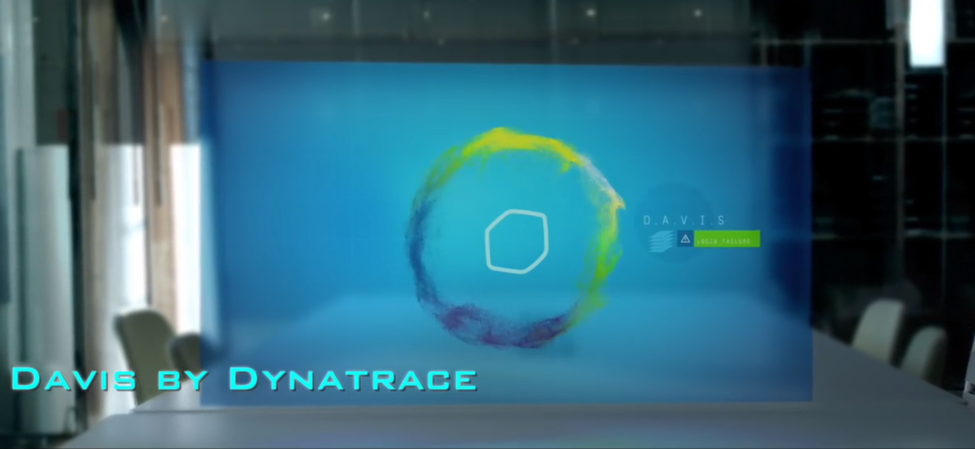 Click here to watch the D.A.V.I.S video
Nice video to introduce D.A.V.I.S to LATAM, followed by a live demonstration. Even with some dodgy hotel WiFi the natural language interface is providing excellent insight into the health of key applications, services, infrastructure, and user experience. A request to see the problem resolution path, based on over 40million analyzed dependencies across a highly complex micro-services environment is provided in a couple of seconds. No more sifting through logs, drilling through dashboards, filtering metrics, or even using a computer! Just ask D.A.V.I.S.
You can find more information on D.A.V.I.S here and Partners can sign in to https://davis.dynatrace.com/ using their Community & Support credentials to test it out.
A nice summary of what other vendors are doing in the AI space. Nothing from AppDynamics (their latest blog post is a curious attempt to devalue AI, which is more a reflection of their lack of innovation since the Cisco acquisition than being any kind of authority on the subject).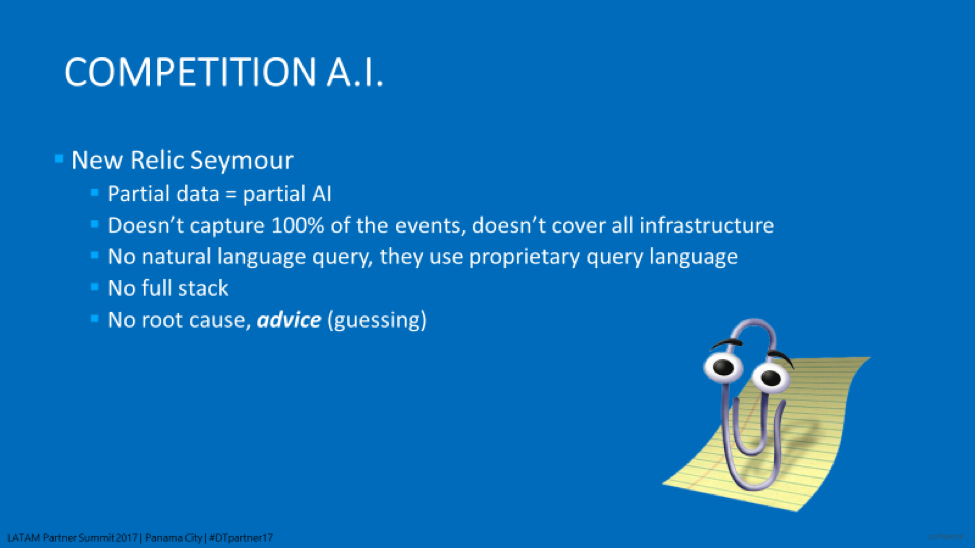 Conversely, New Relic have been heavily promoting Project Seymour for a couple of years now and are only just starting to roll it out, but their sampling approach to data collection inhibits any real intelligence and reduces outputs to best guesses, rather than concrete conclusions. Perhaps it was New Relic's Seymour AppDynamics were taking a pop at. Either way, AI relies on a complete data set to be effective and that's the approach Dynatrace adopts.
Monitoring Microsoft Azure
Guest speaker from Microsoft, welcome to the stage Roland Rangel! Snr Azure Technical Solutions Professional. Great to have you here Roland.
Very cool intro video highlighting the sheer size of Microsoft Azure. If you like BIG Compute, BIG Power, BIG Cooling, BIG infrastructure, BIG networks, and err, other BIG stuff, then Azure is totally up your street. (We'll update the blog when Microsoft allow us to share the video link)
Microsoft's own research highlights the immense growth in containers and validates Dynatrace's strategy to focus in on cloud and container technologies that underpin micro-service architectures.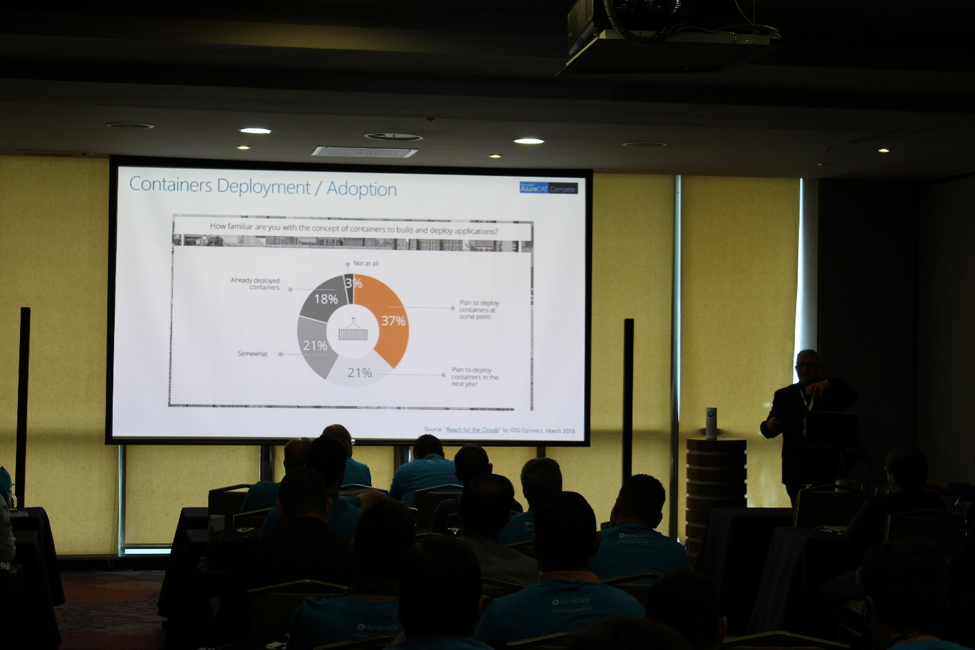 Microsoft Azure IaaS and PaaS marketecture shows the breadth and depth of Azure. Anyone thinking they don't need AI based monitoring only needs to see this complexity to realize that traditional monitoring tools won't work.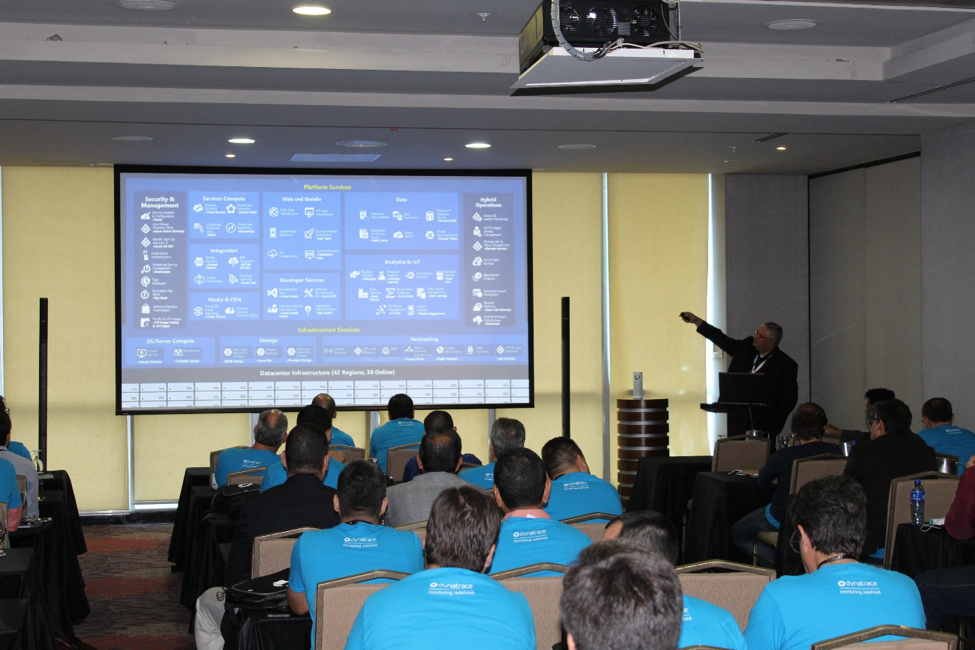 And now it's demo time. Within the Azure marketplace you can trial Dynatrace Managed, the private deployment model for Dynatrace (as opposed to the SaaS version – both are identical in terms of capabilities and features, but Managed offers a private deployment approach for those industries and organizations that require it).
Check out the Dynatrace Managed free trial on Microsoft Azure for yourself!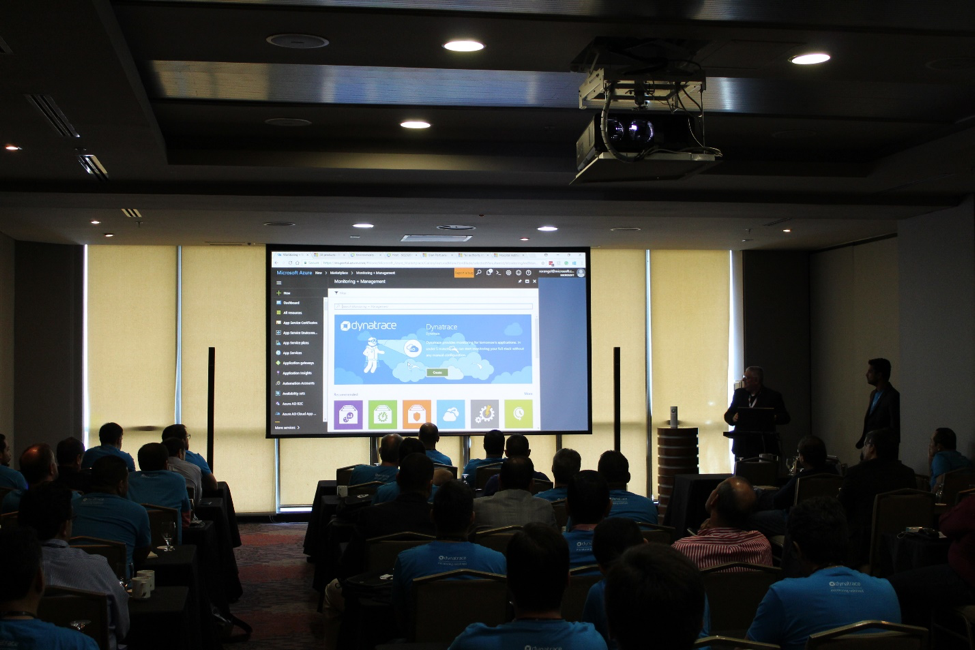 Amazon Echo Raffle
And to finish things off, a quick raffle of Amazon Echo devices so Partners can embrace D.A.V.I.S.
The first name drawn out of the hat is… Cleber Viana from Accenture!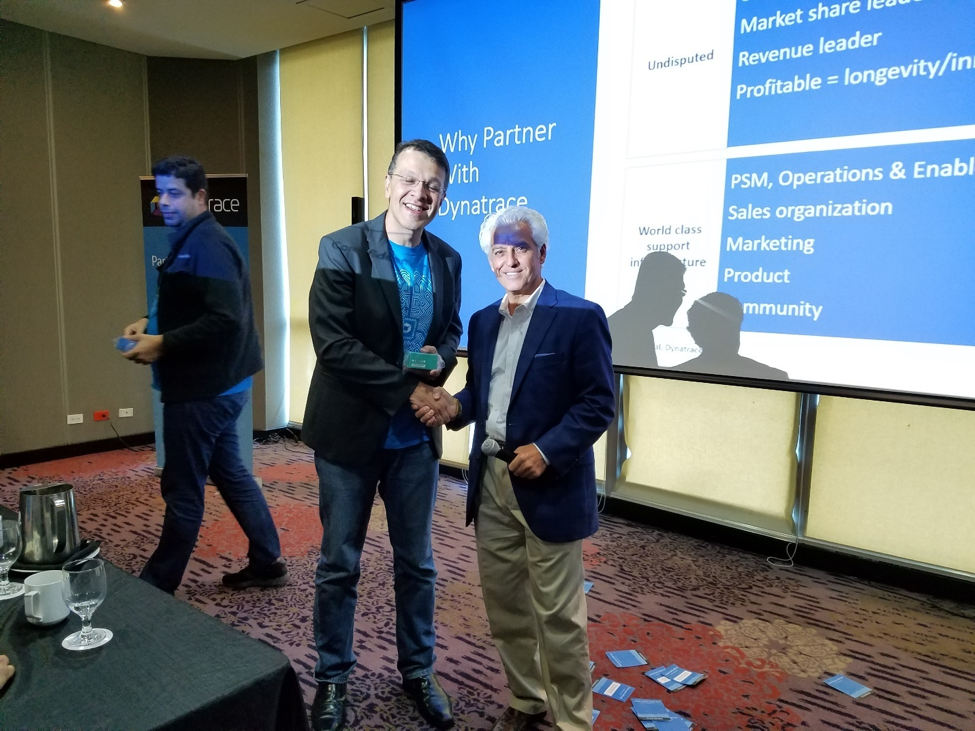 The second name drawn out of the hat is… Cleyton Ferreira from UOL Diveo!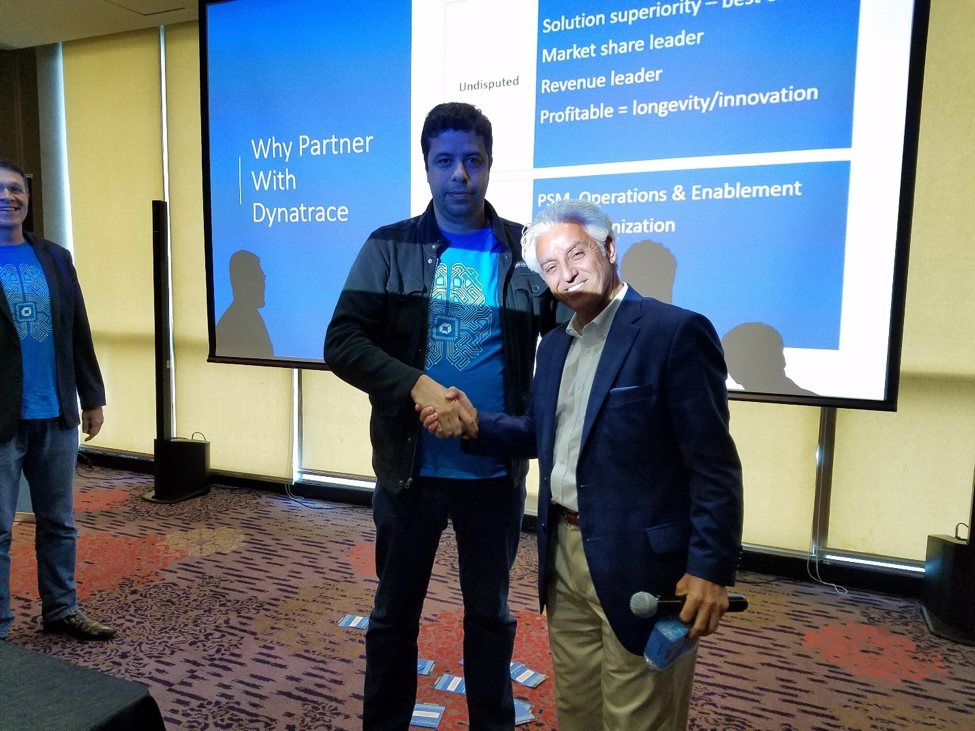 Close
And that's it folks. Thanks to those who stayed to the end for a group picture – appreciate you have families to get home to! A truly fantastic event, great location, great content, great innovation, and great partners! Wishing you all safe travels and looking forward to seeing you at the next LATAM Partner Summit.