It's been more than six months since I wrote about Top DevOps Tools We Love, and many great things have happened on the topic since then. Today, I am proud to announce the immediate availability of Chef, Ansible and Puppet scripts for automated deployments of our Dynatrace Application Monitoring solution into development, test and production environments. Here are the "whys" and "hows".

Why Chef, Ansible and Puppet?
In recent months we have seen an increased interest among customers and prospects, both small and large, in automating deployments of their applications into testing and production environments as part of their Continuous Delivery process. Some have already fully automated the provisioning and teardown of entire (cloud) environments as mandated by Immutable Infrastructure.
To enable us to make an informed decision on prioritizing IT automation tool integrations we first asked customers if they used any – such as Chef, Puppet or Ansible — and then inquired as to which one they preferred. Frankly, the answer wasn't quite what we expected: a larger number of customers responded that they actually use them all. Why? Companies who truly adopt Continuous Delivery and DevOps don't just automate; they empower their teams to make their own decisions, and allow them to pick the solutions that work best for them.
Integrating with these tools enables our customers to conveniently enforce Continuous Monitoring using Dynatrace development, test and production, in on-premise, public, private and hybrid cloud environments. In turn, these integrations enable us to automate our cloud-based Dynatrace AppMon managed service, as shown in this talk at QCon London 2015:

Deploying On-Prem as SaaS – Why we go with Ansible – QCon London 2015
The Value of Automated Application Monitoring
By creating vanilla installations of components of the Dynatrace Architecture via Chef, Ansible and Puppet, we were able to work closely with a variety of customers — across all verticals — to gather first-hand feedback to gain a better understanding of future requirements. At the same time customers, prospects and partners have automatically and successfully rolled out our enterprise solution across development, test and production environments, in both on-premise and cloud environments, all in record time.
Something we had to improve to make automated deployments work conveniently was to make our installers publicly available (which originally had only been available to registered users). With the recent release of Dynatrace 6.2.2, installers can now be obtained via public download links at downloads.dynatracesaas.com; our various tool integrations come prepared to automatically download any component and version you require!
At this point I want to give a shout out and a big "thank you" to our customers who have been providing precious feedback and code contributions, e.g. @gehel, @nicka and @yshoaib to name just a few. GitHub became a vital collaboration platform for us, and we invite you to use it to learn about our offerings and share your thoughts about how we can to make our integrations even better.

And customers aren't the only ones excited by this news! Here is what Bill Zajac, Sales Engineer in San Francisco, California, and Kris Renders, Enablement Services Architect in EMEA, say about how our offerings will positively impact their work:
Whoa! Just got a sneak peek of the new automated deployment for @Dynatrace! I see some hero's getting born from this release.

— Bill Zajac (@BillJZajac) September 14, 2015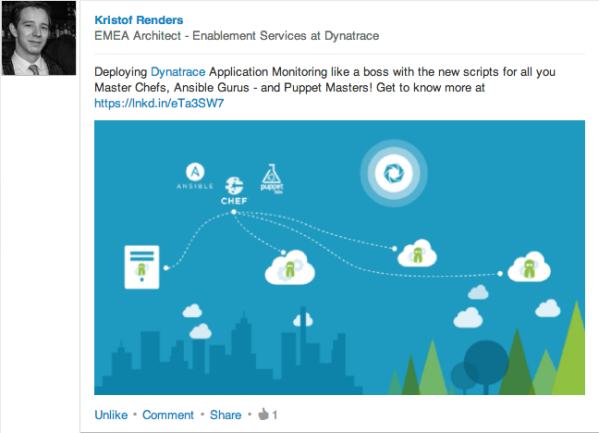 Our Offering: Blueprints for your Tools of Choice
Our various integrations are available on the following platforms:
What we also learned is that the ways in which environments are made up vary greatly between customers. Our integrations do come with sensible defaults that may well work out-of-the-box, but will usually require some modifications to suit your particular use-case. If you have any questions, consult the respective repository's documentation, and please participate in our community forums at answers.dynatrace.com.
Interested in seeing the bigger picture and working examples? In "How to Automate Enterprise Application Monitoring with Ansible" I describe how you can be up and running with Dynatrace and Ansible in less than 60 seconds.
In a follow-up article, I will describe the approach I have taken to build quality into our Chef, Ansible and Puppet integrations by applying the test-driven Agile software development approach to our deployment automation scripts using frameworks like Test Kitchen, Serverspec and RSpec. Stay tuned for more interesting bits and pieces on continuous monitoring and, in the interim, try the Dynatrace Free Trial.