Load Testing has traditionally been done In-House with load-testing tools using machines in your test center to generate HTTP traffic against the application needing to be tested for high volume transactions. With agile development practices, shorter release cycles and higher number of users that will ultimately access a web application from more places around the world, in-house testing reached its limits. Maintaining a load-testing infrastructure that supports 10 or 100 thousands of users becomes costly. With rapidly changing applications, updating test scripts is also becoming a bigger challenge all the time, binding lots of test resources to just the task of maintaining test scripts. When running tests more frequently, analyzing test results becomes a task that consumes performance architects or engineers with analyzing graphs and log files in order to figure out what problems were just uncovered by the recent test.
Let's summarize these problems/requirements:
It is important to run bigger loads than ever before as our apps are accessed by more users around the globe
Besides just running the load we want to know how end-user performance is perceived from different locations around the globe
It is costly to own and maintain a test environment large enough to support these loads
It is time consuming to constantly adapt test scripts to reflect the changes of every product iteration
It takes experienced performance engineers or architects too long to analyze the test results and identify the root cause of problems
Cloud based Load Testing solves many of these problems by providing high-volume tests from around the globe at specific times at a manageable cost. But it comes with some requirements on the tested application, and services like this must meet certain requirements in order to solve the discussed problems:
The Application Under Test (AUT) must be accessible from the internet as the generated transactions are generated from machines around the globe and not within the local test environment. Companies usually use part of their production system at "off-hours" to host the version of the application to be tested. This allows running large scale tests without having to have a replicate of the production environment for testing
The load testing service must provide an easy way to create and update scripts to adapt to changes within a product's iterations. Otherwise too much time and effort is put into setting up tests.
The service must integrate with performance management software that runs on the tested application. This allows correlating data shown in load testing reports (Response Times, Transaction Rates, Bandwidth Usage …) with data captured in the application infrastructure (Transaction Times, CPU, Memory, Exceptions, …)
Proof of Concept: Load Testing with Keynote integrated with Application Performance Management from Dynatrace
Together with Keynote's Load Testing Consultants we set up the following environment showcasing the benefits of an integrated solution of Cloud-Based Load Testing and Application Performance Management.
Step 1: Deploying the application
We deployed a 4 tier (2 Java and 2 .NET Runtimes) eCommerce Travel Portal on a hosted virtual infrastructure so that it is accessible by the Cloud-based Load Testing Service. We also installed and configured Dynatrace to manage this multi-tier heterogeneous application in order to identify problems once we put load on the system.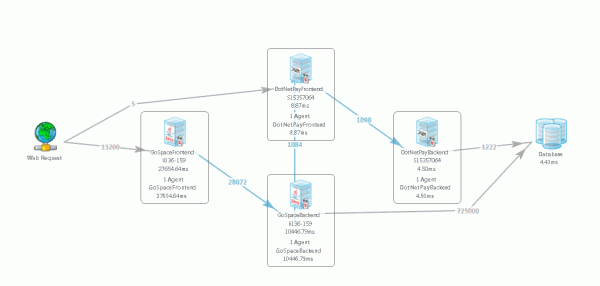 Step 2: Test Scripts and Keynote/Dynatrace Integration
Keynote modeled several use-case scenarios based on the testing requirements we had on our application. We ended up with use cases such as executing a specific search, accessing the last-minute offers page or purchasing a trip. Dynatrace provides an integration interface for Load-Testing and Monitoring Services that allows us to link every executed synthetic request with the transaction that Dynatrace traces on the application server when these requests are handled by the application.
Step 3: Running a test
We decided to run a test starting with increasing load to figure out where the breaking point of our application is. We started with a load of 3000 sessions per hour running for 15 minutes and increasing this load every 15 minutes to 6k, 9, and 12k sessions/hour. It turned out our application broke much faster than we anticipated 🙂
Step 4: Analyzing the Load Testing Report
When I log into the Keynote Load Testing Portal I start by looking at the load testing report that shows me the executed sessions, response times, page views and errors: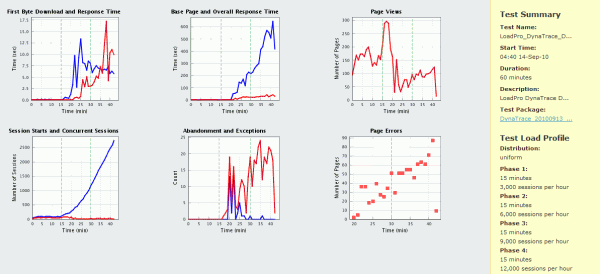 It is easy to see that – once we went from Phase 1 (3k sessions) to Phase 2 (6k sessions) – our application's response times go through the roof causing most of the simulated users to experience timeouts. A click on the Page Error graph shows that these errors are mainly timeouts or connection errors. The question now is: Is this problem an application problem or is it related to the infrastructure? Without having insight to the application these results could be interpreted in multiple different ways, e.g: our hosting company doesn't provide enough bandwidth. That is the point when Application Performance Management helps to answer these uncertainties.
Step 5: Looking at application performance data
I've created two dashboards that I use to analyze application performance while or after running a load test. The first one is an Infrastructure Dashboard where I display CPU and Memory Utilization of all 4 Application Runtimes that are involved: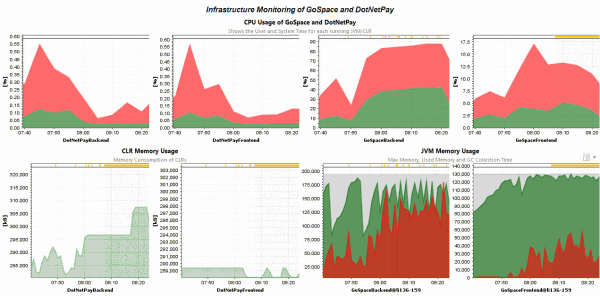 The red measure in the JVM Memory Usage graph indicates GC Collection time. The red in the CPU Usage indicates the max CPU Usage of that JVM. The conclusion is therefore easy. High memory usage leads to high GC activity which maxes out our CPU.
The next Dashboard gives me insight into the application itself – with all the involved application layers and the individual transactions that Dynatrace analyzed coming from the Keynote Load Test: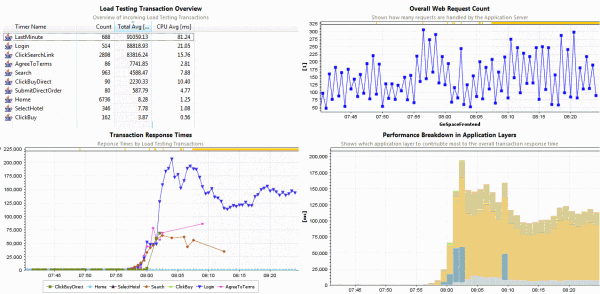 On the left of the Dashboard I placed a transaction overview of the individual use cases Keynote executed during the load test. It is easy to spot that once the load got ramped up to 6k sessions we saw a dramatic increase in response time on our application server. That means that our first question is answered: it is not an infrastructure problem with our web hosting but an application-specific problem. With the knowledge, we already have by looking at the memory and CPU measures we can already guess that this is the main contributor. The performance breakdown on the bottom right also highlights which application layers were contributing the most to the application transaction response time. A double click on that graph gives us a close-up on this data: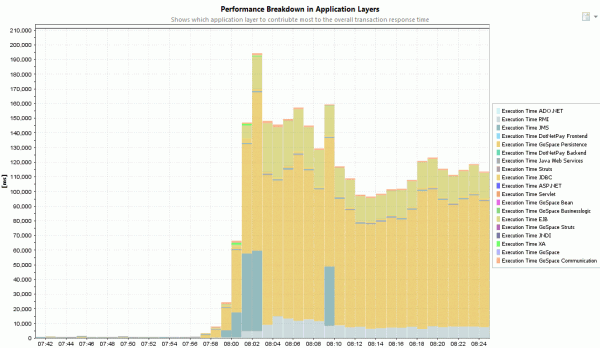 Step 6: Drilling deeper into the problem
Dynatrace captured every single request that was executed while running the load test. Its PurePath technology is the enabler of the dashboards we looked at earlier. The next step is to identify what is really going on in the application and where is the main impact of the increased load. The next dashboard I created gives me a better overview of the application architecture, showing me which methods are called most often and how well they execute. I am also interested in database activity as well as individual web requests that were slow: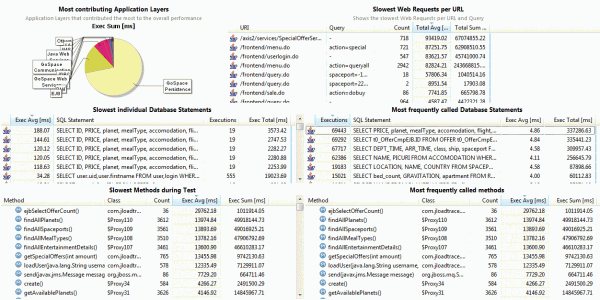 The dashboard again shows us that the primary application layer impacted is our persistence layer. It is also very interesting that the slowest URL is a web service hosted by our backend application server and that we have a very high number of database statements coming from only a few web requests. This information is really valuable for the application architects who need insight into application dynamics under heavy load.
Step 7: Show me the root cause of these slow-running transactions
Not only can we get an overview of which requests were slow and how many methods or database statements were executed. We can now look into individual transactions, and also compare transactions to see where the difference is between a slow-running and a fast-running transaction. Dynatrace allows me to drill down to those 718 transactions that executed the slow running web service and I can inspect each individually: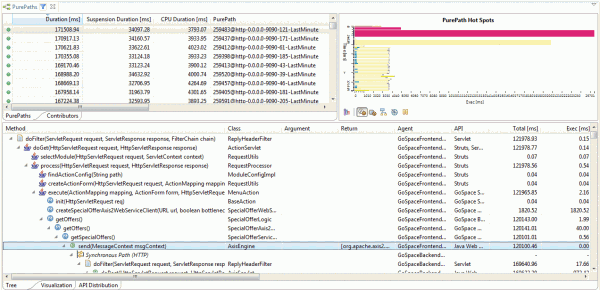 Looking at the duration, CPU duration and Suspension Duration (Garbage Collection) really highlights the problem that we have. Suspension Time is really high with those transactions impacting the overall execution time.
I can also pick one that ran very slow and one that ran fast, and let Dynatrace compare these two transactions for me and highlight the differences: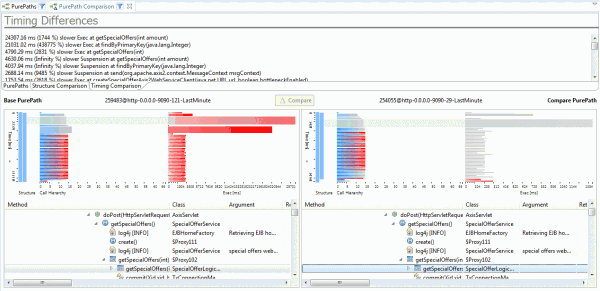 Not only do I see how Garbage Collection impacts execution time of individual methods and the overall transaction. It also shows me how different the same transaction executes in case of an error (such as thrown abort exception) – which brings me to one additional dashboard I like to look it. This one includes exceptions, logging messages and an overview on the Garbage Collection runs on individual methods: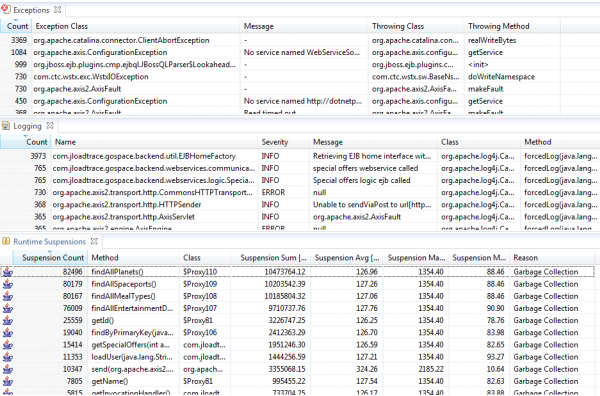 Step 8: Hand off the data
Looking at this data was easy as I simply look at these dashboards after the load test is finished. The dashboards already helped to identify several hotspots, e.g: high memory consumption by the backend web services causing high GC, too many SQL statements per request, many hidden exceptions that never made it to a proper log message, …
Dynatrace makes this captured data available to the engineering team in order to resolve these problems. They can either access the data by directly accessing the Dynatrace environment used to capture this information. Another way is to export individual PurePaths or maybe all of them into a Dynatrace Session file which can be exchanged via email, Instant Messenger or attached to a bug ticket.
Proved the Concept: Cloud Based Load Testing with APM is ready for Agile Development
The problems/requirements listed in the beginning of this blog are solved/met with the integrated solution from Keynote and Dynatrace:
Keynote runs large scale load tests by driving load from many different locations around the globe
The global-distributed load generation allows us to identify local content delivery problems (slow network connections, wrongly configured CDNs, …)
The costs are under control as you only pay for the load test but don't pay for maintaining your own load-testing infrastructure that would sit idle most of the time
Keynote makes it easy to create scripts and offers services to do the scripting for you
Dynatrace automatically highlights the problems identified during the load test. High-level analysis through dashboards doesn't require highly skilled performance architects. The fine-grained data captured, however, gives the performance engineers and software architects actionable data without digging through log files or manually correlating a multitude of different performance metrics
No change to your application is required to use this integration