DevOps is speeding towards the IT world like a freight train and the hype around it is deafening. There is no reason to be afraid of this change as it is the natural reaction to the agile movement that revolutionized development just a few years ago.  By definition, DevOps is the natural alignment of IT performance to business profitability. The relevance of this has yet to be quantified but it has been suggested that the route to the CEO's chair will come from the IT leaders that successfully make the transition to a DevOps model. If this still seems foreign to you, I recommend reading up on DevOps Blog from IT Revolution, the OpsCode Blog, and check out The Phoenix Project.
Despite all the talk around simple monitoring tools, breaking through the walls between Dev and Ops still poses a real challenge. This is because of a misunderstanding around Operations real purpose – extracting real value from its resources. According to Kevin Behr the definition of Operations is the act of harvesting value from IT resources.  Anything that prevents this from happening is a detriment to the business.  This means that firefighting and war room sessions are a hindrance to the DevOps model.  The following screenshots are good examples of a war room scenario:

Successfully riding the DevOps train: Many of our production customers that made it through the firefighting mode applied the principals of DevOps with a special focus on Application Performance. In this blog we describe the steps and milestones companies need to go through in order to level-up their Operations and Engineering Teams to provide more value out of the existing resources.
The Foundation of DevOps
CAMS (Culture, Automation, Measurement, Sharing) are 4 key areas that are core to the DevOps movement. Culture is the hardest to change but is also the most important because it means a change in the way in which the different teams work together and share the responsibility for the end users of their application. It promotes the usage of development practices in operations to automate deployment. It also allows developers to learn from "the real world" Ops experience and with that mutual exchange it breaks down the walls.
The Lack of Performance Focus
Interesting fact based on the feedback we get from operation teams worldwide: The root cause for about 80% of site crashes or performance problems is related to only about 20% of problem patterns. Want to learn more? Check out blogs such as Top Performance Landmines in Production and I am sure you find some issues you already ran into yourself.
Looking at these common problem patterns it is clear that despite all the DevOps efforts lots of performance and scalability-related problems still make it into a release deployment. Why is that? Because our organizations are still very much driven by business requirements that need numerous new features being pushed in ever shorter release cycles. Teams keep growing and are being spread around the world. In order to keep up with the pace, 3rd party components are included in the code in place of in-house innovation. This "natural" evolution however is also the root cause for firefights and limiting the benefits of DevOps because there is too much focus on pushing functionality through the Deployment Pipeline but not enough focus on Performance: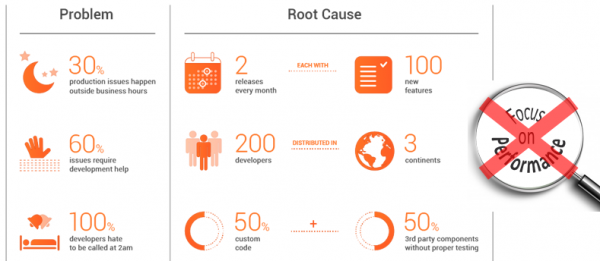 Plugging Performance into DevOps
In order to focus developers on performance to avoid War Room scenarios you must plug performance into the 4 pillars of CAMS:
Culture: Performance as Key Requirement in Dev, Test and Ops
Automation: Automated Performance Tests already in Continuous Integration
Measurement: Measure Key Performance Metrics in CI, Test and Ops
Sharing: Share the same tools and same performance data across Dev, Test and Ops
There are several key milestones to consider:
Milestone 1: Level-Up Performance To Increase Feedback between Ops and Development
The first step in any DevOps initiative is to get the Ops teams and the Dev teams talking in order to relieve constraints on the business.  This might be easy for small teams to accomplish but the larger the organization the more difficult it becomes as constraints are greater in larger organizations. Operations has to diminish these constraints on the business.  This is where APM solutions can help.  Beware as not all solutions are created equal.  As mentioned in the previous DevOps blog the drive to diminish constraint needs to be applied across the delivery chain.  Monitoring just does not cut it here.  There needs to be something that not only starts the process but allows the teams to continue to mature and grow. Simple monitoring tools fall short because they only help extinguish fires in operations.  How does this continue to drive down constraints? Remember, firefighting is not a part of operations which means operations should not be looking at fire extinguishers for their DevOps strategies.
Milestone 2: Level-Up Performance Thinking of Engineering
Both Operations and Test Teams have a good understanding of Performance as they deal with it every day. These teams need to educate engineering on the importance of performance as it is a key requirement to software engineering and how it plays a role in large scale environments under heavy load.
The Ops team shares data with engineering to highlight the performance behavior of their applications under real production load. This helps engineers to prevent these top performance problems from entering production and with that eliminating the need for firefights.
The test teams do their share by providing automated performance test frameworks and educating engineering on how to automate testing for these performance problem patterns.
Milestone 3: Level-Up Load and Capacity Testing
With development executing its own performance tests it is time to level up the test team as well. On one side there is more time to focus on large-scale load tests that need to be executed in a production- like environment. This helps to find any "data-driven", scalability, and "3rd party impacted" performance problems. Close collaboration with Ops ensures that tests can be executed either in the prod environment or in a staged environment that mirrors production. Executing these tests in collaboration with Ops allows the teams to become more confident when releasing a new version and also helps with proper capacity planning steps.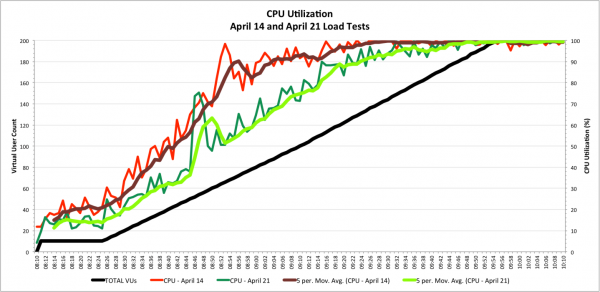 Milestone 4: Level-Up Performance Test Automation
The "traditional" testing teams are used to executing performance and scalability tests in their own environments at the end of a milestone. The goal is to provide these test frameworks and environments to engineering so that these basic performance tests can be executed automatically in the CI environment. In order for this to work you need to make sure that:
These test frameworks are easy to use and accepted by developers
Deliver performance metrics to detect the common problem patterns
These are fully integrated into continuous integration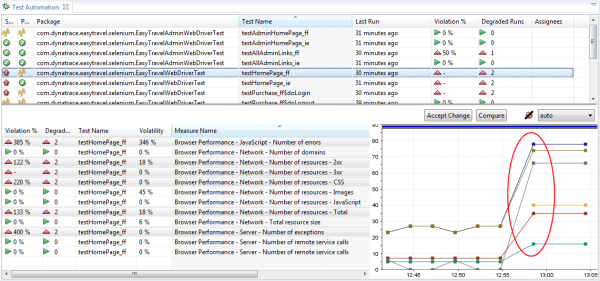 What's Next? Build a Performance Center of Excellence!
Many of our customers who jumped on the DevOps train a while back are now promoting a performance culture in their organizations. In the next few blogs we will cover their best practices and tips on either building a separate "Performance Center of Excellence" Team or up-leveling the existing DevOps teams to deliver software with high confidence and fewer War Room weekends 🙂