Adopting an Application Performance Management (APM) strategy will help you manage the quality of the Customer Experience.  The challenge is that APM has evolved into a mosaic of monitoring tools, analytic engines, and event processors that provide many solutions to different problem sets.
When you step back and look at the big picture it all comes into focus, but when you're trying to rationalize one technology over another, things aren't so clear at close range.  Product overlaps, ongoing costs, and ownership come into question, and then someone will eventually ask why so many tools?
It is important to show how an APM solution can tie into existing systems, by articulating the big picture, so that IT leaders can conceptualize the value coming from the new solution. How you articulate the Manager of Managers (MoM) concept and how it will support the APM strategy is essential for buy-in.  See Figure 1.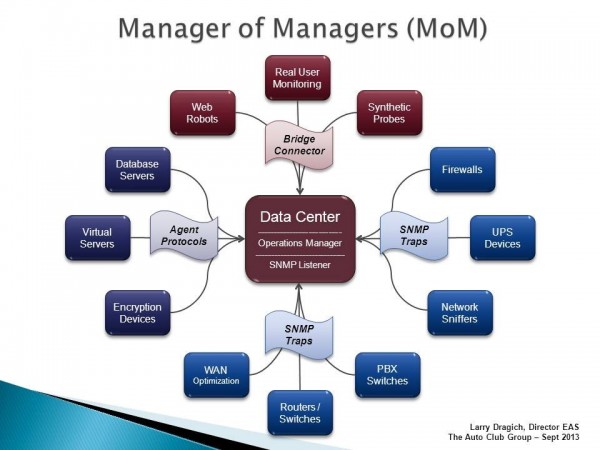 As you begin, start by identifying the dual purpose toolsets (i.e. provisioning and monitoring), already in the organization to incorporate as part of the APM solution.  Then consider choosing a technology that is "application aware" to spear-head your real-user-monitoring (RUM) initiative.  When done correctly, Application Aware Network Performance Monitoring (AANPM) can become the linkage between silos, providing relevant performance data in a context that all groups will understand, and subsequently trust.
I have found that the simplicity and ease of use with agentless monitoring (i.e. wire data analytics) is a great place to start.  It should have the capability to provide insight for the protocols specific to your critical applications (e.g. XML, SQL, PHP, etc.).
Since agentless monitoring is "always on" it will be ready to monitor any new applications launched into production within its purview.  There's no need to worry about managing a fully burden application life cycle for a typical agent installation, although when the time comes agent monitoring is recommended to fully instrument an application.
For example, when expanding a critical business application across our northern locations we used agentless monitoring to present a dashboard that answered specific performance questions about availability and user response times.  It was a basic graph with two data elements across one dimension of time, making it easy to compare the current end-user-experience (EUE) to its normal baseline.  A somewhat elementary but very effective way to communicate the real-time performance back to the Developers and IT Leadership at the same time during the rollout.   See Figure 2.

As the application usage increased with user load, we noticed that performance rose well above the normal baseline.   We observed an increase in application operation time, (important because it reflected real application usage not just application turns) which had a direct correlation to page aborts indicating user frustration.  Then the system reached the point of critical mass and started presenting HTTP 500 errors.  Based on a simple performance breakdown showing server time over its threshold and network time within baseline, the Developers were directly engaged and the Network Team was on standby. See Figure 3.

Given this starting point, the Development team began troubleshooting the performance discrepancy early on and before mid-day they had identified the root cause and added a new Index to one of the very large data sets that was being called frequently.
Conclusion
As you strive to achieve new levels of sophistication when creating performance dashboards don't overlook the simplicity of highlighting just a few metrics on one page that mean something to the support team.  This will take an understanding of the application and knowledge of how the metrics are being collected to be succinct.  Be patient, just as water seeks its own level, an application performance baseline will eventually emerge as you track the real-time performance metrics outlining the high and low watermarks of the application.