We have a strong partnership with SAP Cloud Platform that we're proud of here at Dynatrace – they're great people to work with, and are serious pioneers in creating a foundation for the intelligent enterprise. So, we were thrilled when SAP's Marc Geall and Michael Wintergerst agreed to present on mainstage at Perform 2018 to talk about how they're enlisting our expertise to build the cloud platform of the future.
Innovation requires platform thinking
SAP's strategy is aimed squarely at helping their customers take advantage of digital disruption to rethink, and better leverage, their business and value. Which begs the question: How exactly do we define digital disruption? It's a buzzword that gets thrown around so often that it can sometimes feel like it has lost all meaning.
But, Marc and Michael put it pretty simply: digital disruption and digital transformation, as pathways to progress, have to be defined by a platform strategy, rather than a linear progression.
Just a decade ago, so many customers and business models were grounded in that linear progression mindset, unable to scale or take advantage of the myriad changes that emerged over the years. SAP saw this roadblock coming and, by 2017, moved on to a more services-based platform strategy.
The fact that half of the in the U.S. today are platform-based – Microsoft, Apple, Amazon, Alphabet and Facebook – proves that platform businesses are the best at embodying the modern ideas of digital disruption.
The 3 pillars of the intelligent enterprise
SAP and Dynatrace work hand-in-hand to manage IT complexity and edge capabilities, and ensure that customers' mission-critical systems are being maintained and executed successfully. After all, with SAP managing three-quarters of the world's transactions, not being able to sustain these customer systems effectively is simply not an option. That's what being an intelligent enterprise is all about: deploying cutting-edge solutions to manage both customers' needs and your own complex IT portfolio in intuitive ways.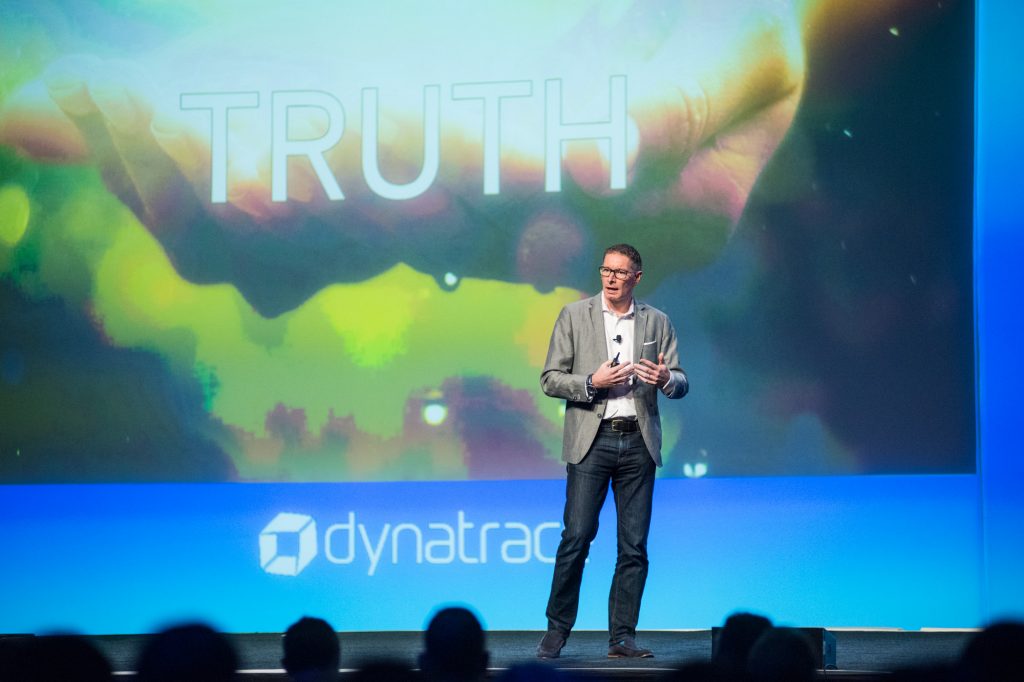 In laying the foundation for an intelligent enterprise, according to Marc and Michael, SAP and Dynatrace's strategy can be boiled down to three distinct guiding principles:
Truth: We are overloaded with information in the marketplace today. How do you cut through the noise to achieve a single view of things? SAP utilizes Dynatrace's digital performance monitoring solution to help customers sift through enormous quantities of data stored in the cloud, do so at speed – something that would been tremendously difficult and time-consuming to do in the past – and achieve a single view of that customer data.
Agility: While some customers may be reluctant to give up old, familiar methods of getting their work done, Dynatrace and SAP can win them over by showing new, agile solutions that deliver new user experiences and increase productivity.
Experience: Companies can't transform without being able to work off an existing foundation first. With Dynatrace, SAP is leveraging its decades of experience to help its partners and customers recompose their ecosystems into platform-based, cloud-first models for delivering new apps and user experiences.
At the end of the day, businesses need to be delivering end-to-end experiences to ensure they are creating real value for their customers. Dynatrace and SAP are creating that value based on a cloud-first, three-pronged approach of truth, agility and experience. Together, we're empowering modern, intelligent enterprises with a cloud-based, digital performance monitoring solution that will help them stay ahead of the curve and deliver the best customer experience.
You can check out Marc and Michael's full conversation on main stage, along with many more videos and presentations from the show, by signing up for the Perform 2018 highlights.