Enterprise applications are the lifeblood of your business. These workhorse applications that allow companies to manage critical processes include ERP, CRM, SCM, PLM and SFA.
These critical processes include the ability to process orders, manage financial systems, control inventory, track patients and medical records, schedule workflows, manage logistics, design new products, manage sales organizations and support customers. Critical applications that are performing poorly can lead to lost business, decreased productivity and inferior customer service.
Regardless of which class of application is in use, performance matters. The business impact of application performance and why end-user experience (EUE) is the ultimate measure of an application's success.
The traditional reactive approach to the end-user experience is rapidly becoming obsolete in today's Web-based and user-centric world. The new reality is that end-user expectations and high levels of performance against Service Level Agreements (SLAs) must be achieved or the organization risks the loss of business.
As a result, today's IT organizations must be able to answer accurately the following critical questions at any point in time:
Are the business services the customers are relying on available?
Are they providing acceptable and expected response time?
Are there application performance issues that are impacting users?
The High Cost of Poor Performance
The costs associated with application downtime can be enormous. Most downtime costs average around $60,000 per hour with 13 percent at more than $100,000/per hour.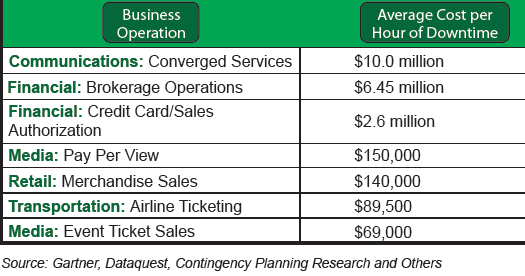 When poor application performance leads to a lost loyal customer, the impact can be far reaching. It's more than just the value of the purchase that is lost; it's the lifetime value of purchases those customers might have made.
The loss is not just in profits alone, nor is its scope limited to certain businesses. Organizations of all sizes are seeing the impact of poor application performance. Consider that medium businesses (101 to 1,000 employees) are experiencing an average of nearly 140 hours of downtime every year and in turn losing an average of 1 percent of their annual revenue, or $867,000, to downtime.
Some costs are easier to quantify than others. Consider the "soft" costs of damaged brand, productivity or customer satisfaction. Though not easily calculated, they can impact the business's bottom line.
Majority of Application Problems Go Undetected
Industry reports vary on the exact percentage (some have it as high as 74 percent); however, a staggering number of end-user problems are not detected with current IT monitoring tools. In fact, the top three reported application performance management challenges are:
Lack of visibility into the EUE
The need for proactive problem detection before users call the help desk
The ability to measure the business impact of poor application performance
In today's competitive marketplace, your customers, regardless of whether they're internal or external, expect perfect IT delivery of business services. A poor customer experience can cost the company a missed revenue opportunity and a potential future revenue stream. It stands to reason that by optimizing application performance, businesses will increase productivity, brand integrity and business value.
In my next post, I'll explore how optimizing performance boosts business results. In the meantime, read my recent article on APM Digest to learn about why applications often perform poorly and how successful companies manage their applications.