As a tech geek I was an early adopter of the iPhone. I joke around with my friends that I thought of it before anyone else. Way back in 2005, a few years before the release of the iPhone, I picked up an iPod, and said
"One day this thing will be all glass and it will be colour, and we will do email, music and we'll take photos with it."
True story. How genius I know. But back to the birthday girl…or boy.
So, the iPhone turns 10 today and what is clear to me now, is that the real genius is the application ecosystem that's exploded on the back of the iPhone's existence.
Fast forward 10 years – there are now 2.2 billion applications in the Apple app store.
There is an app for everything these days, and we as consumers are spoilt for choice. Remarkable on the back of innovative hardware, Apple became a software behemoth and this year they netted a cool $29 billion in revenue from app store revenue. That's up $9bn from the previous year. Pretty remarkable considering they are mostly just a marketplace.
But I don't remember the last app I purchased, because it's the free apps that rule my life.
When the iPhone first launched, its use mostly centred on simple games, and music. And at the time, this innovation blew our minds.
Now look how far we've come. Each of us bank, shop, board a plane, order an Uber and connect with friends on a mobile app. So, while revenue figures are remarkable, they're not really a true reflection of what trends dominate this marketplace.
Mobile became our primary device in 2016; surpasses the desktop 
For many of us the mobile is now the device of choice, and we'll spend more time on it than the desktop. The official tipping point was reached in 2016, when worldwide mobile and tablet internet traffic exceeded desktop.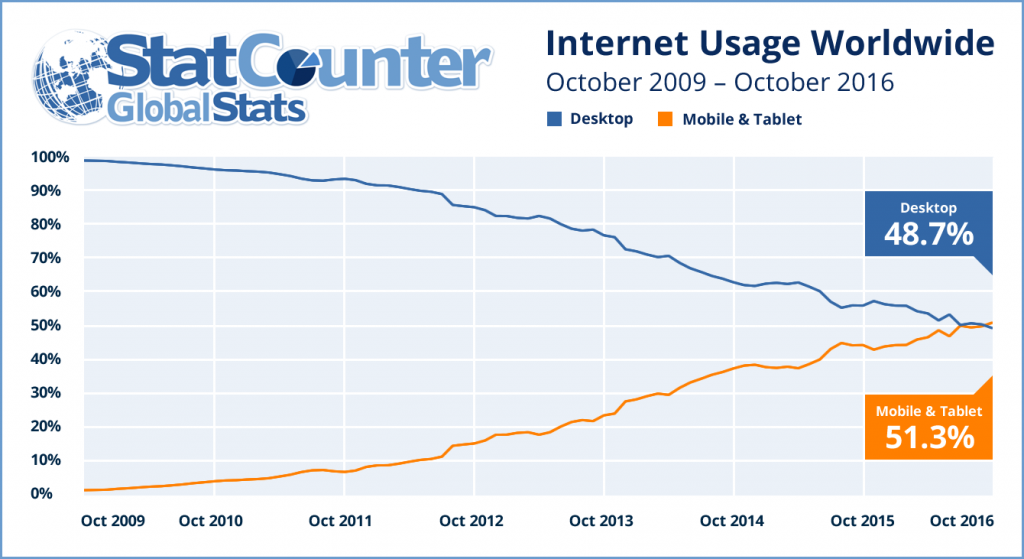 This finding was supported by Google who published that mobile searches had exceeded desktop searches in 10 key markets. Another remarkable stat.
Help – I think I'm addicted to my mobile applications.
The convenience and speed of clicking a tile in your phone and opening a familiar UI makes our busy lives simple. And points to why App Annie found that we are spending 25% longer in apps than we did last year.
App Annie also said that Australians use, on average, 36 apps a month, with 98 apps downloaded. To me, that sounds quite unbelievable (and maybe concerning) but then again, we're all celebrating the iPhone turning 10 years so who am I to say what's obsessive and what's not?
Although, this might be taking it too far: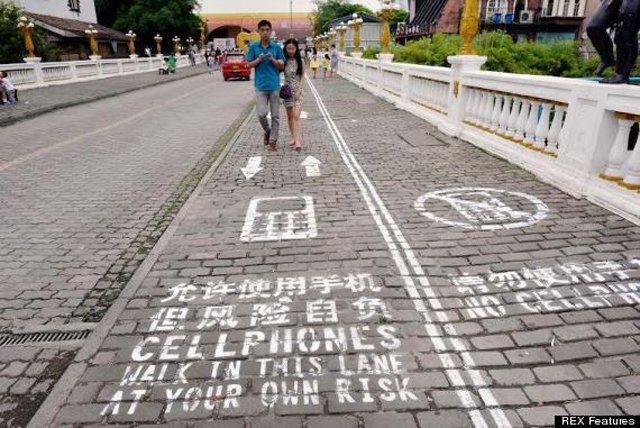 But let's get down to business.
The barriers to entry in the mobile app space are smaller than ever, and traditional businesses face a very real threat if they don't innovate fast enough. One of my favourite stats I've read around this very point is:
'52% percent of the fortune 500 since the year 2000 no longer exist'.
The problem is, developing for mobile is hard, and yet as users we expect a mobile experience to be equal if not better experience than a desktop.  But that is crazy from a developer perspective when you consider:
the hardware is less powerful
the operating system isn't as sophisticated and comes in many different versions and varieties (In 2015 there were 24,000 different variations of Android OS)
The screen sizes are so varied across mobile and tablets.
The network speed you connect on varies from GPRS, 3G, 4G, maybe 5G, and wifi. We know as users these are fraught with interruptions.
As I type this right now I'm at an event with 10,000 people, all using the same data connection and the internet is SLOW. Yep, delivering great mobile app experiences is a tough one.
Think about it this way:
You're at the pub.
You survey your friends
Out of the 10 people (if you're lucky to have 10 mates), how many of them would have the exact same device, operating system, app version?
I'd bet you that each will differ slightly and therefore an app can behave differently, which is a major challenge for developers because they have to then build and accommodate:
Variations of device type
Screen sizes
Operating systems
The networks on which they run.
But you have a choice because today's apps are the business' front end.
And people hold no loyalty to the business, nor the app, if it fails.
In a recent study we found that 8 per cent of mobile users will only retry an app once or twice if it failed to work the first time.
Then think about this; Google found that 100ms is all it takes for users to get frustrated, which is crazy because it takes about 400ms to blink apparently.
And it's the Millennials that will let everyone know about poor app performance – approximately 50% will complain on social media or leave bad reviews in the App Store, which (for a business) is very powerful.
All signs point to CX as king, with Apple and Amazon setting the new benchmark.
So we've come along way, but yet we still have so far to go. From an application monitoring perspective I still hear stories today of enterprises approaching mobile monitoring as an afterthought. They wait until they get backlash on social media, or for bad app reviews, before they consider to install Dynatrace.
But why would you take your chances? Users are impatient and there is another app sitting in the store ready to steal your thunder.
Happy birthday iPhone, and thank you Steve Jobs and Apple for the convenience you bring to us users today.
And to the developers and IT ops teams. May the force be with you, or see what we can do to help.