Mozilla has released another update to its Firefox browser. The updated Beta build of Dynatrace AJAX Edition 3.2 now also supports Firefox 6 as well as all previously supported browser versions: Firefox 3.6+, IE 6+ (IE 9 Experimental).
Release support will follow shortly for both our dynaTrace AJAX Premium and Dynatrace AJAX Edition users.
Deep Trace in Firefox 6
It is easy to get started with Dynatrace AJAX Edition
Download Dynatrace AJAX Edition from /platform/digital-experience-monitoring/
Launch Dynatrace AJAX Edition – watch the available Tutorial Videos such as Getting Started with Dynatrace AJAX Edition
Start Tracing your Web Application
Analyze the Performance Report Results
The following screenshots show different analysis options you have with Dynatrace AJAX Edition. I've analyzed my Google+ Dashboard.
The Performance Report gives hints on where to improve page performance such as reducing network roundtrips: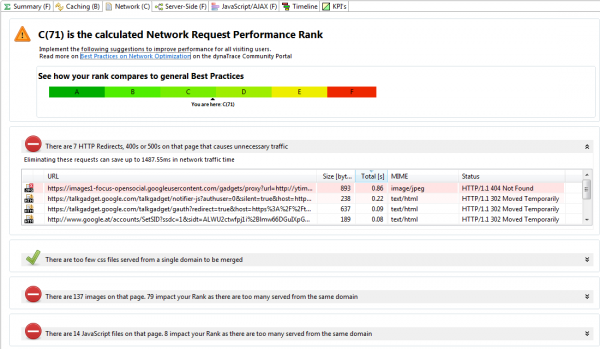 The Timeline is a central component in Dynatrace AJAX Edition. It gives a great overview of all activities while the user interacted with the page. This includes Network Roundtrips, JavaScript Execution, Rendering and AJAX Calls: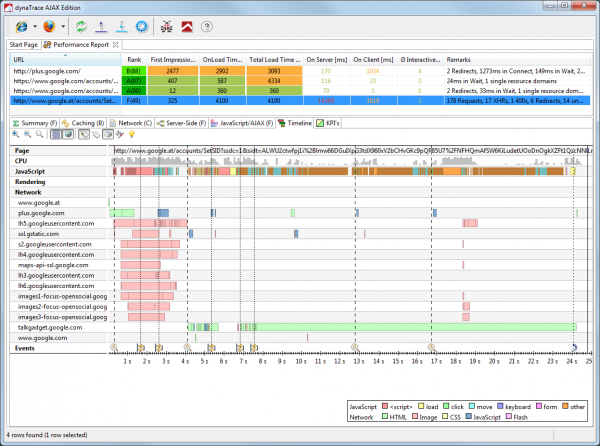 The core of Dynatrace is the PurePath Technology. Analyzing an XHR Request for instance shows the exact execution trace of the JavaScript that executed and processed the AJAX call: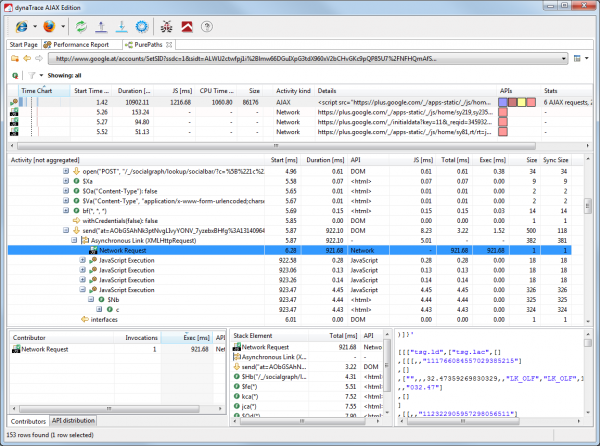 There are many more analysis options such as analyzing Network Requests in detail or analyzing JavaScript Hotspots.
Give us Feedback
We get a lot of great feedback through our dynaTrace Community Forum. If you have questions on the tool or feedback about enhancement then please let us know.
If you want to take Browser Performance to the next level – check out dynaTrace AJAX Premium – which will enable you to compare different test runs, perform automatic baselining and regression alerting, provide server side visibility, and more.