Update August 2016: Dynatrace Free Trial and Personal is now serving the latest Dynatrace 6.5 version. We also updated our "What Is Dynatrace and How To Get Started" YouTube Tutorial.
Update October 2015: The Dynatrace Free Trial now automatically converts into a Personal License after 30 Days. This means: "Free For Life to analyze your Applications on your local machine!" This is our contribution to building better software right from the start!
I am pleased to announce that Dynatrace 6.3 Beta is now available for everyone that is interested in building better performing applications. Dynatrace 6.3 includes many enhancements requested by our 100k+ user community.
We took the feedback we received from our users and invested heavily in Ease of Use and more Automatic Diagnostics. Follow these steps to setup Dynatrace for a typical Java Web Application – or watch my YouTube Tutorials (for Java, .NET and PHP) – to see how easy it is to setup it up for all our supported technologies. If you are a Mobile Developers (iOS, Android) check out the following blog post: Speeding up Fifa's World Cup App for Android, Monitoring iOS/Swift based Apps.
What is it you get?
Once you have everything installed and configured you get deep insight into every single transaction that is handled by your application. The core technology is called PurePath – the analytics on top are handled by our Dynatrace Server and are accessible through our Rich Client as well as HTML Client: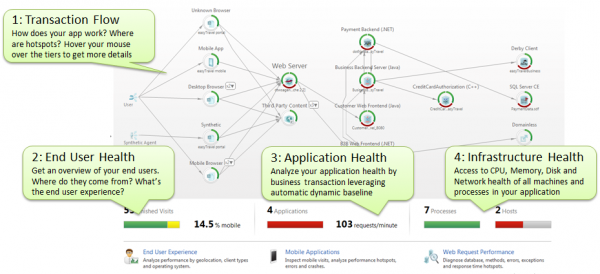 What do you end up installing?
This is a common question. You are going to install several components on your system. I drew the following diagram that shows all the components that make up the Dynatrace 6.1 installation.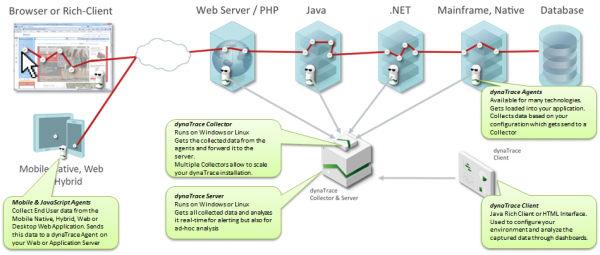 In case you have any questions along the way – reach out to us via the Online Forum, register for one of our Live Q&A Sessions  or just send me an email. But now let's get started with a couple of easy steps.
Step #1: Register, Download, Install
After you register for your free trial you will receive an email with a link you need to follow. This will create an account on our Dynatrace Community as well as sending you another email with a license file (this is needed in case the machine you want to test drive Dynatrace doesn't have access to the internet). You will eventually end up in your My Dynatrace Trial space that guides you through all steps.
Step #2: Connect your Application
After you have successfully installed Dynatrace and activated the license you get to the Welcome Screen: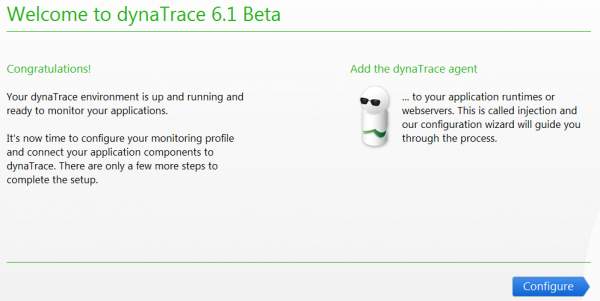 Now it is time to tell Dynatrace how your overall system looks like. In this blog I focus on a standard web application consisting of a web server and an application server that accesses data from a database. I use Alfresco – which is a Java-based content management system that you can download for free. Additionally to Tomcat as Application Server I run an extra Apache as frontend web server. So – here is what my architecture looks like:

That's why I choose Web / Java / .NET as my application type and then start clicking on the Add buttons for the individual tiers to walk through the setup process for each agent: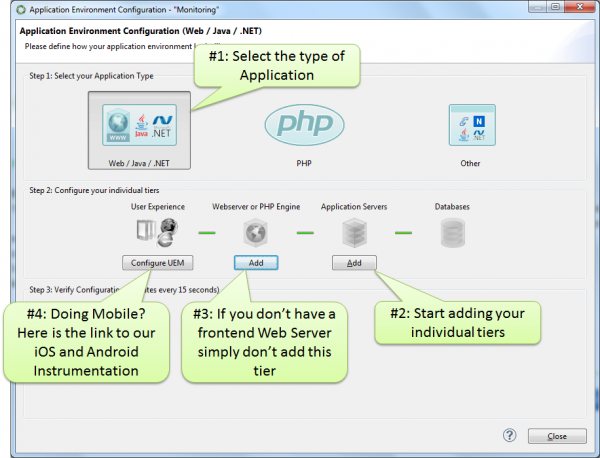 Adding my Java Agent
My application runs on Tomcat. So I click on the Add button below Application Server and walk through the wizard as shown in the next screenshots:

In my example I run Tomcat which allows me to specify any additional command line parameters through the catalina.bat (or catalina.sh file on Linux) by specifying the CATALINA_OPTS parameters:
set CATALINA_OPTS=%CATALINA_OPTS% -agentpath:"C:\Program Files\dynaTrace\dynaTrace 6.1.0\agent\lib\dtagent.dll"=name=Tomcat_Monitoring,server=YOURSERVERNAME:9998
Once I've done that I continue with the wizard which tells me to restart my application.
Adding my Web Server Agent
If your Java Application doesn't have a Web Server (Apache, IIS, NGINX, …) then you can skip this step and already start analyzing your web traffic from Browser to Database.
I continue by clicking the Add button under Webserver or PHP Engine:

Configure UEM for Web and Mobile
The last step in this wizard is to configure User Experience Management which gives us visibility into the browser or into your mobile web and native application. Click on Configure UEM and explore the options you have. By default UEM for Desktop and Mobile Web is enabled. For iOS and Android Native you follow the instructions by clicking on the respective technology logo:
Step #3: Generate some load
Once we close the wizard we are promoted to execute some load before switching over to actually analyzing the monitored data: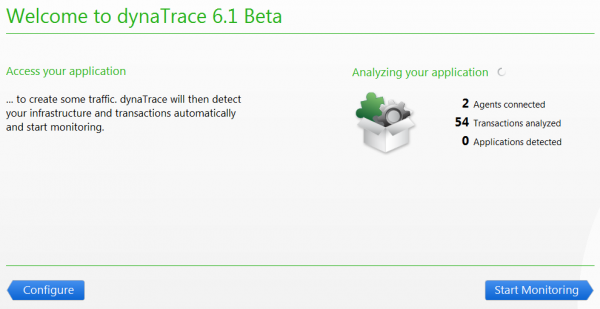 Once we have some traffic on the system we can analyze the performance from different perspectives starting in our new Home Screen: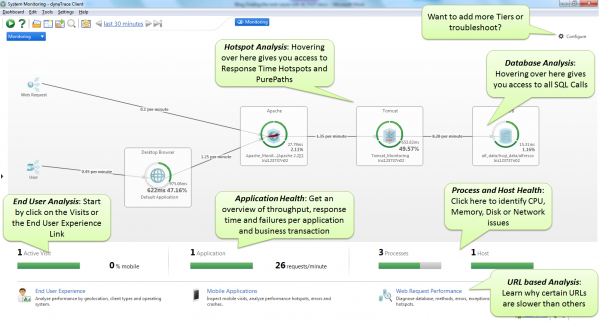 Step #4: Deep Dive Analysis
Now that we have load on the system we can drill into the different dashboards and views that Dynatrace has to offer. I am sure you will find it very intuitive and you will find many cool dashboards such as the Web Request Performance, Response Time Hotspot, End User Experience, Database or PurePath. Here are some screenshots so that you get a feeling of what is out there: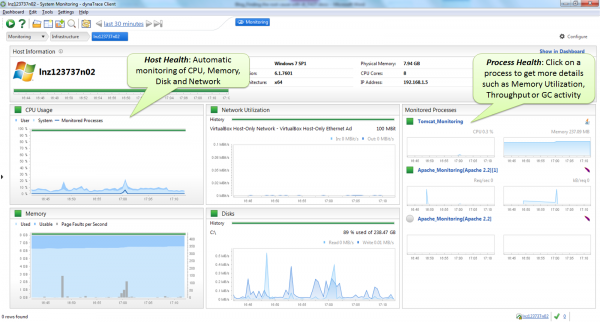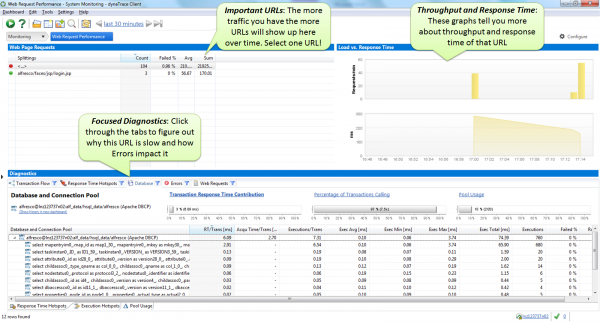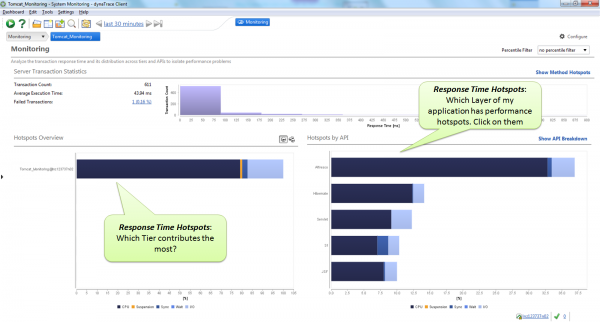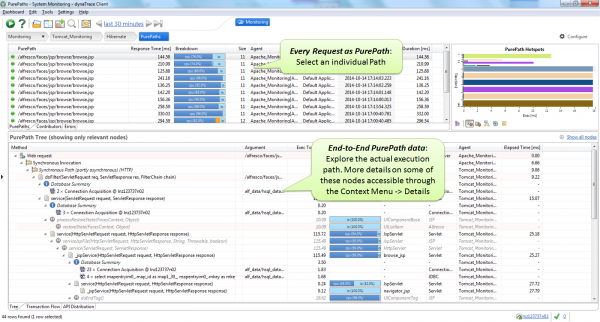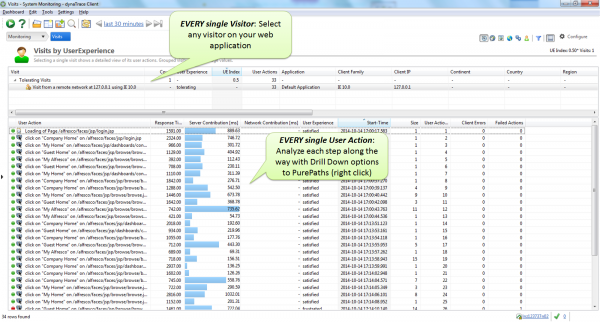 Ready to test it out on your own?
Now it's your turn. Register for the 30 Day Free Trial – download the latest version and let us know what you think. If you need more than 30 Days look into our Share Your PurePath program.
If you have questions let us know through the online forums or register for one of the upcoming Live Q&A sessions that we host.