Fall is knocking on the door and everyone in the U.S. knows what that means…  Football Season!  We have been talking a lot about the transformative nature of digital experience, and that applies to Fantasy Football.  Fantasy Football leagues have boomed since people figured out that they could run fantasy leagues online.  What was once a niche activity of die hard sports fanatics run out of back rooms and bars has now become a multi million-dollar online business. Our team at Dynatrace has decide to have a look at this and compare some of the organizations who are offering fantasy football content.
While doing some research for this article I happened across this article from Vox Media (who runs SBNation)…
http://marketing.voxmedia.com/2015/8/28/9220751/the-latest-news-from-vox-media
In this article a representative of Vox Media made this statement.
"The company recently slashed its web page load time in half—cutting average load time to around 11.5 seconds."
I find this very encouraging from the standpoint that Vox Media recognizes that performance is something which need to be focused on as it impacts end user experience and can directly impact business outcomes.
So let's look at how the organizations in the Fantasy Football category are performing. Here (see chart below) we can see that RTSports, FleaFlicker and FuzzyFantasy round out the top three positions.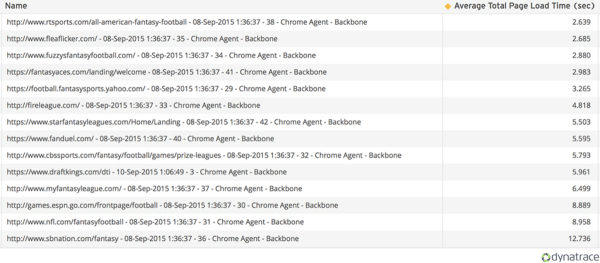 When we look at the typical KDI (Key Delivery Indicators) for these three companies, we see that their pages tended to be the lightest (in terms of byte count) and the least complex (in terms of objects and connections).

Let's take a closer look at Draft Kings and FanDuel as they are the top "pay for play" sites.  Below is a view of a 48 hour period from Saturday into Monday.  What was interesting was that starting Sunday afternoon Draft Kings response time showed an issue where the Page Load time slowed down substantially.  When investigating it further we noticed that there was a substantial increase in SSL Time.  This is the amount of time it takes to negotiate a secure connection with the browser.  While this may stem from an issue on the server side, front end design issues, like making too many connections, will exacerbate the problem.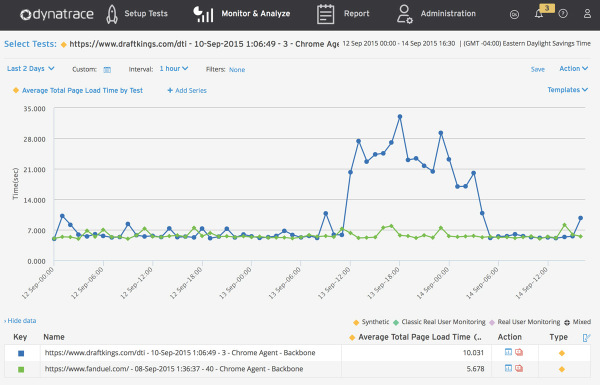 Tweaking the front end will definitely pay dividends, but there is always room for improvement. For example, if we look at SBNation we can see exactly how companies can tweak things on the front end even further. The view below was developed using Safari browser developer tools. I like this view because of the Network Request timeline. Here you see a blue line for each parallel connection that the browser supports (more support between 6-8 parallel connections). This represents a real logical bottleneck that until HTTP2.0 arrives all browsers have. More complex pages – those pages which make lots of connections and request lots of objects – have to flow all those network requests through that narrow browser pipe. Since we see that more complex pages are impacted by this, anything an organization to do to simplify their front end will result in performance improvements.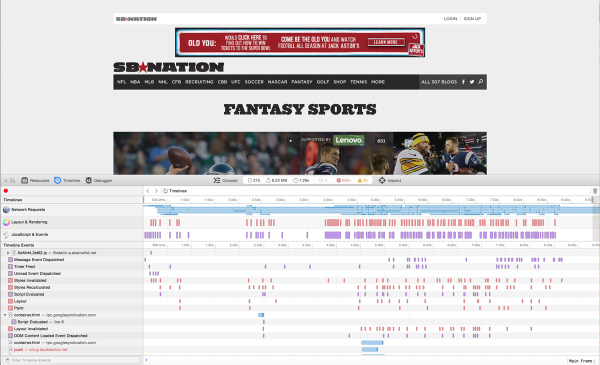 However, the front end isn't everything. Many of those objects can be cached, and for returning visitors what is happening on the backend (the server side) becomes much more important. When we look at the Fantasy Football organizations we tracked, we can see clearly who provides faster responses to server requests: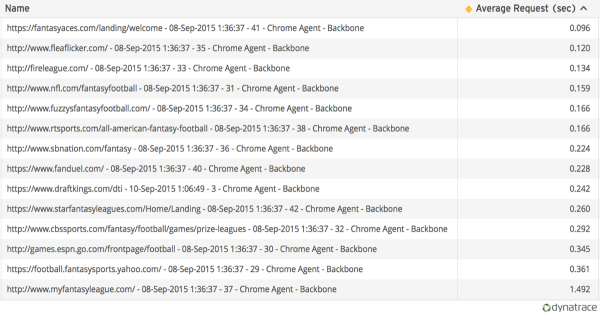 Because what happens on the server side is so complex, the only way to manage it is to make sure that you capture 100% of all the traffic and the responses to the traffic requests. Here at Dynatrace we call our ability to do this a Purepath. This visibility allows companies to completely change the way that they manage their businesses.
In a competitive field, businesses need every advantage they can muster. Purepath provides a competitive edge for a business just like a star quarterback, running back and receiver provide a competitive edge to a football team.
Keep watching the APM Blog this fall as the Football Season progresses. We will be following lots of sporting events and showing how digital convergence is impacting all aspects of professional sports entertainment.