In Pivotal Application Service 2.3, BOSH Process Manager (bpm) was introduced as a layer between platform processes (such as the Gorouter or Metron) and VMs. This separation between BOSH-managed VMs and their hosted platform processes enabled the running of isolated jobs on the same VMs.
So there are two different runC-based container runtimes within a Cloud Foundry foundation:
At the application layer, Cloud Foundry uses Garden containers to isolate applications that are running on Diego cells (VMs).
The underlying infrastructure layer with BOSH uses bpm. As BOSH is a generic tool for managing software packages and VMs on various IaaS platforms, it can be used for non-Cloud Foundry use cases as well. Therefore, platform architects need to maintain control over monitoring of platform vs. application containers.
Control monitoring of platform vs. application containers
Dynatrace has supported full-stack monitoring of applications running in Cloud Foundry and bpm containers for PCF Application Service 2.3 and 2.4 via Garden container monitoring since the release of OneAgent version 1.157.
Now we're happy to announce that native BOSH Process Manager (bpm) container support is out of stealth mode and is now available in Beta. This new capability allows you to control auto-injection into bpm and Garden containers separately, and thus allows for platform-only monitoring use cases without touching application containers.
Enable BOSH Process Manager (bpm) monitoring
With the release of Dynatrace OneAgent version 1.159, monitoring of processes running in bpm containers is decoupled from Garden container monitoring.
As this capability is currently available in Beta, it is turned off by default. You need to manually enable it to get insights into Cloud Foundry platform processes like Cloud Foundry Gorouter metrics or the soon-to-be-available Auctioneer metrics.
You'll find the switch for enabling bpm container monitoring on the new Container settings page (Settings > Processes and containers > Container monitoring).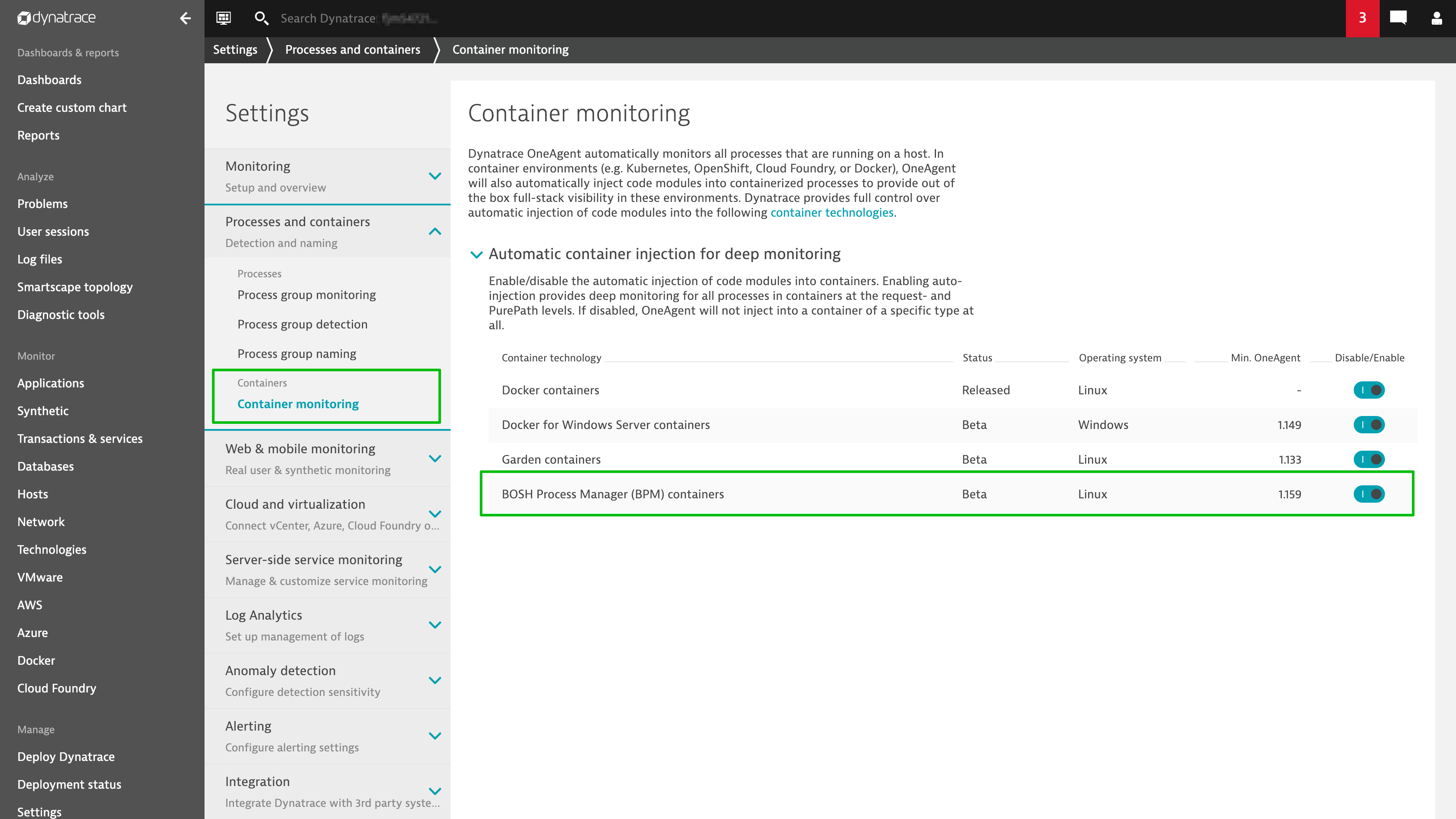 You'll find further details about the Dynatrace support model for Pivotal Cloud Foundry full-stack monitoring in Dynatrace Help. Please note that Pivotal Cloud Foundry 2.3 and 2.4 both require the new OneAgent BOSH release v1.1.0.
What's next
We're committed to improving Cloud Foundry monitoring capabilities with each product release. We'd like to include you in the process of prioritizing upcoming features. We've listed all planned enhancements on Dynatrace Community. Please share your feedback and ideas there as comments on the post.