Businesses competing in today's digital age face many technical challenges and increasing functional requirements, driven by end-users, often lead to ever-growing complexity in the delivery of a business's applications. Competitive pressure enhances this complexity by driving the need to deliver better software, faster. While most organizations turn to cloud technologies to address these challenges, this often places new roadblocks in their path, causing more complexity.
With any cloud technology, managing cost efficiency is critical. This can be increasingly difficult with spontaneous user habits – or other outside variables. Some of these patterns can be planned for, such as peak seasons for travel and retail industries, while others are entirely spontaneous to the business.
As many industries are seeing a significant uptake in digital workload demand post-COVID-19, businesses face a new set of challenges as they attempt to scale cloud costs with user workloads. One example we often see is managing efficiency with cloud application workloads through intent-based application capacity planning. Successful intent-based capacity planning requires an understanding of, and ideally anticipation of, intent. Dynatrace captures and provides organizations with the precursors of intent; dependencies, performance metrics, and prioritization which helps solve each organizations' spontaneous production workload puzzle.
Dependencies
Inside every application delivery chain is a nested mesh of complex dependencies that grows with every new business requirement. While functional relationships between dependent services are often defined at the architectural level, the result may not align as expected in a production environment. This leads to a manual, and often painful, process to map out multi-tier service dependencies.
The problem faced with manual processes is that dependency data is out-of-date the moment a new deployment occurs, so in order to achieve accurate dependency information, an automated, continuous process is required. Perhaps just as important is the ability to consume this information – not just in a monitoring solution but also in external capacity planning solutions.
To simplify how organizations understand relationships between dependent services and infrastructure, Dynatrace automates the dependency mapping of any environment. This is accomplished by not only creating a dependency map that includes both vertical and horizontal scaling, but also by keeping the information up to date in real–time. The best part? No cumbersome, manual configuration is needed.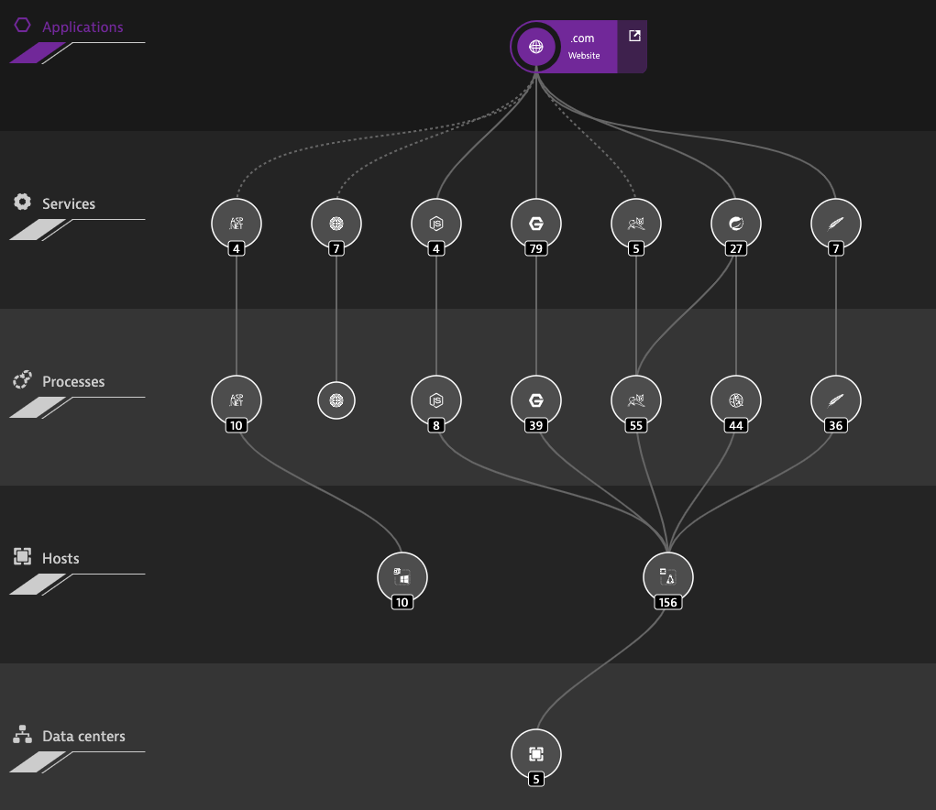 Performance Metrics
The key to understanding user-driven infrastructure resource utilization for applications and services is the collection of performance metrics directly from real-user activity. For example, consider an application service running in your environment – let's call it service A – Service A handles requests directly from application-layer requests, generated by users. What are the compute resources required to handle a single user request? Does each type of request require the same resources? How many users are active in the system at various times in the day? For every request handled by service A, what are the requirements for the secondary services which it relies upon?
These questions underpin a need for user-driven data on each application and its corresponding services. While some of this data can be derived from load testing in a lower environment, many organizations struggle with accurately emulating user behavior.
Dynatrace's Digital Experience Monitoring (DEM) empowers teams to accurately map user behavior by tracing each user session and the associated requests to application services – including any dependent services.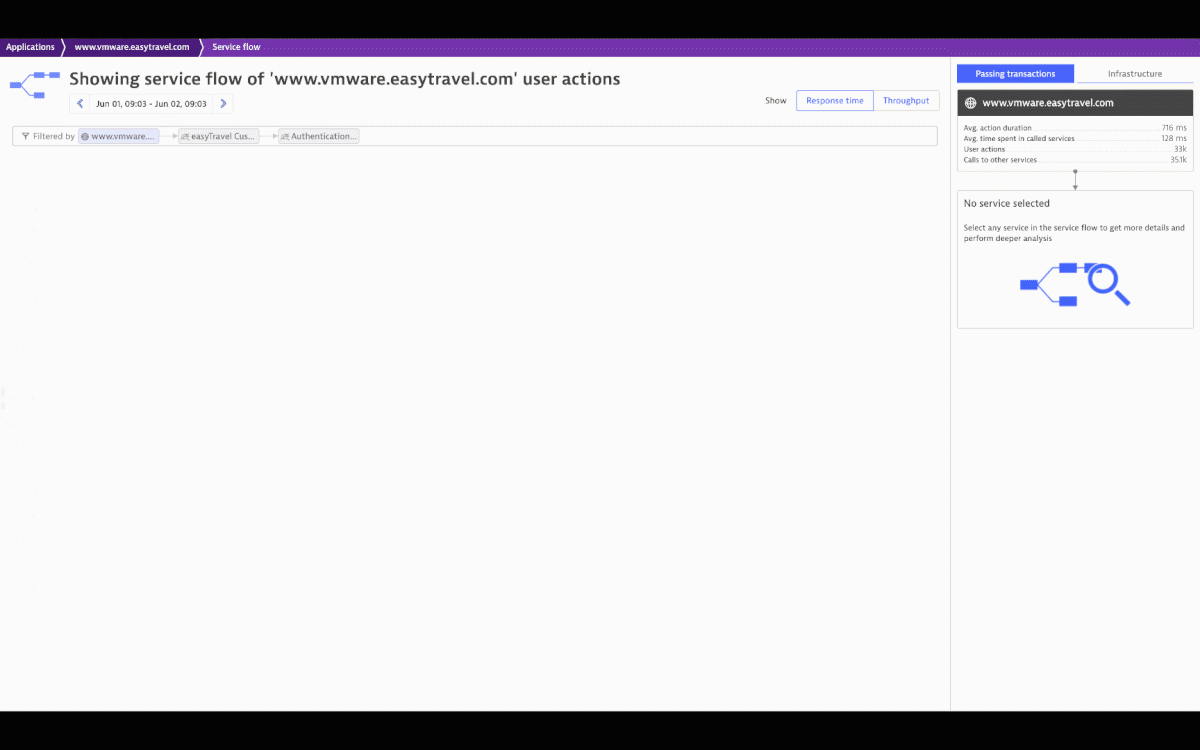 Once the resource strains for user workloads are better understood, the next step is to identify user behavior patterns. DEM can help by providing context into which requests users execute during a session, and how engaged users are during their session and peak intervals for user activity.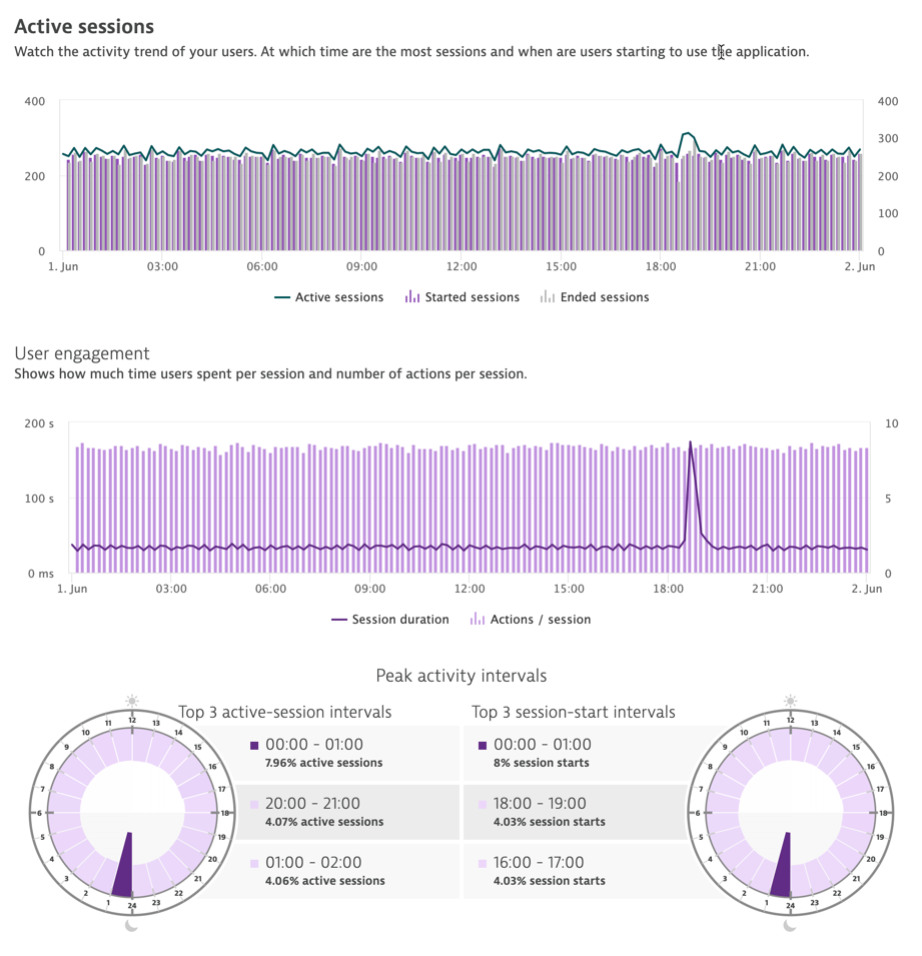 Prioritization
Better understanding the impact capacity strain can have on your application delivery chains allows organizations to optimize their prioritization – the final aspect of intent-based capacity planning.
Bringing together dependency data and performance metrics provides accurate breakpoint and bottleneck information in real-time. Coupled with auto-scaling provided by application delivery chains (think control planes in Kubernetes), priority of scale creates optimal efficiency in application services. Experiencing a burst in application traffic no longer means a significant manual effort or out-of-scale hosting costs, allowing businesses to run efficiently during high-workload periods.
By combining real-time performance data directly from your users in production with dependency information for each service in the delivery chain, organizations can accurately prioritize capacity to handle spontaneous production workloads. Dynatrace DEM provides insight into the most important aspect of your business – your users. Specifically, how your users leverage your application services.
We're here to help
Dynatrace is committed to helping support businesses accomplish these goals – especially with workload volatility in a post-COVID-19 world. For these insights and more, check out our free trial with an extended support period for business impacted by COVID-19.