Every day, we help our customers deliver the best experiences and success for their customers. That's a big part of what digital performance is all about. But that's not all we do. We take customer success very seriously for our own clients, too. We help them reach and exceed their goals—through our own signature program—the Champion Playbook.
For years now, Gainsight has led the way for companies — in many different industries — to redefine how they measure and exceed expectations by managing customer success. They also lead the way in recognizing the new digital business paradigm. According to Forbes, they're at the "center of the market" for customer success and "increasingly the focus of dedicated teams at businesses that seek to monitor and improve customer relationships…".
Recently Gainsight recognized Dynatrace as the top success plan leader among their corporate customers. We received their "Success for All" Sally award at the recent Pulse 2017 customer success event, in front of an audience of more than 4,000 VP and C-level executives who direct some of the largest Customer Success organizations around the world.
Each year at their Pulse event, the Gainsight team goes through a rigorous selection process to recognize cutting-edge customer success leaders. According to their CEO, Nick Mehta, "The Sally Awards aren't given—they're earned. Winning one means your company is transformationally and cross-functionally aligned around positive customer outcomes." Winners in other categories included such well-known names as Adobe, Angie's List, Blackbaud, HubSpot and Concur.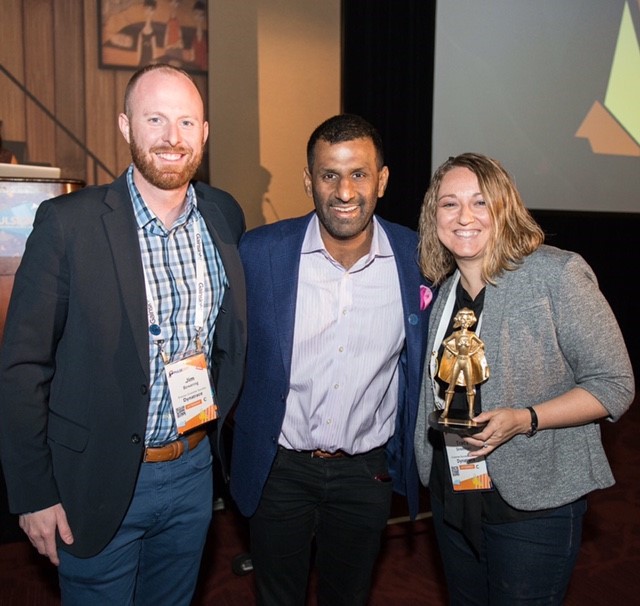 Champion Playbook, Customer Success Managers: a winning combination
Dynatrace was selected for its development and use of the Champion Playbook success plan, a program that supports and drives the best customer outcomes in digital performance led by our Customer Success Managers (CSMs). CSMs are our customers' personal advocates and strategic drivers for adoption, success and value achievement.
CSMs start by building a close relationship with our customers' in-house performance monitoring, development and business leadership. Next, they examine the customer's current state in accelerating innovation, optimizing customer experiences and modernizing operations. Using the Champion Playbook as their guide, Dynatrace CSMs work with customers to expand internal performance culture by sharing proven strategies to highlight value and speed adoption of new ways of doing business.
The whole program is based on our unparalleled and extensive experience working with top companies to build highly successful digital businesses. We've taken that knowledge and created a well-defined playbook for working together with our customers, and applying best practices and innovative processes to their specific needs. Together we set and achieve digital performance goals to reach optimum adoption, greater value and constant awareness of new opportunities for improvement.
At Dynatrace we know that having the best technology is important, but following the path to success with that technology also requires the right approach to organizational culture, strategy, people and processes. This award is an enormous validation of the Champion Playbook, our practical and proven way of working with our customers. It's just the beginning, and, I can't wait to see what we will accomplish in the future—together.