Dynatrace was proud to be a sponsor of SpartaHack IV this past weekend at Michigan State University. This included mentoring students as they built their projects, providing a Dynatrace Managed instance for use by attendees, and sponsoring a prize for "Best Performance Hack."
With around 600 attendees and 100 teams, the event was a lot of fun and a testament to the determination and ingenuity of college students. Some of our favorite hacks included a virtual reality training system for baristas, a self-driving car that takes its cues from a Myo Gesture Control armband, a mesh network between smartphones using bluetooth and ad-hoc wi-fi for communication in case of a catastrophic network failure or natural disaster, and a Gameboy emulator that converts musical instruments to keystrokes in-order-to play video games.
The team with the most ingenuitive solution, that was able to squeeze the most performance out of their hack, was awarded "Best Performance Hack", and won tickets for their entire team to attend the DevOne® Detroit conference, which will be hosted this fall by Dynatrace. There were many participants who applied in the "Best Performance Hack" category, but Disaster Tags walked away with the win. The team was honored with this award for their use of a stateless, horizontally auto-scalable infrastructure utilizing Docker and the Google Compute Platform, as well as their exceptional use of a Dynatrace Managed instance, to develop, debug, and deploy their distributed application.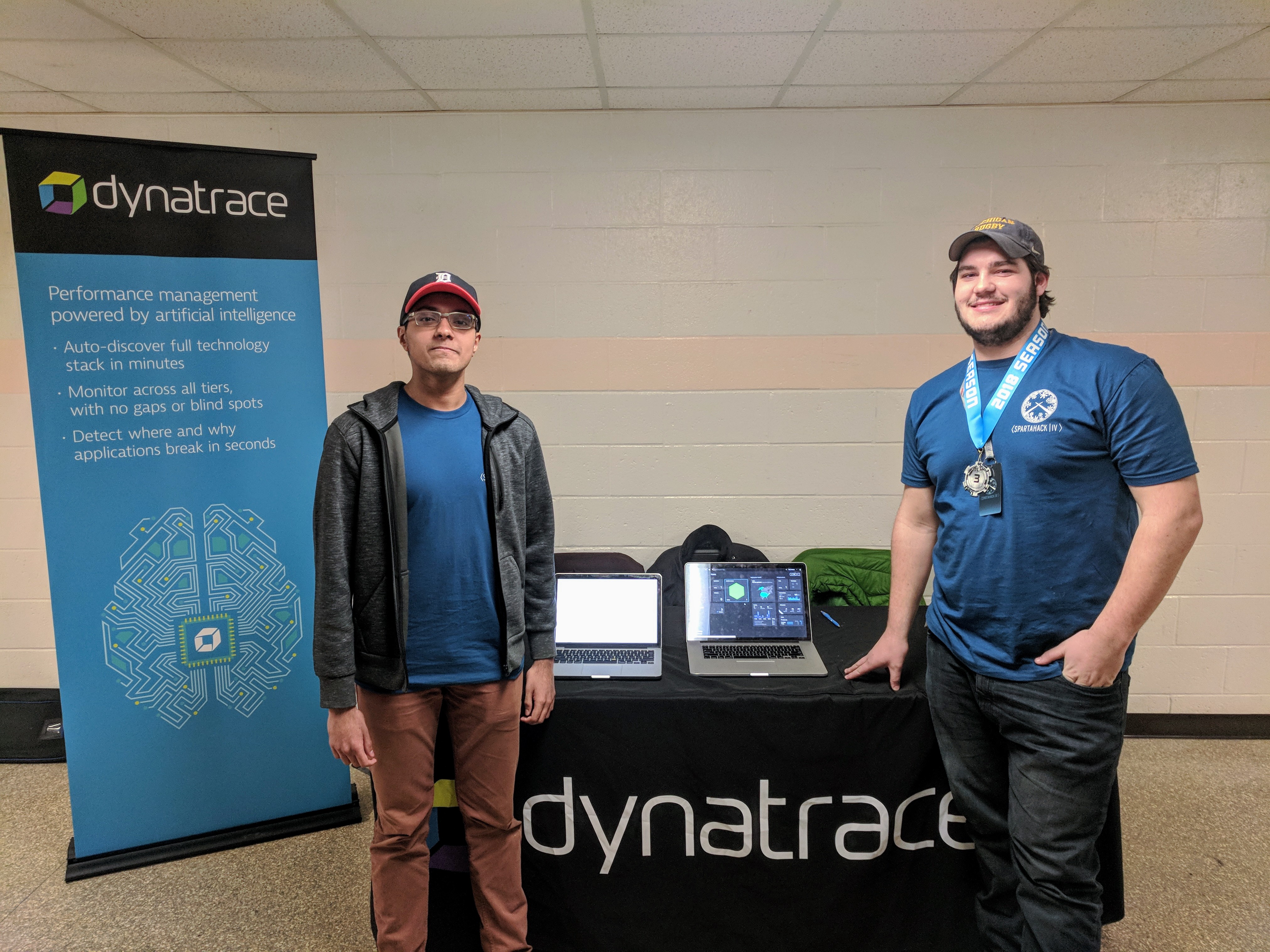 Disaster Tags' hack was a medical patient tagging and tracking system for use by first responders in the event of a natural disaster. In an emergency situation, those responders often have patients with no identifying information or known medical history. Additionally, they usually have no way of keeping track of important medical information as they learn it. Using Disaster Tags, a first responder can tag a patient of unknown identity. As the patient flows through the medical system, receives care, and more is learned about them, their profile is expanded with potentially life-saving information.
Disaster Tags did a great job at SpartaHacks and we look forward to seeing them at DevOne® Detroit in the fall. If you like this hack and want to see more like it, join us at Perform 2018 for the first ever Dynatrace Hack Showcase. Learn more here.