Update Nov 27, 2014: Just posted this YouTube video that shows how to easily identify top SharePoint Performance Problems: SharePoint Performance Analysis in 15 Minutes
Over the past couple of months I created several blog entries where I covered common problems with custom SharePoint applications with a special focus on SharePoint Lists, Views and the SharePoint Object Model.
dynaTrace SharePoint Package
I've now created a package that includes pre configured System Profile, Sensor Packs and Dashboards to answer questions like:
What are the slowest/most often used SharePoint Pages?
Which are the slowest/most often used SharePoint Lists and Views?
What are the most critical/slowest WebParts?
What CAML queries are executed and how do they influence performance?
Is there a SharePoint Object Model related Memory Leak?
Is there a SharePoint configuration or deployment issues that cause overhead?
If you are a Dynatrace customer you can login to our community portal and download the page from here: https://community.dynatrace.com/community/display/DL/SharePoint+FastPack
If you want to give this a try and you are not a customer yet simply register for your Dynatrace Free Trial.
Overview of Dashboards
The following screenshots show the dashboards that come with the package:
Operations Dashboard
Highlights Memory, Garbage Collection, Threads, Handles and general ASP.NET Counters.
It also shows the top used and slowest SharePoint pages in the System.
Architecture Dashboard
Memory and Garbage Collector Activity
SharePoint Web Requests
Application Layer Breakdown
VIEWSTATE usage
Critical WebParts
Exceptions
Top and slowest SQL Statements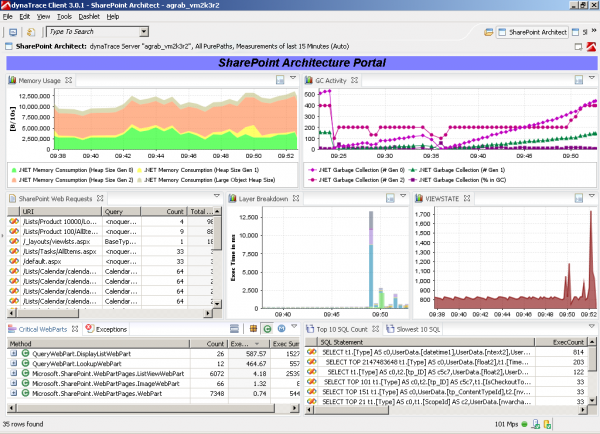 Monitoring Dashboard
SharePoint List and View Usage
Response times of main SharePoint Portal Pages
CAML Queries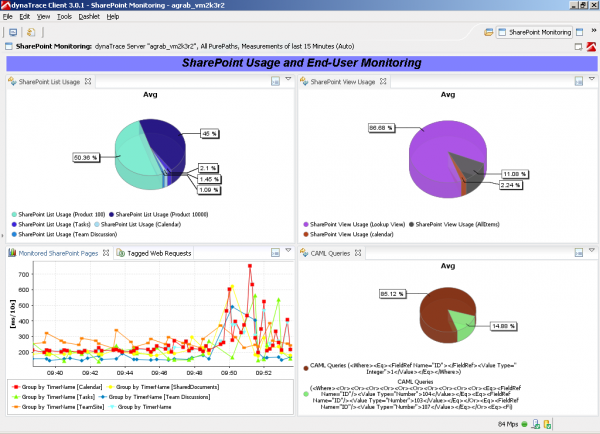 Memory Dashboard
Memory Usage
Selective Monitoring of SPWeb and SPSite
Memory Dumps
Conclusion
Use this package if you run Windows SharePoint Services or SharePoint Office Server in your environment and you want to get a quick start in monitoring and analyzing your SharePoint installation. Please also check all other SharePoint related blog entries that I've created over the past months. You should find interesting information about how to avoid common pitfalls in SharePoint Development and Deployment.