Automation of cluster scaling
The API token generated during cluster installation can now be used as the seed-auth token when adding subsequent nodes to the cluster. To date, the seed-auth token could only be manually obtained via the Dynatrace Managed Cluster Management Console.
Management of uploaded build units
Build units uploaded and located in /var/opt/dynatrace-managed/installer and /var/opt/dynatrace-managed/agents are now visually represented in Dynatrace Managed.
To view the list of build units, select Settings > Automatic updates from the navigation menu (see image below). From here you can enable/disable automatic updates and specify recurring timeframes for when updates should be performed.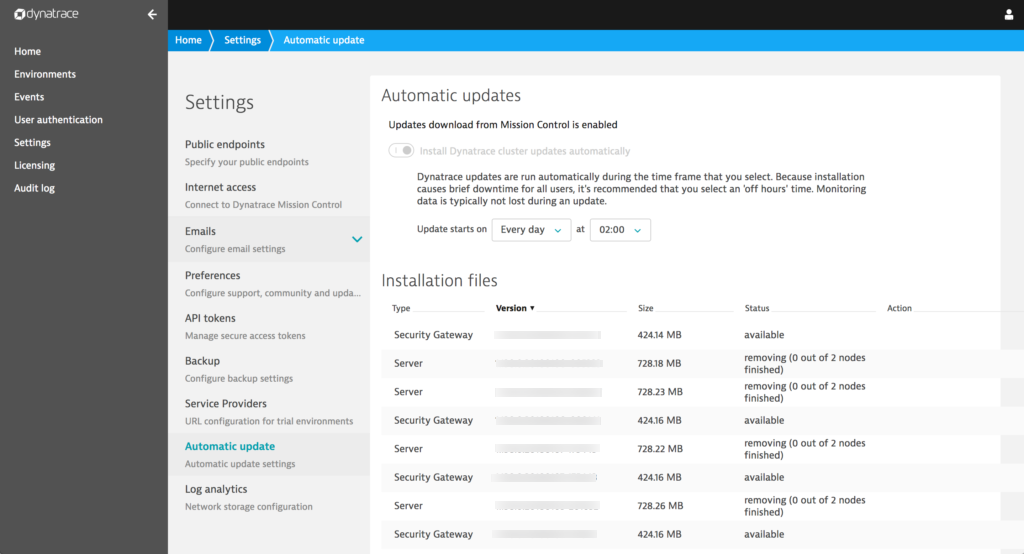 The newly added Installation files table provides Type, Version, Size, and Status detail for each available build unit. Available status values include Removing, Uploading, Copying to nodes, Available, and Ready. The Action column enables you to remove uploaded bundles.
Also in this Release
As part of the Dynatrace synthetic monitoring rebranding initiative, Web checks have been renamed. In the cluster management console, the term "Web checks" has been replaced with "Synthetic monitors."
Default Elasticsearch disk size settings didn't work well because of other processes storing data on the same disk. We've now implemented a mixed approach that introduces a minimum of available absolute disk space so as to avoid running into storage shortages.
Dynatrace Managed now provides support for LDAP configurations where user-group assignments are achieved based on group ID/name rather than domain name.
Other new features
Additionally, all new features introduced with Dynatrace SaaS Version 133 and Version 134 are now also supported by Dynatrace Managed.