At Perform, SAP talked about how they are building the cloud platform of the future and discussed how they are working with Dynatrace for their customers to innovate faster through cloud-native architectures and building new apps that use technologies of the future, like machine learning and IoT.
At Perform Partner Day, HCL took the stage to discuss how their partnership with Dynatrace & SAP has proven to be a winning formula for their customers.sap
HCL is no stranger to IT Service Management, providing ITSM services for a long time. To manage all these services (incident management, problem management, change and release management, etc.)  HCL developed ServiceXchange. ServiceXchange is portal where Suppliers and Consumers connect, enabling rapid deployment and seamlessly organizes automated fulfillment of different consumable service components across different service creators.
To deliver all these services seamlessly on the portal, HCL looked to Dynatrace & SAP:
Leveraging SAP machine learning and artificial intelligence services for service ticket management with SAP Cloud Platform/Cloud Foundry
Cloud Foundry Abacus for metering of usage of services
Dynatrace for performance monitoring
So why did HCL select Dynatrace as their monitoring solution? 3 reasons set Dynatrace apart from the competition:
Ease of technical setup – Dynatrace comes preconfigured with monitoring capabilities for a variety of applications. Dynatrace could be used as a user-provided service in SAP Cloud Foundry to monitor any or all applications hosted on the Cloud Foundry environment. Setup is simple and took less than 10 minutes.
Flexible reporting and monitoring dashboards – Dynatrace Smartscape provides an impressive technology that simultaneously builds an interactive map of how everything is interconnected. HCL gets good visualization of health status for not only HCL applications, but dependent services and hosts. Default home dashboard come out-of-the-box with Dynatrace and could be configured for HCLs specific needs. HCL can see geographic performance of their applications, behavior of the technology stacks, status of their hosts as well as the availability of their services.
Dynatrace SaaS model –With the flexibility of the SaaS model, HCL can use Dynatrace productively.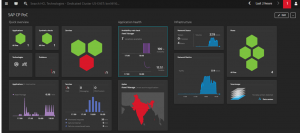 Going Forward – Full lifecycle application build
HCL recently heard from a customer about the sluggish performance of their VFMS (Vehicle Fleet Management System) solution and in response, HCL came back with a prototype of a new version of VFMS that will be developed using SAPUI5 technology. This application will be hosted on SAP Cloud Platform and use Dynatrace from the beginning for application performance monitoring.
This will give their customer seamless integration with on-premise and cloud-based SAP and non-SAP systems, making life easier for their integrators. At the same time, having access to a plethora of services ranging from analytics to machine learning provides HCL with various capabilities to make their solutions more useful and usable for their customers.
Using Dynatrace for application performance monitoring has turned out to be a decision that HCL plans to keep repeating in their future products.
To hear more from Dynatrace partners and customers, don't forget to check out our Perform highlights to access all the videos and presentations. Better yet, register to join us for Perform Europe taking place May 23-25, 2018 at the W Hotel in Barcelona!