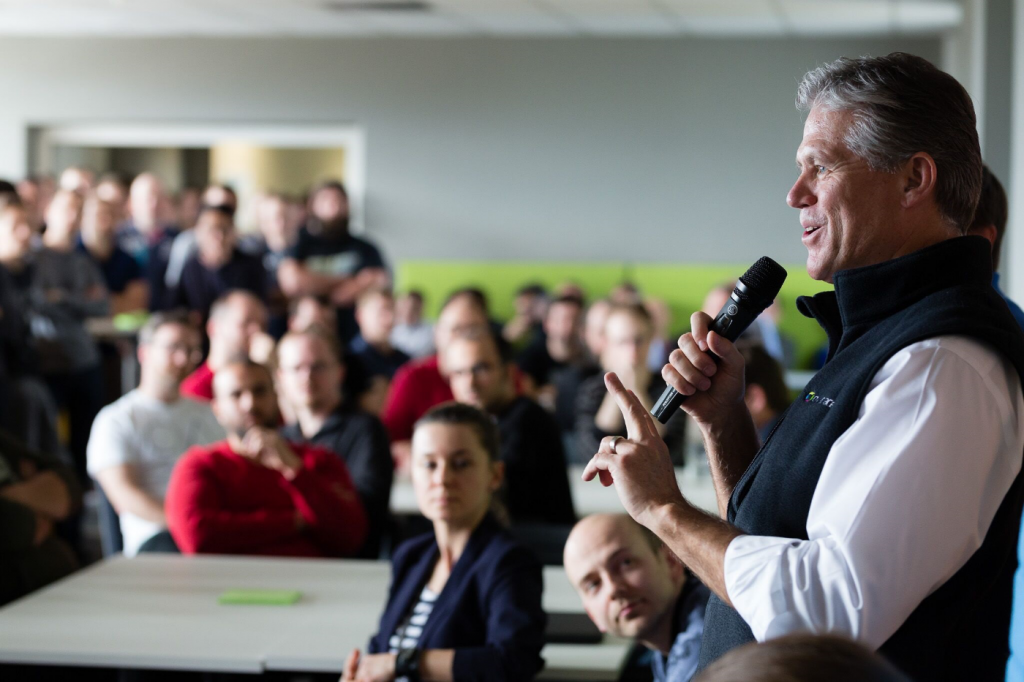 Last week I made my way through Europe, touring our offices in the UK, France, Germany and Austria. It was a spectacular week encompassing media interviews, fresh technical unveilings, team lunches, and meet ups with some very significant brands.
For me, it was a week that truly showed how far we've come, and how far ahead of our competition we really are.
First stop, the UK!
London
Always great to spend time with the dedicated and smart people running the show at our London office – what I call our European operations center. It's such a great team, and they're enjoying a newly renovated office that better reflects the modern, youthful approach that the local team embodies.
A highlight for me was getting some quality face-to-face time with a number of important IT publications – I'm always grateful when busy journalists give us a chance to sit down with them and pull apart the big performance issues of the day.
I'm pleased to say that this article in Diginomica was a result of one of these meetings.

And now on to France…
Welcome to Paris
Our Paris team is one full of pride and confidence for what has been accomplished in the region, and what the future holds. If London is the operational center of Europe for Dynatrace, then Paris is the heart.
It was here that I had the pleasure of sitting down with a very large financial services business (a fairly new customer of ours) who is determined to stay one step ahead in this era of digital disruption. As they recounted why they chose Dynatrace to underpin their digital transformation, it reminded me that:
All transformation journeys take unique paths
But they all share a common goal of creating the best possible user experience possible
Successful transformation needs the whole business aligned with the mission
The user experience mandate needs to be driven from the top down
No matter which country I'm visiting and what industry a business plays in, these are the commonalities I see worldwide with our enterprise customers.
And finally, I can't reflect on my time in Paris without calling out this country's superb culinary skills – exceptional!
Now on to Dusseldorf, Germany
Something that really struck me in Germany was just how strong and capable this country is, and how determined the people are, when it comes to quality output. All our customers here are pushing digital transformation hard – making dramatic yet necessary changes to their IT ops and maximizing today's technical advancements around AI, cloud, containers, microservices, DevOps etc.
Yet, in all these conversations about cloud environments, agility and releasing better software faster, it quickly becomes apparent that base-lining performance and managing costs are equally important today.
Our local team has done a fantastic job expanding our stronghold in this part of the world and I thoroughly enjoyed concluding my visit with a giant pretzel and local brew.
The final stop: Linz, Austria
Linz is Dynatrace's innovation center, and meeting with the local team is always an exciting and mind-expanding experience. It's been 10 years since we opened our doors here, and the same entrepreneurial attitude is palpable when you walk through the door.
Within moments of arriving I was brought into detailed conversations about our newest breakthroughs in:
AI and monitoring automation
Our digital virtual assistant, Davis®
Our DevOps capabilities
Our unrivaled partnerships with all the big cloud players – AWS, Azure, Pivotal, RedHat and OpenShift
Cheers to teamwork and innovation
I couldn't be prouder of what we've achieved to-date for our customers. More importantly though, I feel confident in our ability to help enterprises make the leap from today's complex application world to tomorrow's hyper-complex app-driven universe.
But technology aside, I'm a big believer that great companies are made by great people, and it's our worldwide team that's going to continually push Dynatrace forward.
A big thanks to the European folk who hosted me last week – I enjoyed every minute of it.