The Barista Design System helps us to ship extraordinary user experience. It guarantees more efficient teamwork and is the single source of truth for our designers and developers.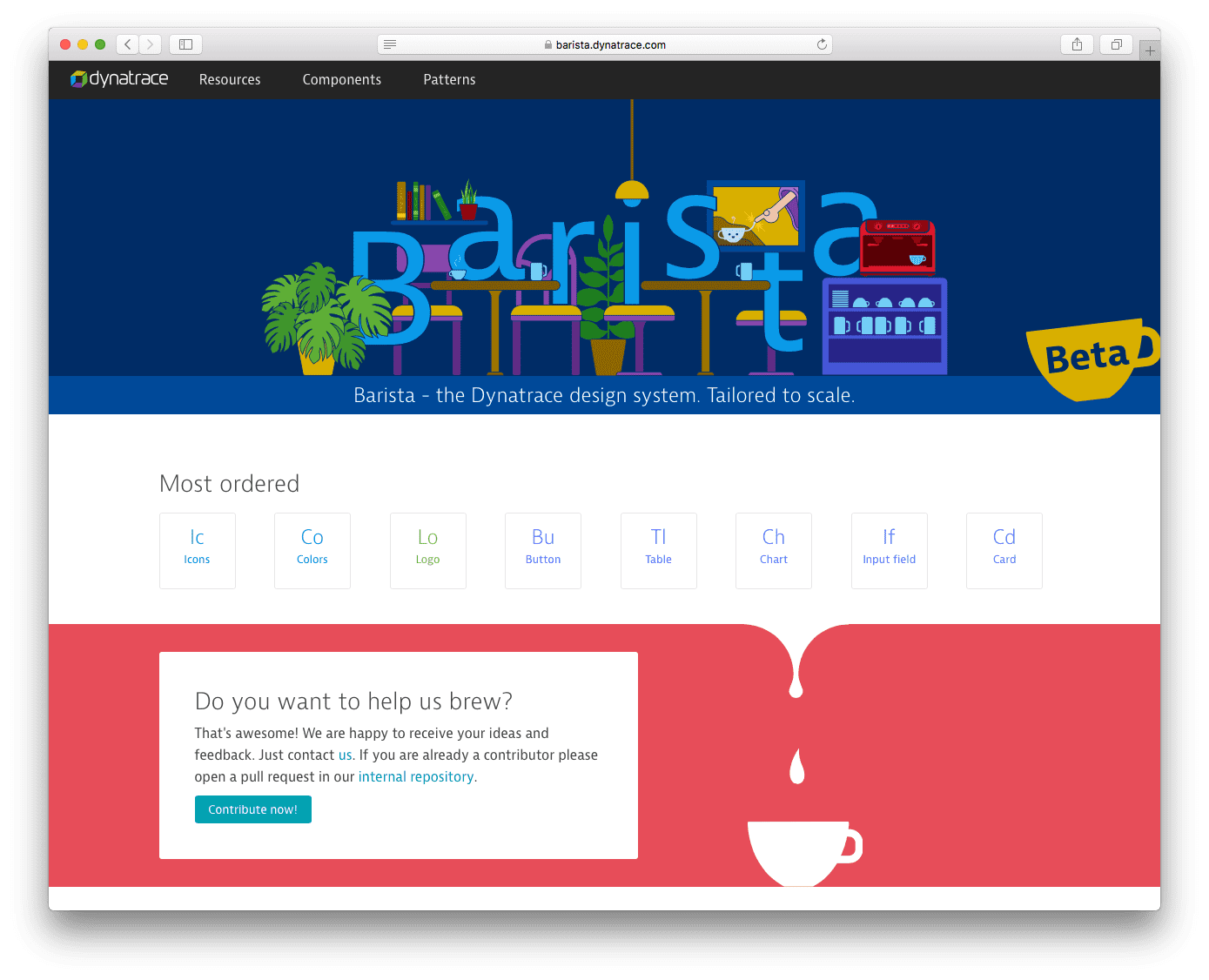 If you don't know what I'm talking about by now, I recommend you read Part 1 and Part 2.
The Barista Design System is now publicly available at barista.dynatrace.com.
What's unique about the Dynatrace UI?
The Dynatrace UI…
…is tailored to scale
…visualizes answers
…improves perceived performance
Why call it Barista?
At Dynatrace we're addicted to building great experiences and drinking great coffee.
Therefore, it was kind of obvious that we had to name our design system "Barista." Baristi pick the best ingredients and create extraordinary product experiences with them. This is how we like to work.
Why make it public?
At this point you'll probably ask yourself "Why would Dynatrace make its design system public?". Well, there are several reasons for this. Firstly, because we believe that
it gives great insights into how highly we value user experience—and this is something we're really proud of.
Secondly, because we want to make contributing to the Dynatrace ecosystem as straightforward and easy as possibly. Thirdly, we believe that this step allows us to raise quality even higher.
With a public version, there are challenges, too. Some things are awesome and we want the whole world to see them. Others are awesome too, but tied to a specific use case and therefore only relevant for our colleagues. While we have a wide variety of public resources, there is still an internal version of our design system with many more tools, resources, and features. We can decide for every page if we want to show it publicly or internally.
Can I have a large cold-foam iced cappuccino with a caramel shot and a cherry on top?
Yes, of course. The Design System is built to cover 70% of the UI work, so our designers have more time to focus on the tricky parts. Of course, there will be cases where more design attention is needed, but like the Dynatrace Design, our Design System will evolve and enhance continuously.
Currently we have the following parts available:
A large set of UI components, with ready-to-use code and interactive demos.
A collection of UI patterns that define the unique Dynatrace UI.
A huge number of handcrafted icons.
Colors and brand resources.
Barista, the Dynatrace Design System is now publicly available!

What's next?
There is much more to come. We're constantly working on new tools and processes to improve the design process even further. In the next months our focus will be on the automation of UI design and further UI quality enhancements.
If you have any questions, concerns, or feedback, please don't hesitate to reach out to me.