Hi, Adam here, I work on Tech Alliance marketing – the stuff we do with the big cloud providers.
Here are some highlights of what we've been up to with Amazon over the last few months:
AWS Summits
Re:Invent isn't the only show we do with AWS. When the AWS Summit series went on the road, we went too, meeting lots of customers at our booth and presenting theatre sessions. If you attended an AWS Summit in New York, Chicago or Toronto then you might have seen me present on using Dynatrace to enable faster migration to the cloud. If you went to an event in Anaheim, San Francisco, or Atlanta, then you would have seen one of my colleagues. We always get a steady stream of visitors at AWS Summits: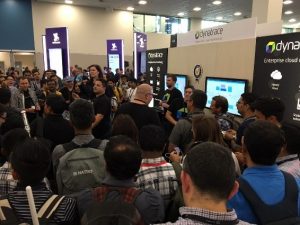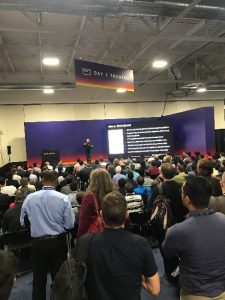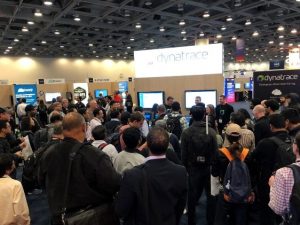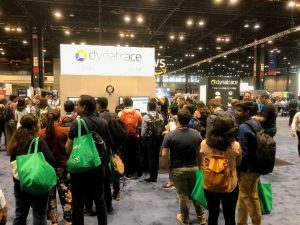 Monitoring AWS Containers
We do a lot more than just events. We're constantly releasing new features that support AWS and work closely with Amazon to make them available. One of the fastest ways to get started on AWS is through the AWS Marketplace, so you'll find Dynatrace there too. Lots of people know that Dynatrace's unmatched ability to monitor containers and serverless deployments, and Amazon wanted to make sure everyone using AWS knows, so they've specifically highlighted us for monitoring containers and serverless. You can find more info at this link.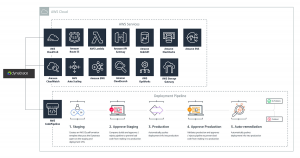 Monitoring AWS Lambda
For a more specific serverless functionality, AWS recently recognized us as a Lambda partner. AWS Lambda lets you run code without provisioning and managing servers. Dynatrace can manage Lambda monitoring, and we're a featured partner for Lambda monitoring over on the AWS Lambda landing page
DevOps for AWS
The Amazon Solution Space is a place where Amazon can feature solutions that work on or with AWS. If you browse through the Solution Space for DevOps solutions, you'll find the feature page where Dynatrace is highlighted

 – the only monitoring solution listed – with our solution for auto-healing your continuous delivery pipeline. It's really cool – Dynatrace can automatically monitor when a new build is released and see how it performs, automatically approving it for production, or rolling back to previous builds, based on performance.
Your own Dynatrace instance!
There's one more AWS Marketplace related announcement I wanted to mention – the AWS Quick Start Dynatrace Managed Cluster.  The fastest way to get started with Dynatrace is with our SaaS solution – all you need to do is start installing agents, and we take care of the rest for you. There are lots of valid reasons why you'd want your own private managed cluster for your Dynatrace deployment, and that's easy now too – the Quick Start will automatically configure and provision all the backend servers needed for a Dynatrace deployment.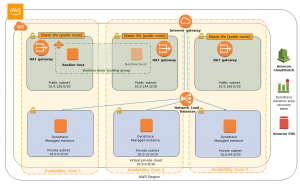 Want to see who else is using these solutions? We've got some great customer testimonials about using Dynatrace with AWS.
Landbay went cloud-native on AWS with Dynatrace
Whew! It's been a busy last few months. Can't wait to see what comes next!
See you at re:Invent!
-Adam