Update April 2017: Dynatrace AJAX Edition has been a great success story over the years but we had to move on and focus our development efforts in other areas. If you want to know where our journey is heading and how we can help you check out Dynatrace AJAX edition
Over the last couple of years the Dynatrace engineering team out of Linz, Austria continually updated one of the best browser diagnostics tools for Internet Explorer and Firefox on Windows. Back in 2009 it received strong endorsements from Steve Souders and John Resig and Dynatrace AJAX Edition became very popular.
Today we are announcing the availability of our next -and final- Dynatrace AJAX Edition version. This release supports the latest version of Firefox and also contains some bug fixes reported by fellow community members over the last few months. Make sure you have the latest and greatest – download it from our Dynatrace AJAX Edition Community!
This release will be our final release as we now have a new and better -yet still free J– solution to tackle the new challenges we hear about from you and see out there. Analyzing web performance in Firefox and Internet Explorer is just not enough. We all need visibility in mobile, other new client- and server-side technologies, Cloud, etc… in order to get the full picture.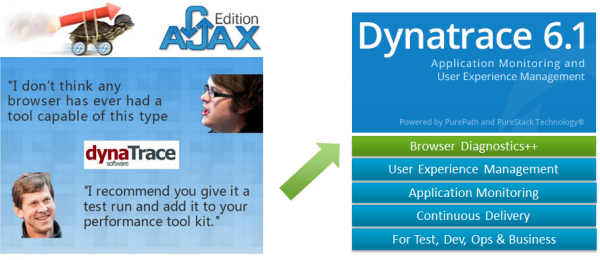 Mobile Web, Mobile Native, End-to-End, Cloud: The New Frontier
When it comes to optimizing your application you as a web or mobile developer, tester, architect or application owner can no longer just focus on the browser and follow the best practices from years ago. More than ever do applications run on mobile devices – whether web or native – and heavily communicate with the backend services via REST or Web Services. That shift in application architecture also requires your tooling to level up: it is no longer just about number of resources on a web page or speed of rendering.
That's why we decided to put all our efforts into the next generation of end-to-end application diagnostics and make it available for all of you with the Browser Diagnostics Free Trial of Dynatrace Application Monitoring and User Experience Management. When you register for Dynatrace 6.1 you get a 30-day fully featured Dynatrace suite and a lifetime license for Browser Diagnostics, isn't that something? J
Continue reading to hear what this all includes!
Browser Diagnostics++ with Dynatrace
First of all you, get the latest Browser Diagnostics support for Internet Explorer and Firefox. I recorded a short YouTube Tutorial that walks you through the steps of using Dynatrace for Browser Diagnostics just as you were used to with Dynatrace AJAX Edition but levering some of the extended features such as screenshot capturing, endless recording, integration with your continuous integration and visibility into your backend.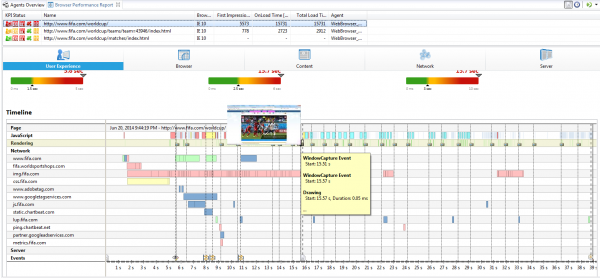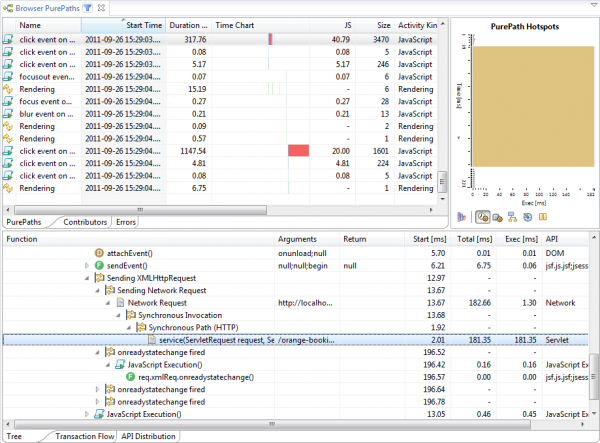 Mobile Diagnostics and Mobile Monitoring
If you are a mobile developer, need to test a mobile native, hybrid or web application or have been asked what your mobile monitoring strategy is, Dynatrace provides diagnostics (where are your performance hotspots, why is your app crashing) as well as full end-to-end user experience monitoring for your Mobile iOS or Android native application. On top of that you get full end-to-end monitoring and diagnostics for any mobile device that runs your mobile web application.
Do you want to know why your mobile app crashes? Dynatrace captures all user interactions from starting the application, through all clicks, swipes, turns until the crash happens giving you full details of the crash itself: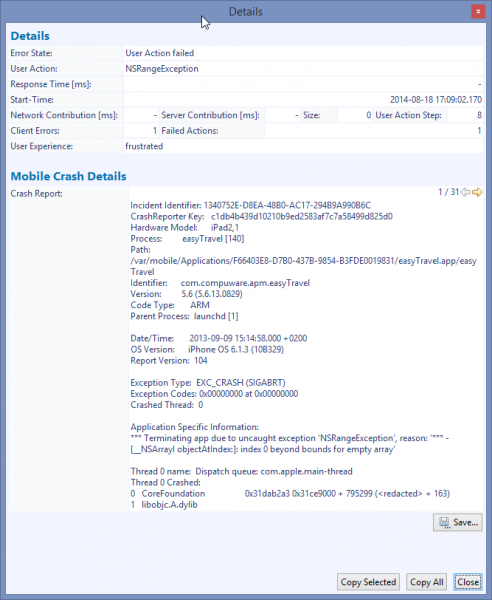 From your real end users you want to know where they are coming from, which OS version on which hardware they are using, which paths they take through the application and where the experience problems along the way – whether that is performance problems or crashes. Dynatrace captures all of that data and provides different ways to get a high level overview but also dig deep into every single end user that uses your application. In the end you want to know why User X is negatively tweeting about you. With Dynatrace you have the evidence: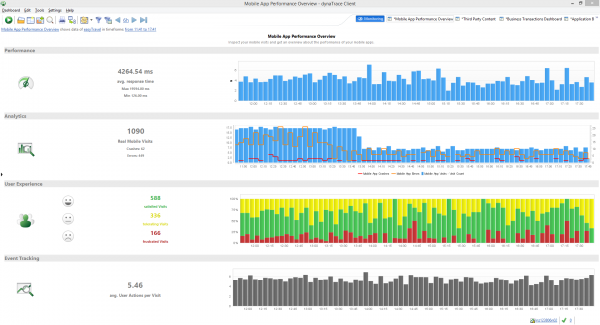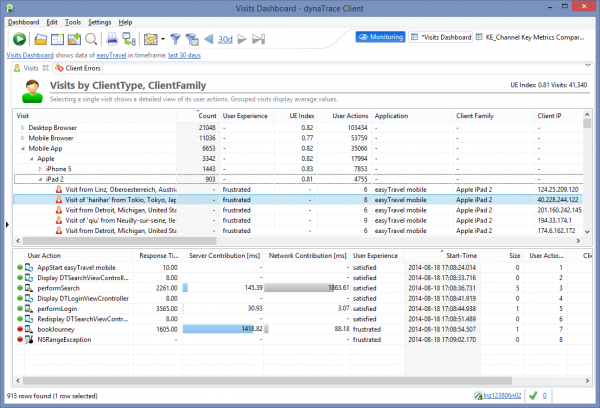 All these capabilities exceed whatever you have seen in other tools before that claim they have mobile monitoring support. Especially because Dynatrace monitoring doesn't end in the mobile device but goes end-to-end into your backend services. Because admit it or not: sometimes the problem is the backend 🙂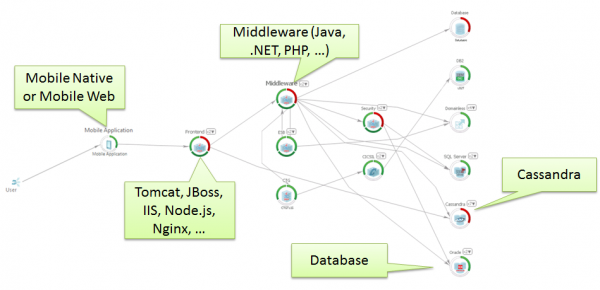 Special Offer for Mobile Developers: If you are a Mobile Developer we want to invite you to a new Mobile Monitoring Service we provide using Dynatrace but as a Service. Apply here for our early access program and check out the blog from Klaus Enzenhofer where he shows how easy it is to monitor user experience, usage and crashes of your mobile application.
User Experience Management
If you do not only want to monitor your mobile end users, but all your end users, Dynatrace can do that as well for you. Every single end user – whether accessing your application through a mobile native, mobile web, desktop web or rich client application can be monitored and analyzed.
Want to see how this works in real life? Then read up on how Robert – a friend of mine who developed and now runs an ASP.NET MVC Webshop now uses Dynatrace to learn how his users are accessing the store, which pages are popular, were people drop out before they buy something and which current problems in the online store impact which types of users.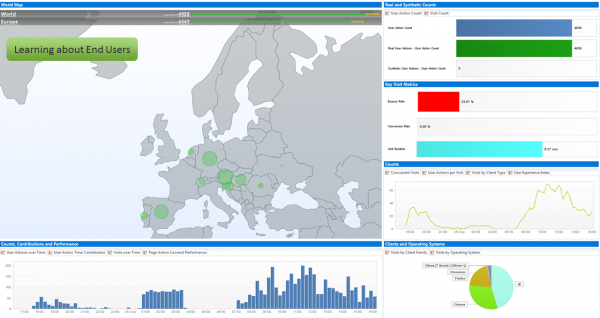 Closing a Chapter with a BIG thank you
Thanks to the folks who developed Dynatrace AJAX Edition. I want to give some names here with much recognition for their talent: Markus Gaisbauer, Clemens Fuchs, Dominik Punz, Guenter Gsenger, Thomas Ebner, Arno Huetter, and in more recent history Margit Mayerhofer. Thanks for building such a great solution and thanks for putting all your efforts now into more Dynatrace innovation.