"We expect that the revenue made via our mobile apps will cross the 50% mark within this year!" Most of our eCommerce customers are starting to say this to us. These customers have driven their businesses to the web and have successfully applied Real User Monitoring (RUM) for web. They have found and fixed many of the common performance problems described in Top 8 Performance Landmines, 5 Steps to improve eCommerce Performance and What if A/B Testing fails to improve conversions.
As these customers start seeing an increase in revenue from mobile they have to extend their RUM capabilities from Web-only to ALL End User Devices including Mobile Web and Mobile Native Apps.
What does a mobile RUM solution have to track?
From a "classical" web perspective we learned that a RUM solution has to answer the following 4 questions for our clients:
Who are my customers?
Are my customers experiencing functional problems?
Are my customers experiencing bad performance?
How do my customers use the application?
Working with our clients we designed the Dynatrace Mobile Application Monitoring which gives you the answers to the above questions:
#1: Who are my customers?
Getting an overview of who your end users really are, which devices they are using, where they are coming from and how they use your application lets you make good decisions on future investment for certain mobile platforms, technologies, improving application design as well as targeting the right market.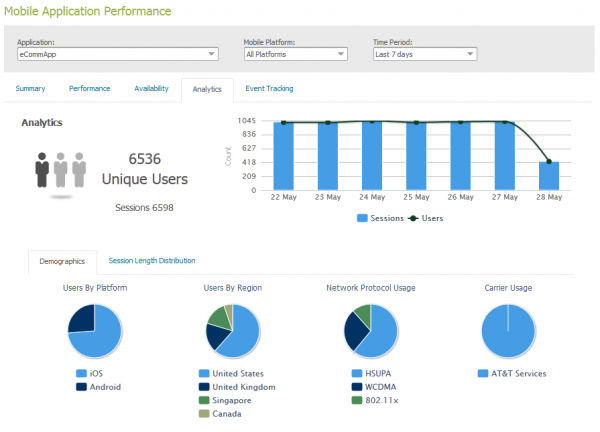 #2: Are my customers experiencing functional problems?
The worst thing that can happen to an end user is that the app crashes or shows error messages. Capturing crash reports for each failed mobile visitor is required to learn about functional problems as well as having all information needed to fix it.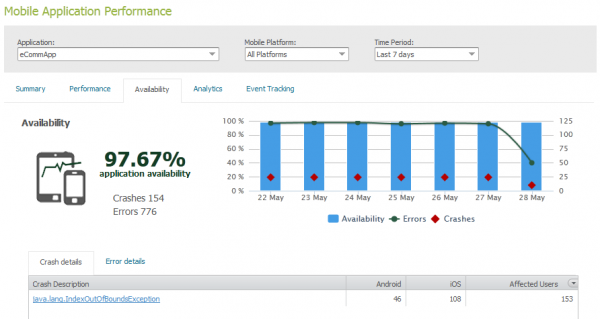 #3: Are my customers experiencing bad performance?
4.1 seconds is not an acceptable response time! Are there any differences between the different mobile devices or does it happen across the board? As you can see in the following screenshot performance problems impact all devices equally. It also shows us which user actions are particularly slow such as the application start or the checkout.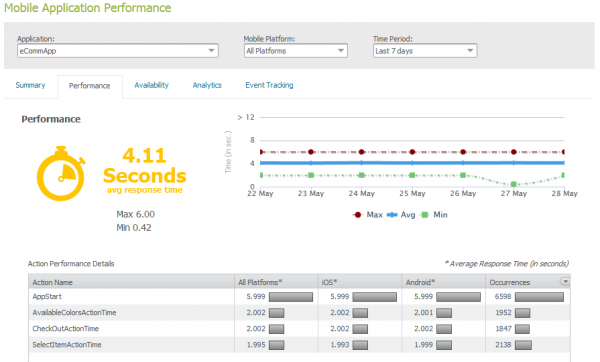 #4: How do my customers use the application?
Knowing which features are and are not used allows you to focus your improvements on those features that are heavily used and highlight these same features.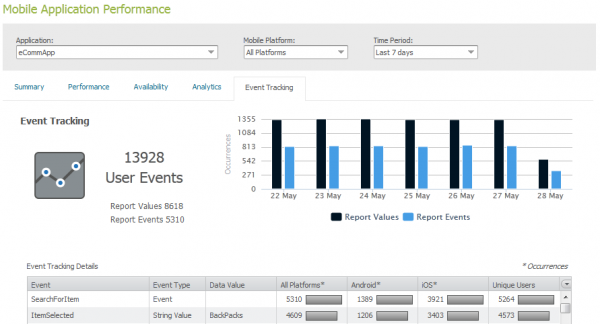 Getting started with Dynatrace Mobile Application Monitoring
For more information, be sure to visit our  Dynatrace YouTube Channel and check out our short series of videos explaining how you can enable RUM in your application. Once you have registered, be sure to use the discussion forums on the APM Community and share your feedback with others.
What you get with Premium?
The Free Edition is extended with the Premium offering with several key capabilities:
Full End-to-End performance view: from Mobile Device through the backend implementation
Manage user experience across all your customers touch points: web sites, mobile sites and mobile native
Track and Optimize Business Metrics such as Conversion Rates, Bookings, and Revenue and correlate this with performance across regions and devices
Diagnose problems down to the method level using PurePath technology
Automate Alerting and Reporting to both Business and Application Owners
And even more …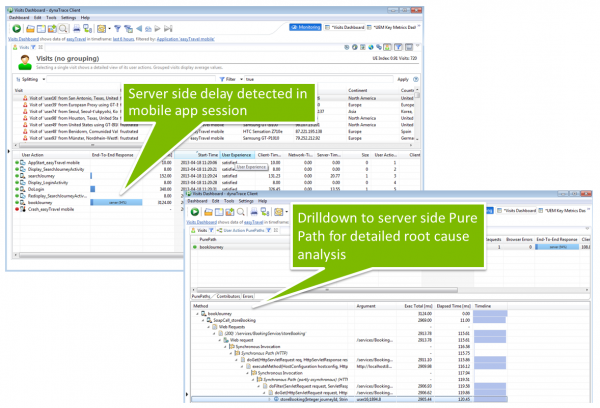 Learn more about the Dynatrace Real User Monitoring for Web & Mobile Apps.