One of the best things about the end of Day 1 at DevOpsDays is there's Day 2 right around the corner! Here is a summary of DevOpsDays Berlin 2015, Day 2 from my perspective.
"Debugging your Communication for more Success and Efficiency in DevOps" by Sabine Bernecker-Bendixen
In her presentation, Sabine (@SabineBendixen) presented some essentials of communication theory. Communication is, in fact, a complex thing composed of verbal- and non-verbal communication aspects. Albert Mehrabian, a research pioneer in this field, established today's understanding of the importance of non-verbal communication, such as body language (appearance, facial expression and movement) and tone of voice next to what's actually being said.
Also, as senders and receivers in human communication, we are subconsciously prone to biases: our individual knowledge, experience and emotions create filters which may distort the message being conveyed, resulting in undesirable outcomes. Email communication is especially dangerous, as a hastily composed message can easily be misinterpreted – an effect which is exacerbated by the lack of non-verbal communication cues.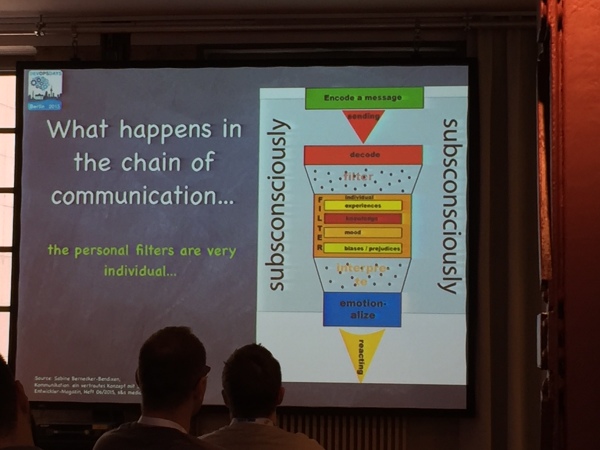 Here are some tips to improve your human communication skills:
Precisely explain your point of view
Ask helpful questions if there's the potential for interpretation
"I am okay, you are okay!": show appreciation to all people with which you interact
On a personal note: the last point refers to the important aspects of self-empathy and empathy in Non-Violent Communication by Marshall Rosenberg.
"DevOoops: Increase awareness around DevOps Infrastructure Security" by Gianluca Varisco
Gianluca (@gvarisco) astounded the audience by revealing a wide array of security flaws seen in combination with widely adopted solutions such as: git, Subversion, Jenkins, Puppet, Chef, Vagrant, Elasticsearch, Redis and Docker.
The reasons for the observed exploits are what I would diplomatically refer to as acts of thoughtlessness:
Using default credentials and publicly available Vagrant keypairs in production
Running application processes as root
General disregard of security basics. (Please stop storing user passwords in plain text. This is 2015!)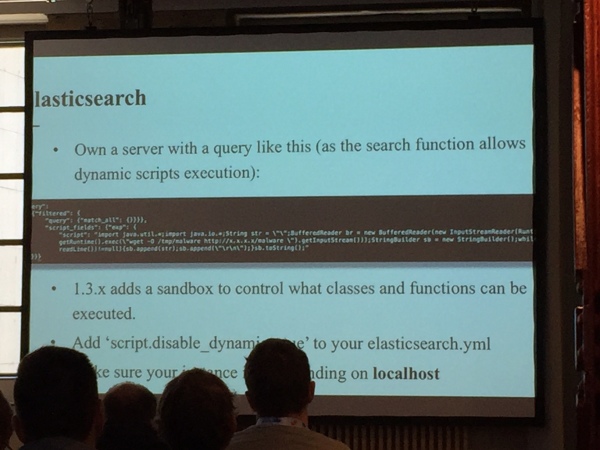 The following quote implies that Gianluca and his security team made some very important learnings in the past: "We learned the hard way that DevOps is more than giving sudo to developers." Security still doesn't appear to be a popular topic. Perhaps it's time to forget about the term "non-functional requirements" and, instead, think in terms of "operational features" as proposed in this HighOps.com article?
"From Zero to Hero: DevOps at Kuehne + Nagel" by Markus Krogemann & Sascha Krüger
The presenters from Kuehne + Nagel, a global leader in the freight transportation business described their journey towards a highly efficient IT organization.
About five years ago the company was facing a challenge: they wanted to extend their online product portfolio and grow the number of people involved without stepping on each other's toes. The challenge became a big opportunity for their business: they traded their monolithic architecture for a component-based one whose various parts could be owned by autonomous teams. To minimize lead times, their teams integrated test automation, as well as infrastructure and deployment automation (for which they use Ansible). Also, they enforce blue/green deployments for zero-downtime releases.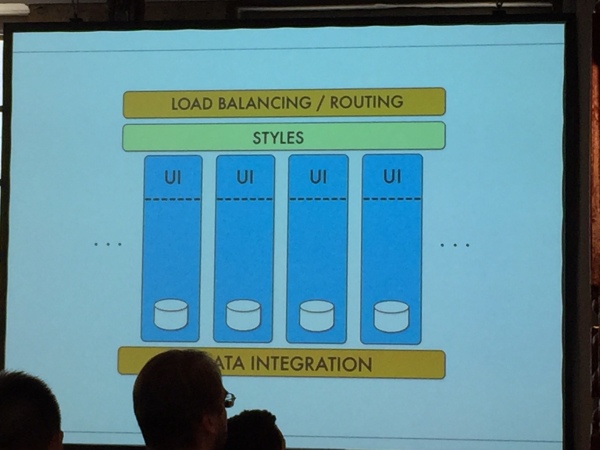 While teams still worked in silos after the transformation (there seemed to be consensus that breaking up silos entirely is a good thing but just doesn't work for everyone), the company was able to reduce hand-off times between development, operations and infrastructure teams by enabling the development team to run deployments which don't break compatibility tests on their own: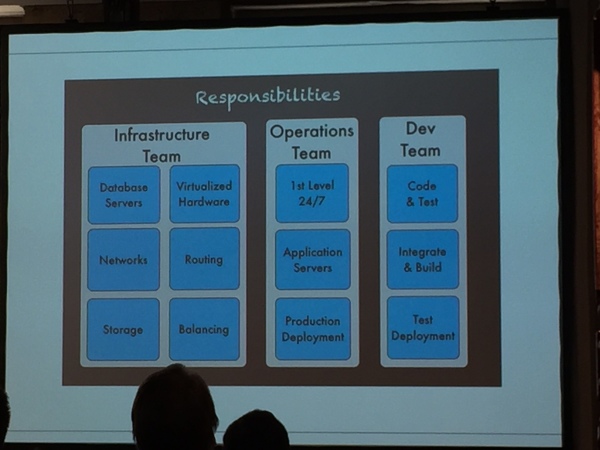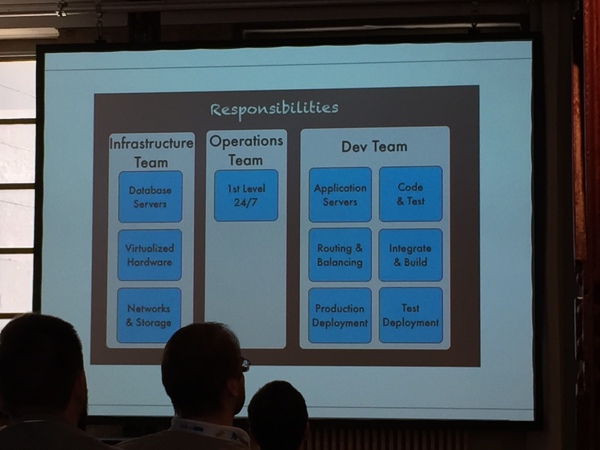 "The Beauty and The Bias: Biased Thought Patterns considered Harmful" by Maximilien Riehl
Maximilien's (@MaximilienRiehl) talk was my highlight of the day — an insightful and funny presentation about the dangers of bias. His slides can be found here.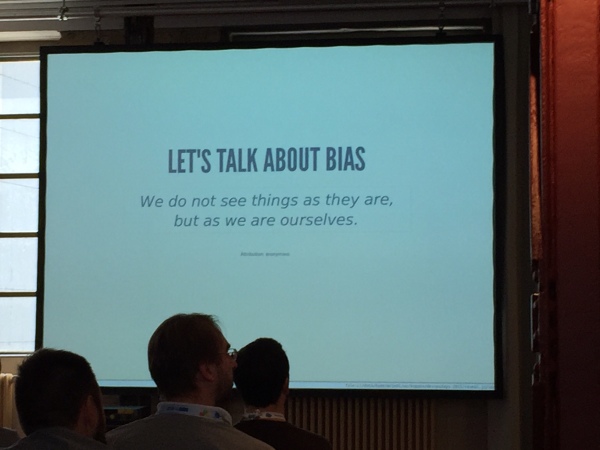 "You don't know me, but I know you": according to the asymmetric insight bias, we believe we know more about others than they know about us. When asked to describe yourself, your answer would likely reflect that you, as a person, can be compared with an iceberg: there's only very little of you that is visible to others, and that most of your personality is invisible to others.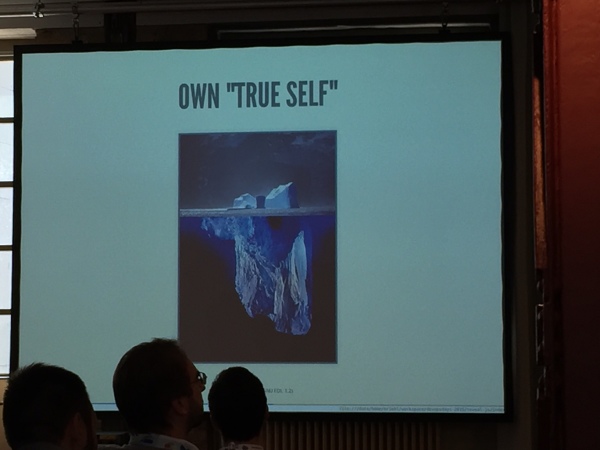 However, when asked to describe a close friend, your answer would likely be entirely opposite. We tend to believe that we know and understand our close friends better than they know and understand us.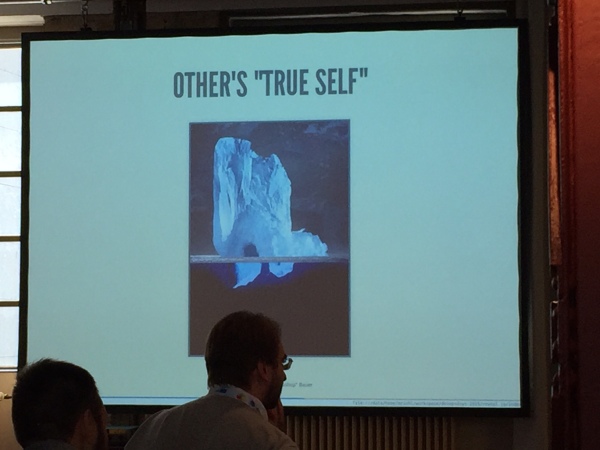 In terms of DevOps, this cognitive bias implies that we all too easily think "Your team does it wrong and we do it right." Luckily, scientists discovered that asymmetric insight can be overcome by having teams work together to solve common problems, which is what DevOps after all is about.
On a personal note: extremely helpful for driving collaboration are user story maps which are a great tool to work on the "big picture" of your ideas, identify risks early, and create shared understanding. Check it out!
Ignite Talks and Open Space Sessions
In the afternoon, there were a couple of great ignite talks and open sessions from which to choose. Here are some of my personal favorites:
Career development in a DevOps culture
IoT development and deployment
Lean DevOps culture: how to involve the management
Monitoring containers
Practical approaches to diversity in the workplace
That day I presented a hands-on session named "Because your Infrastructure Deserves Tests, Too: Test-Driven Infrastructure with Ansible, Test Kitchen, Serverspec and RSpec". The idea of applying principles from Agile software development to the infrastructure level is becoming increasingly important as companies understand that shippable code = working and deployable code.
Summary
To summarize, The DevOpsDays Berlin 2015 was a very well organized event with great speakers, good chats (and great food!). I hope to attend next year! Curious about what happened on Day 1? Look here!
Goodbye to all of you diverse, inspiring and higly motivated people. See you next year ❤️ #devopsdays #blndevops pic.twitter.com/ZPQcB0qmo5

— Berlin DevOps (@blndevops) October 27, 2015