Today, we're announcing a new generation of our Dynatrace Synthetics monitoring infrastructure. All physical synthetic-monitoring locations provided by Dynatrace will soon be replaced with 100% cloud-based synthetic-monitoring locations.
This announcement follows our earlier announcement about new synthetic monitoring locations. Moving our public synthetic-monitoring locations to the AWS and Azure clouds will bring noticeable performance and stability improvements. This migration will also allow us to continue introducing new monitoring locations—enabling you to run synthetic monitors from numerous locations worldwide.
Migration plan
You don't have to do anything to preserve your existing synthetic monitors. We'll take care of the migration automatically. However, effective immediately, deprecated, legacy monitoring locations are locked and unavailable for assignment to new synthetic monitors. These locations will soon be marked as Deprecated on the Add monitor and Frequency and locations settings pages (see image below). All legacy locations will be permanently shut down on June 30, 2018. At that time, all monitors using deprecated locations will be automatically reassigned to new cloud monitoring locations.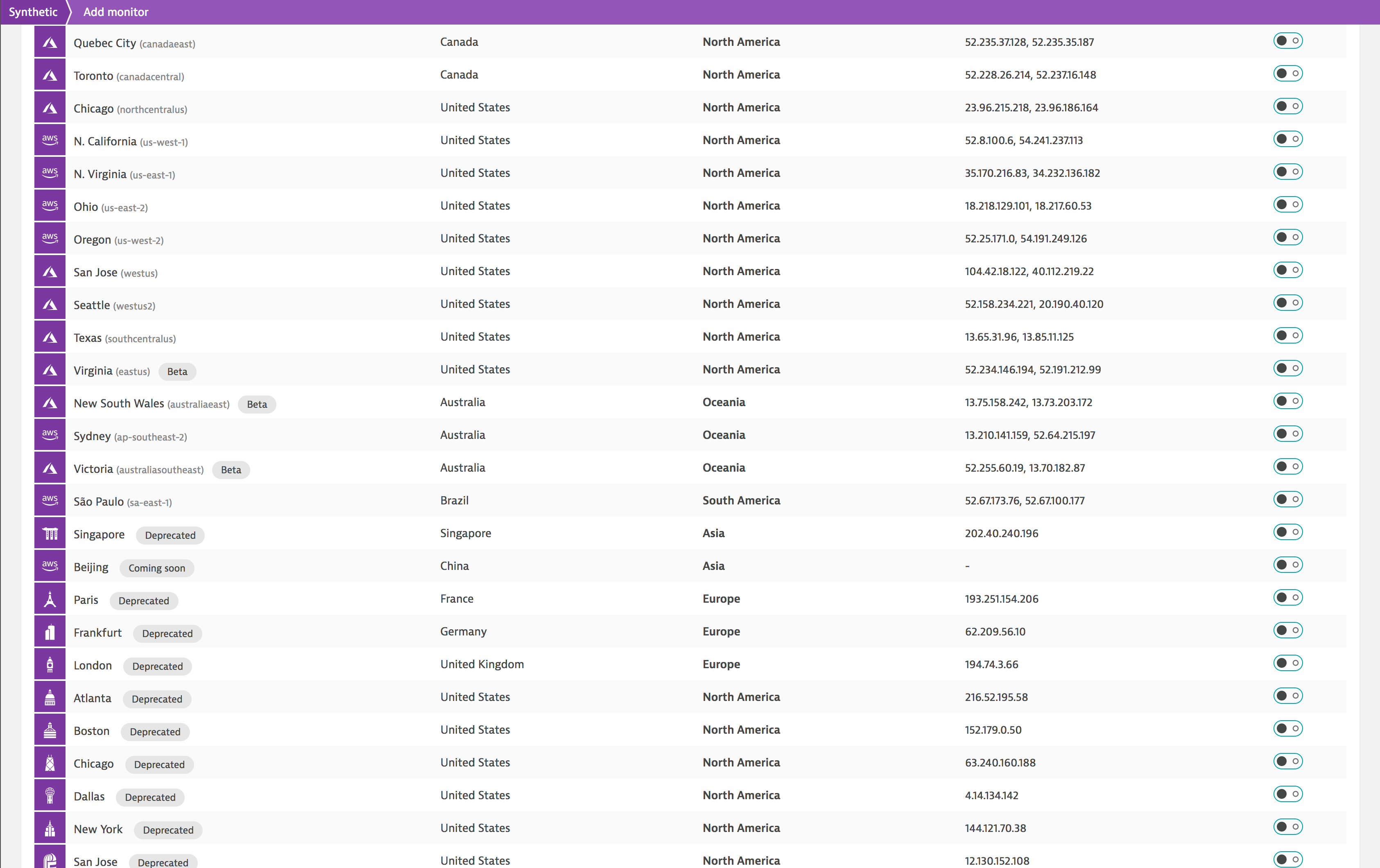 Start using the new monitoring locations today
You can benefit from this upgrade immediately! All the new monitoring locations are available now for use. You can assign the new locations to any new synthetic monitors that you create and you can assign them to any of your existing monitors. For details, see How do I configure my synthetic monitors?
Migration to the new locations
Please see the location-reassignment suggestions below to know which new locations you should use in place of any existing (soon-to-be-deprecated) locations that your monitors are currently assigned to. These are the same locations that will be used for the automated migration on June 30, 2018.
| | |
| --- | --- |
| Deprecated locations | Equivalent locations |
| São Paulo | São Paulo (sa-east-1) [Amazon] |
| Sydney | Sydney (ap-southeast-2) [Amazon] |
|  Seattle |  Seattle (westus2) [Azure] |
|  Dallas |  Texas (southcentralus) [Azure] |
|  San Jose |  San Jose (westus) [Azure] |
|  Chicago |  Chicago (northcentralus) [Azure] |
|  Singapore |  Singapore (ap-southeast-1) [Amazon] |
|  Frankfurt |  Frankfurt (eu-central-1) [Amazon] |
|  Paris |  Paris (francecentral) [Azure] |
| London | London (eu-west-2) [Amazon] |
| New York | Location coming soon! For now, re-assign to a nearby location (for example, N. Virginia) |
| Boston | Re-assign to a nearby location (for example, Montreal) |
| Atlanta | Re-assign to a nearby location (for example, N. Virginia) |
Not seeing your monitoring location of choice?
Thanks to the new Dynatrace Synthetics infrastructure model, we can now expand into new geographic locations quickly and easily. We're working hard to deliver more monitoring locations worldwide, particularly in the APAC and EU regions. So look for further announcements about new monitoring locations coming soon!