In February 2017 we announced Davis® to the Dynatrace community – and a lot has happened since then. Here's what we've learned along the way and where we're headed next.
Making Davis Real
At Dynatrace we focus on leading edge innovation. Our engineers build products that make people's lives easier – today and every day – which is why we set out to make Davis available in the easiest possible fashion to all Dynatrace users.
Last year we introduced the Davis open source project and shared how to "build" your own Davis during a hands-on training (HOT) day. Our customers told us that they wanted a more out-of-the-box experience. Therefore, we invested into making Davis available as a SaaS service and built an Alexa Skill that integrates seamlessly with your Dynatrace tenant and a Slack app that brings Davis to all of your teams in minutes.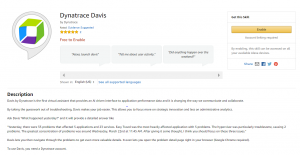 Massive Growth in Davis Usage
Davis has experienced a massive increase in usage over the last half year – here are a few of the stats:
250% month-over-month increase in conversations.
>10K interactions per month.
>800 Dynatrace tenants have Davis enabled.
This adoption was made possible by a lot of changes that we made under the hood, like switching to Amazon Lex for better intent detection, and building a dynamically scaling multi-tenant environment to provide great service to all users; as response times matter even more when using voice than when using a web application.
People keep seeing the value in Davis
When we introduced Davis last year, we had three major use cases in mind – stand-ups, product meetings and board meetings. Based on the feedback we collected from users, all of them seem be addressed pretty well. Let me share some quotes from early Davis users:
"Every time I use Davis, I gain five minutes back in my life, instead of searching for the answer to the problem.'' – Devonte Emokpae, Head Of Development, Doctify
"With Davis, we have seen a 30 percent increase in users adopting Dynatrace. By using voice, it's a quick and fast way for people to interact, and whilst it's common now for consumers, it's unique for B2B software." – Jeppe Lindberg, Practice Lead, RedOcean
"Our senior leaders don't want to log into Dynatrace. Davis is the perfect solution to give executives critical information immediately." – Mary Farrell, Consultant IT Project Manager at United Health Group
Finally, removing a major roadblock.
While the increase in usage was great, we kept hearing the same feedback over and over. Customers were asking us why they couldn't make Davis a core member of their team. Every Davis user told us that they wanted to have Davis speak up when a problem arises, rather than waiting to be asked for problems.
Unfortunately, this feature was not available for the Amazon Echo. Obviously, we were not the only one in the market getting this feedback, which is why Amazon now offers notifications in beta mode.
We're excited to announce that Davis now supports notifications for the Amazon Echo and for Slack, which enables it to proactively inform users about problems. The whole team is super excited that we can finally provide this feature to all of you. Also, AWS Team – thank you for the great collaboration.
There may be things you never knew Davis could do.
While we see Davis still being mostly used to get updates about problems, there is so much more that is possible. Today, we support the amazing number of 90 different interactions. Many of them are based on user feedback. For example, did you know:
That you can ask Davis for a specific problem
You can use Davis to add a comment to a problem
You can get your daily update report
Increasing the number of interactions Davis can support is now a major priority for us. We will continuously improve the support for DevOps use-cases, while adding more and more business-focused interactions targeting the questions executives have about their applications.

Teach Davis new interactions easily
The initial idea of the Davis open source project was to enable you to extend the questions Davis can answer. While we learned that the initial approach was a bit too cumbersome, we still want to have this capability as a core piece of Davis
Within the next months, we will release a new feature called "Custom conversation" that will allow Davis to support custom conversations. Initially, this will be provided via a simple web hook. In the future, however, there will be a deeper integration as part of the Dynatrace platform.
Davis in the Dynatrace Web UI
While the setup of Davis with Alexa and Slack has become very easy, we want to provide an even deeper integration going forward, by having Davis directly integrated into the Dynatrace search. Yes, you read right. You will be able to start chatting with Davis right from within the Dynatrace Web UI.
Davis innovation will continue
As you can see, there's a lot more innovation coming with Davis. At Dynatrace, we always envision how technology can make our customers' lives even easier. That's why we're currently exploring new ways for how we can make visual interactions more natural and intuitive…
/news/blog/dynatrace-augmented-reality-future-collaboration/