Over the last couple of weeks we ran a Closed Beta Program with some of our Dynatrace AJAX Edition Community Members. The big focus of Dynatrace AJAX Edition 3.0 is Support for Firefox and Automation.
Thanks to the feedback we are comfortable to open the beta up to the general public. Not yet though – just a couple of more days. Check the Countdown Ticker on /platform/digital-experience-monitoring/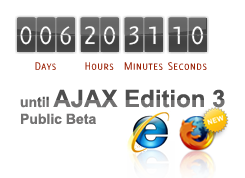 Save the Date: March 8th
Come back to the Dynatrace AJAX Edition page and get your copy of the public beta. Let us know through the Dynatrace Forums what you think or ask questions to the community.