Are you responsible for your company's web applications?  You should know that consumers have become less tolerant of poor website performance and are a lot more prone to action when they encounter problems.  Basically, website users are mad and they are not going to take it anymore.
How do we know this?  We commissioned a study about user behavior around websites during peak traffic times such as black Friday, peak travel days, or the end of a financial quarter.  Whenever you might think that website traffic would increase for a particular type of company.
The survey is a follow on to a survey done in 2009 that found that 29% of consumers found performance issues to be unacceptable.  That number has increased significantly to 37%.
The second notable finding in the new survey was that while consumers have less tolerance for poor performance, they are even more likely to respond to a bad experience more quickly. Particularly for e-commerce sites – 61% of consumers report having a bad experience this holiday season.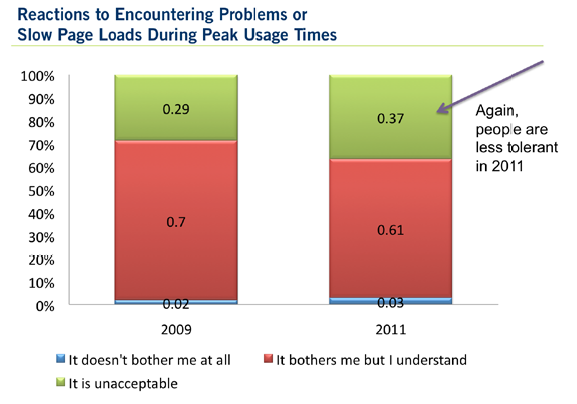 When consumers experience poor website performance, 54% will leave a site after one or two bad experiences, up from 41% in 2009. 31% will make a purchase on a competitors' site, up from 18% in 2009.
With web use for business ubiquitous, consumers want instant gratification and there are plenty of websites to choose from to get it.  Even if your product is unique, the Internet is so big that people will look elsewhere if your website performance isn't up to snuff.
When the shopping experience itself is a commodity- you have to differentiate by excellent service, the website is your service platform.