Last fall, we announced our platform release [add link] where we delivered our entire integrated APM product set. Well, we've done it again!
Today, delivering web, non-web, mobile, streaming or cloud-based applications to customers or employees involves a complex set of services and multiple layers – the application delivery chain. We've talked about the application delivery chain in the past, but have expanded the view to the left side "behind the firewall" into the data center including multiple tiers, virtualization, WAN optimization. This reflects the comprehensive coverage of our combined on-premise solution (the artist formerly known as Vantage) and our SaaS solution.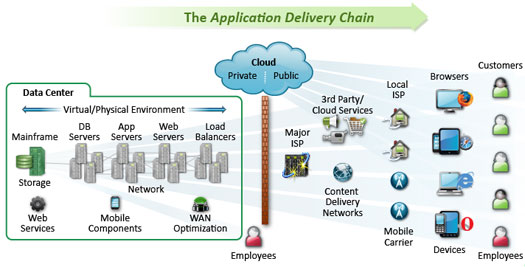 Today we announced our latest platform release, the first release rebranded under the single product brand – Gomez. This release focuses on new innovations to measure end-user experience so organizations can optimize their mobile application performance, measure the business impact of web application performance and integrate with web performance technology from Google. Here are the details of the industry-firsts included in this release:
Gomez Mobile Real-User Monitoring: How do you know the performance your customers are really experiencing on both your mobile websites and your native applications?The industry's first mobile real-user monitoring solution provides deeper insight into mobile performance "in the wild" and enables your organization to understand the actual performance end users are experiencing when using native mobile applications or accessing websites from mobile devices.Gomez Mobile Real-User Monitoring provides detailed performance analytics not available in any other monitoring solution. It works for native mobile applications and browsers across any mobile device, operating system or carrier.
Gomez Browser Real-User Monitoring Performance Conversion Analytics: One of the challenges of managing performance is being able to define the business impact of poor performance. Do you know how many customers are abandoning key transactions as the result of a performance issue?Performance Conversion Analytics measures the business impact of poor performance on web conversions by correlating web performance with abandonment along each step of a web transaction.Gomez Browser Real-User Monitoring measures the number of users who have a satisfying, tolerating or frustrating experience. With this information, you know if performance is helping or hurting web conversions which directly impacts online revenues. It also helps you to justify further investments in services and infrastructure to help improve performance.
Integration with Google's Page Speed: Google Page Speed is a browser extension that runs a set of diagnostics based on standard best practices to 'speed up' page load time. The diagnostics includes resource caching, data upload and download size, and client-server round-trip times.To enable easy access to these best practices, we're providing the first and only integration with Page Speed, allowing you to leverage the Google technology directly in the Gomez Recorder to quickly identify suggestions for optimization.
Internet Health Map with Last Mile Data: "Is it me or the Internet?" This is often the first question asked when there's a performance problem. This free offering from Compuware uses a "collective intelligence" approach to indicate the operational health of the Internet to help organizations determine if a performance problem is specific to them or shared by other users.By comparing the results of the millions of tests that run on the Gomez Global Performance Network [http://www.gomeznetworks.com/] every day, to a rolling baseline of data for the same weekday and time, the Gomez Internet Health Map detects aberrations that are indicative of a general Internet performance issue at specific geographic locations.Because Compuware has the only extensive testing network with real computers that operate at the "edge of the Internet" running behind local ISPs, this "Last Mile" data perspective provides the most accurate insight into the true performance conditions experienced by real users.
The above 'industry-firsts' are just some of the highlights in our Spring platform release. If you want more details, please read our FAQ that provides the full scope of the key enhancements included in our latest release.