Today, Compuware announced the acquistion of Dynatrace, setting a new standard in Application Performance Management (APM). The $256M deal closed on July 1, 2011.
As more organizations turn to cloud-based, agile and other development models to meet business needs, old APM tools no longer suffice. The combination of Dynatrace and Compuware Gomez gives Compuware customers unbeatable insight into the performance of every transaction across development, test and production.
"Organizations today depend on the rapid development and delivery of high-performing applications to drive revenues, customer satisfaction and brand," said Compuware Chief Executive Officer Bob Paul. "To meet these demands effectively, IT organizations must have visibility into the performance of every transaction, from development, through test and in production. Together, Compuware and Dynatrace APM solutions allow IT to meet business demands for performance and agility through unbeatable insight into the end user experience – whether in cloud, complex or traditional environments."
In an online video posted today as well as in a press conference, Compuware leadership outlined the following points that make the combination of these two companies "unbeatable in the APM marketplace":
Combined APM solution uniquely meets the new demands of modern apps and cloud-based services
Unmatched insight into the end user experience — whether in cloud, complex, or traditional environments
Bridges the gap between development, test, and high-volume production environments
Pinpoints the most difficult performance issues on browser devices and servers
Simple, fast deployment = rapid time-to-value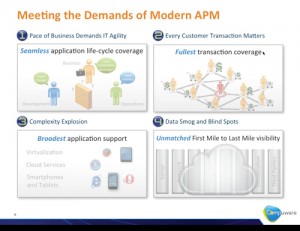 Learn more about the new APM solution from Compuware here.