Today, more than 50% of Americans own a smartphone. They use them to update Facebook profiles, scan and deposit checks, find restaurants and more often than not work.
As a result of today's workforce becoming more dispersed and collaborative, employees often want to use technologies of their choice, including their own personal devices. Businesses have been quick to embrace this trend and give employees the ability to perform critical business functions anytime, anywhere, in the hopes of leveraging gains in productivity.
A recent study by Forrester Research shows that 60% of employees use their personal mobile devices at work. Some organizations have reported over 75% of devices on their networks are owned by employees. While this trend is viewed by some as risky and painful, causing security, liability, and management issues, others have embraced it.
Companies that have embraced Bring Your Own Device' or BYOD have opened up a Pandora's box of potential technical issues, only some of which have come to light. Recently IBM's CIO tightened the company's BYOD restrictions on certain software apps, citing security problems. A Cisco Systems study also revealed BYOD is creating internal support issues at many enterprises.
While BYOD offers flexibility, freedom and potential productivity gains, it also increases the complexity at the edge of the Internet.  To make matters more challenging, employees have the expectation that they can access their email, Internet and corporate resources not only from their laptop, but also on their iPhone, iPad, Android device or Blackberry.
It is not unusual to see the number of mobile clients in an enterprise double, or even triple, with the same number of employees, since each user may have two or even three devices in use, such as a laptop, smart phone and tablet. Employees also expect to receive the same high level of user experience, in terms of seamless access and wire-like performance that they receive with the services that they are used to consuming on their mobile devices.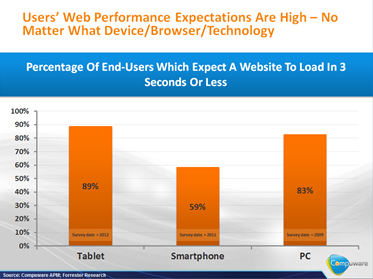 Arguments for allowing employees to bring their own devices into the office environment abound – from helping employees become more productive, to making it easier to attract and retain talent, to simply submitting to a tidal wave of change that is impossible to resist.
However, the chart below provides a snapshot of just one culprit that can impact employees' user experience – the large number of web browsers and how differently they perform on various mobile and desktop devices. This small sample shows average page load times for just a few of the hundreds of possible device/OS/browser combinations.
Since many applications are delivered via the web (and much of the work of an application happens within the browser itself) how can an IT department ensure the application speed and availability that the business demands for so many variations? The first step is to gain visibility into the performance of business sites and applications across all devices and networks used by employees.
But tracking and managing performance levels is now exponentially more difficult as more and more devices and applications are in play. If you can't verify the reliability and performance of mobile sites and applications, then you'll create frustrated, non-productive employees.
Visibility into application performance across networks and devices is needed to understand and track performance, quickly spot problems and correct issues before they impact employee productivity or result in unwanted support tickets.
While the BYOD concept is great for employees, it's not as simple as it appears. Expect more stories focused on the growing challenges of BYOD as enterprises deal with the additional complexities of supporting the growing number of browsers and devices.