The term Business Transactions and Business Transaction Management is widely used in the industry but it is not always well understood what we really mean by it. The BTM Industry Portal provides some good articles on this topic and is definitely recommended to check out. The general goal is to answer business relevant questions that business owners have to application owners: "How much revenue is generated by a certain products?", "What are my conversion and bounce rates and what impacts them?" or "Do we meet our SLAs to our premium account users?"
Challenge 1: Contextual Information is more than just the URL
In order to answer these questions we need information captured from the underlying technical transactions that get executed by your applications when users interact with your services/web site. Knowing the accessed URL, its average response time and then mapping it to a Business Transaction is the simplest form of Business Transaction Management – but doesn't work in most cases because modern applications don't pass the whole business transaction context in the URL.
Business Context information such as the username, product details or cash information usually comes from method arguments, the user session on the application server or from service calls that are made along the processed transaction.
Challenge 2: Business Context is somewhere along a Distributed Transactions
Modern applications are no longer monolithic. The challenge with that is that transactions are distributed, they take different paths, and data we need for our business context (username, product information, cash information, …) is often available on different tiers. This requires us to trace every single transaction across all tiers in order to collect this data for a single user transaction: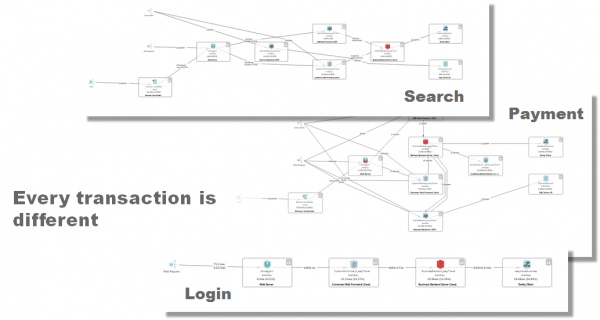 Challenge 3: Understand your users means: All Users, All Actions, All the Time
Knowing that a certain transaction of a user failed including all contextual information is great. In modern applications users have many ways to reach a certain point in the application, e.g.: checking out. So the questions are: How did the user get to this point? What were the actions prior to the problem? Is one of the previous actions responsible for the problem we see?
In order to answer these questions we need access to all transactions of every single user. This allows us to a) understand how our users interact with the system b) how users reach our site (identify Landing Pages) c) where users drop off the site (important for bounce rate and bounce page evaluation) and d) which paths tend to lead to errors. It also supports a critical use case in Business Transaction Management which is User Complaint Resolution, e.g.:  when user "Maria" calls the support line we can look up all her transactions, follow her steps and identify where things went wrong: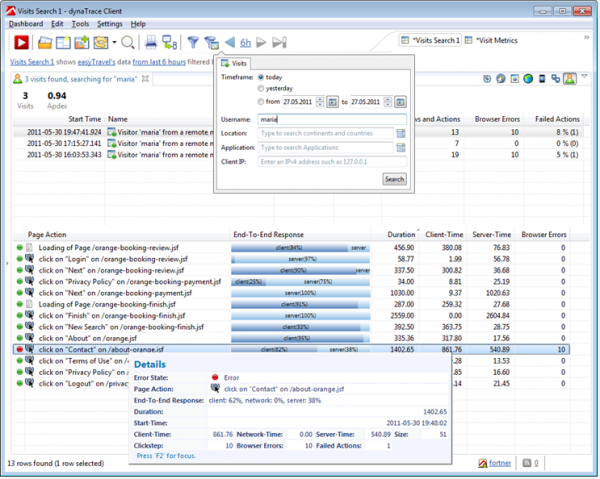 Why continue reading?
In this blog I give you more examples on Business Transaction Management and focus on the challenges I just explained:
Its more than just URLs we need to analyze as modern web applications are more complex
We live in a distributed transactional world where business context data can come from every involved tier
We need to focus on every user and every action to understand our users
To make it easier to understand I also bring examples from PGAC and other real life BTM implementations.
An Example on Business Transactions
Lets assume we have a web site for a travel agency. The interesting business data for this type of application is
What destinations are people searching for as I want to make sure I offer trips to those regions and people find what they are looking for
How many trips are actually being sold?
How much money do we make?
How many people that search actually buy (convert)? Are there certain trips that have a better conversion rate?
From a technical perspective we can monitor every single technical transaction – that means: we can look at every single Web Request that is processed by our application server. If we do that we basically look at a huge set of technical transactions. Some of these transactions represent those that handle search requests. Some of them handle the shopping cart or check-out procedure. The first goal for us however is to identify the individual business transactions such as "Search":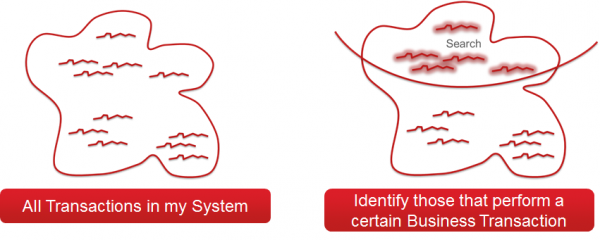 Now – not every search is the same. In our case the search keyword or trip destination is interesting so we want to split the search transactions by the destination used in the search criteria. That allows us to see how many search requests are executed by destination and also how long these search requests take to execute. Assuming we have to query external services to fetch the latest trip offerings it could be very interesting to see how fast or slow searches for specific destinations are or whether the number of search results impacts query time and therefore user experience.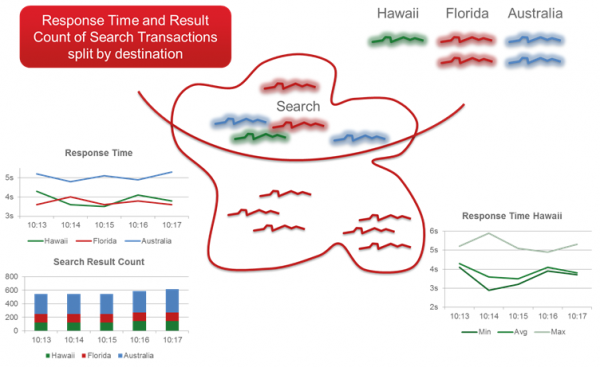 The next interesting aspect is of course the actual business we do or don't do. If our website serves different markets (US, EMEA, ASIA, …) it is interesting to see revenue by market. The next illustration shows that we can focus on the actual Purchase Business Transactions. On these we evaluate generated revenue, the market that generated the revenue and whether there is a performance impact on business by looking at Response Time as well: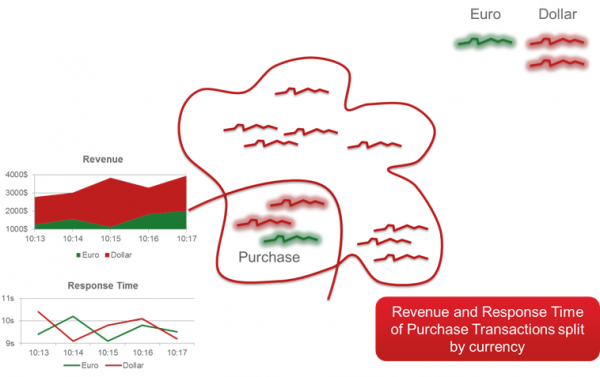 Contextual Information for Every Transaction
In order for all of this to actually work we need more than just capturing the URL and Response Time. A lot of times the type of context information we need is in the user session, in the HTTP POST Body or some parameter on a method call or SQL Bind Value. The next illustration shows us what technical information we are talking about in order to map these values to Business Transactions:

As we live in a distributed transactional world we need the full end-to-end transaction and on that transaction the ability to capture this type of technical but business relevant data.
Every Action of Every Visit to identify Landing Pages, Conversion and Bounce Rates
Some of the most interesting metrics for Business Owners are Conversion Rates, Bounce Rates, User Satisfaction and how well Landing Pages do. In order to get these metrics we need to identify every individual user (typically called Visitor), all actions (individual technical transactions/requests) for the user and the information on whether the user had a good or bad experience (we factor performance and functional problems into that). With that information we can
Identify the Landing Page of a Visitor -> that's the first page that was requested by an individual Visitor. The Landing Page tells you how people get to your website and whether promotions or ads/banners work
Identify the Bounce Rates and Bounce Pages -> a Visitor bounces of your site if only one page was visited. We want to know which pages typically let people bounce off the page so we can optimize them. If you spend a lot of money on marketing campaigns but due to bad performance or a problem on these landing pages people bounce off its money that is wasted
Identify click paths visitors take until they actually convert (buy a product) or where along this path they actually leave -> Visitors usually need to click through a series of pages before they click on the "Confirm" button. If they do these Visitors convert. If they don't and leave your site somewhere along the way we want to know where and why they are leaving in order to optimize these pages and therefore increase conversion rates
Identify how satisfied our end users are based by looking at response times and any functional problems along their execution path -> Visitors that experience long page load times or run into any type of functional problem are more likely to be frustrated and leave the site before converting. Therefore we want to track this and identify which actions result in a bad user experience
Landing Pages impact whether users make it across the first site impression
Knowing the first action of every visit lets us identify our Landing Pages. Visitors that don't make it further than the landing page bounce off our site right away. This is the first problem we want to address as these people are never going to generate any business. The next screenshot shows how we want to analyze landing pages. It is interesting to see which landing pages we have, which are frequented more often, what's the bounce rate of these landing pages and is there any correlation to performance (e.g.: higher bounce rate on pages that take longer):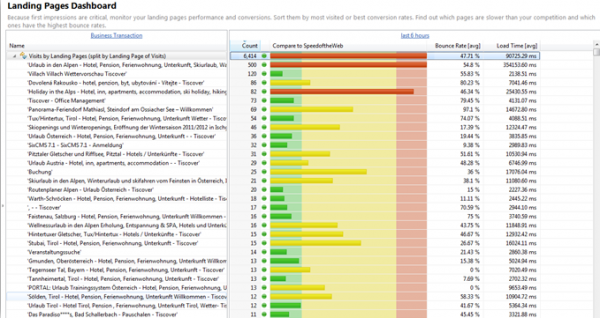 Bounce and Conversion Rates, User Satisfaction and Activity are important metrics for Business Owners
Having every action of every visitor available, knowing whether visitors only visit the landing page and bounce off or whether they also make it to the checkout page allows us to calculate Bounce and Conversion Rates. Also looking at response times, request count and errors allows us to look at Visitor Satisfaction and usage. The following illustration shows all these metrics a Business Owner is interest in: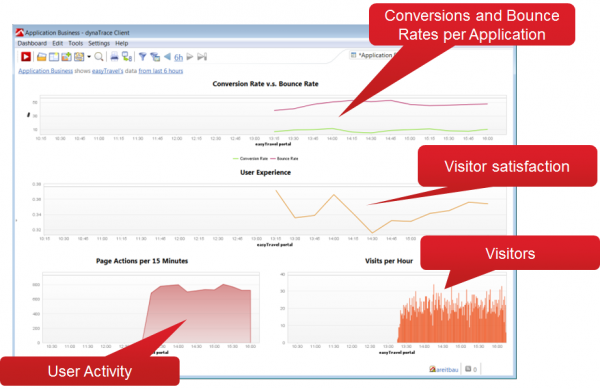 Understand which path Visitors take allows you to improve conversion and lower bounce rates
The underlying data of all these metrics we just discussed are the individual actions of every visitor. Only with that information can we identify why certain Visitors convert and others don't which will help us to improve Conversion Rate and lower the Bounce Rate. The following screenshot shows a detailed view of visits. Having all this data allows us to see which visitors actually bounce off of the site after just looking at their landing page, which users actually convert and what path users take when interacting with our web site: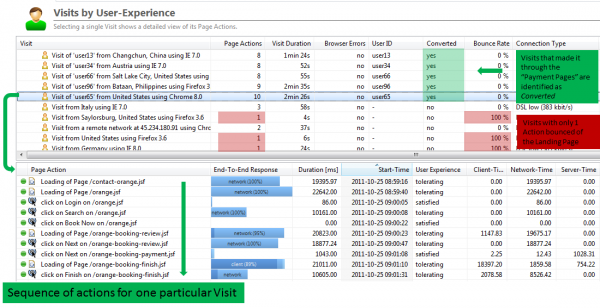 Speed up User Complaint Resolution with all actions available
As already explained in the introduction section of this blog one important use case is speeding up the resolution process of individual users. If you have a call center and one of our users complaints about a problem it is best to see what this particular user did to get to the explained error. Having all user actions available and knowing the actual user along the captured transactions allows us to lookup only those transactions for that particular user and with that really seeing what happened: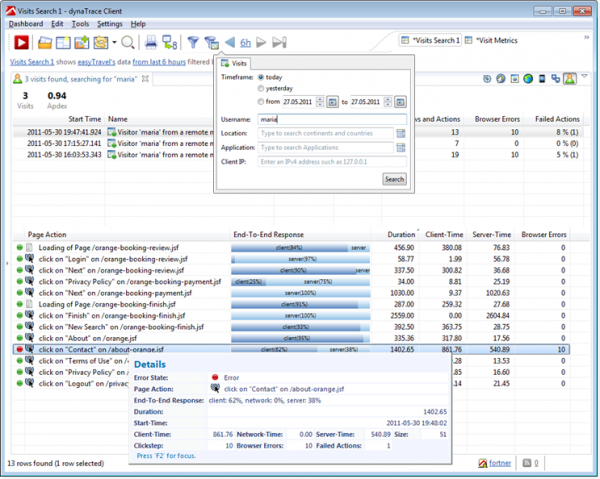 Deep Technical Information for fast problem resolution
Besides using technical context information as input for business transactions (e.g.: username, search keywords, cash amount …) we also need very deep technical information in scenarios where we need to troubleshoot problems. If visitors bounce of the page because of slow response time or because of an error we want to identify and fix this problem right away. In order to do that our engineers need access to the technical data captured for those users that ran into a particular problem. The following screenshot shows a user that experienced a problem on one of the pages which is great information for the Business Owner as he can proactively contact this user. The engineer can now go deeper and access the underlying captured technical information including transactional traces that show the encountered problem such as a failed Web Service Call, a long running database statement or an unhandled exception: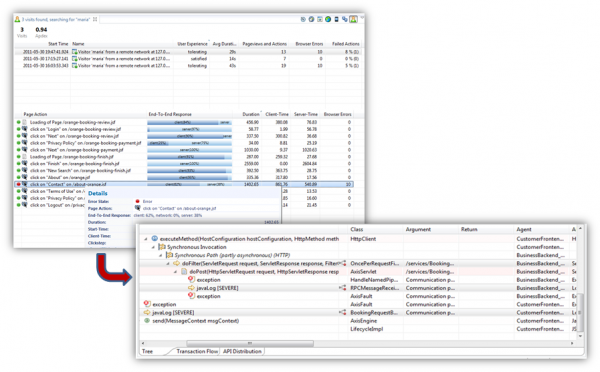 To Sum Up: What we need for Business Transaction Management
There are several key elements we need to perform the type of Business Transaction Management explained
All Visitors, All Actions, All the Time

First Action is Landing Page
Last Action is Bounce Page
Helps us to understand the Click Path through the site, where people bounce off, which path people take that convert
Knowing the Click Paths allows us to improve Conversion Rate and lower Bounce Rates
Looking up the actions of a complaining users speeds up problem resolution

Technical Context Information on a Distributed Transaction

URLs alone are not enough as the Business Transaction itself is not always reflected in URL or URL Parameters
Need to capture Business Context Information from HTTP Session, Method Arguments, Web Service Calls, SQL Statements, …
This information comes from multiple tiers that participate in a distributed transaction
Technical context information speeds up problem resolution
Out of the Box Business Transactions for standard applications
From an implementation perspective the question that always comes up is: Do I need to configure all my business transactions manually? The answer is: not all – but for most applications we have seen it is necessary as business context information is somewhere buried along the technical transaction and is not necessarily part of the URL. Identifying Business Transactions based on the URL or Web Services that get called is of course a valid start and is something that most Business Transaction Management Solutions provide and it actually works quite well for standard applications that use standard Web Frameworks. For more complex or customized applications it is a different story.
Business Transactions by URL
The easiest way to identify Business Transactions is by URL – assuming your application uses URLs that tell you something about the related business transactions. If your application uses URLs like the following list you can easily map these URLs to Business Transactions:
/home maps to "Home"
/search maps to  "Search"
/user/cart maps to "Cart"
/search?q=shoes still maps to "Search" but it would be great to actually see the Search by Keyword
The following screenshot shows the automatically identified Business Transactions based on URLs in Dynatrace. We automatically get the information if there are any errors on these transactions, what the response time is or how much time is spent in the database:

Business Transactions by Service/Servlet
Another often seen scenario is Business Transactions based on Servlet Names or Web Service calls that are executed by the technical transaction. This is most often very interesting as you want to know how your calls to the Search or CreditCard Web Service are doing. The name of the invoked web service method is often very descriptive and can therefore be used for automatic business transactions. Here is an example: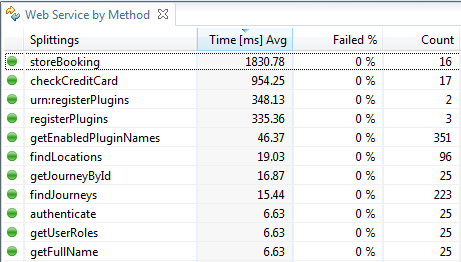 Business Transactions by Page Titles
Better than URLs are very often Page Titles – thats the actual Title of the Pages users visit. The following shows us business transactions per page title including information on whether problems are to be found in the browser (Browser Errors), Client, Network or Server allowing a first quick root cause analysis:

Customized Business Transactions for non-standard applications
A lot of applications our customers are using don't use standard web frameworks where URLs tell them everything they need to identify their business transactions. Here are some examples
Web 2.0 Applications use a single service URL. The actual executed business transaction name can only be captured from a method argument of the dispatcher method on the backend
Enforcing SLAs by Account Types (Free, Premium, Elite Members): The account type of a user doesn't come via the URL but is enumerated with an authentication call on the backend
Search Options are passed via URL using internal IDs. The "human readable" name of this option is queried from the database
The Booking Business Transaction is only valid if multiple conditions along the technical transaction are fulfilled, e.g: CreditCardCheck OK and Booking was forwarded to Delivery
Let's have a look of some examples on how we use Customized Business Transactions in our own environment
Requests by User Type
On our Community Portal we have different User Types that access our pages. It includes employees, customers, partners, … – when a user is logged in we only get the actual user type from an authentication call that is made to the backend JIRA Authentication Service. We can capture the return value of the getGroup service call and use this to define a Business Transaction that splits all authenticated transactions by this User Type allowing me to see which types of users are actually consuming content on our Community Portal: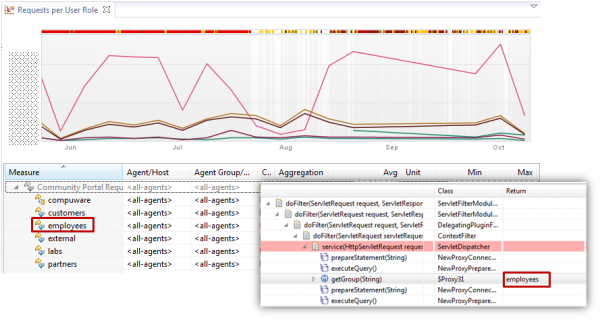 Search Conversion Rates
We have a custom search feature on our community portal. In order to ensure that people find content based on their keywords I need to understand two things: a) what keywords are used and b) which keywords result in a successful click to a search result and which ones don't -> that helps me to optimize the search index. The following screenshot shows the two Business Transactions I created. The first splits the search requests based on the keyword which is passed as HTTP POST Parameter on an AJAX call. The second looks at clicks to content pages and shows those that actually came from a previous search result. For that I use the referrer header (I know the user came from a search result page) and I use the last used search keyword (part of the user session):
These were just two examples on how we internally use Business Transactions. In the described use cases it is not possible to just look at a URL, a Servlet or Web Service Name to identify the actual Business Transaction. In these scenarios and scenarios that we always see with our customers it is required to capture information from within the technical transaction and then define these Business Transactions based on the captured context data.
A practical example: How PGAC uses Business Transactions
As a last example on Business Transaction Management in real life I want to highlight some of what was shown during last week's Webinar by Glen Taylor, Web Service Architect, from PGAC. PGAC runs TheGeneral.com and PGAC.com. Their web application doesn't have URLs that tells them whether the user is currently asking for an insurance quote or whether they are in the process of verifying their credit card. The information about the actual business transaction comes from the Instance Class of an object passed to their ProcessFactory. Dynatrace captures the object passed as argument and its actual class. With that information they are able to split their technical transactions into Business Transactions.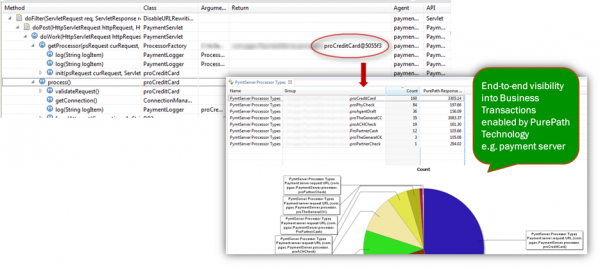 If you are interested in their full story check out the recorded webinar. It will be available for download on the dynaTrace recorded webinar page.
More on Business Transaction Management
If you are already a Dynatrace user you should check out the material we have on our Dynatrace Community Portal: Business Transaction in Core Concepts and Business Transactions in Production
If you are new to Dynatrace check out the information on our website regarding Business Transaction Management and User Experience Management