We're proud to announce the beta availability of Dynatrace HAProxy monitoring. HAProxy is a commonly used load-balancer and proxy for TCP and HTTP-based applications that is considered to be fast, reliable, and well-suited for high-traffic websites.
While HAProxy monitoring is in beta you need to manually configure and activate it before you can use it. Configuration of HAProxy monitoring on all your hosts only takes about a minute, regardless of the number of hosts that HAProxy runs on. Even better, the extension doesn't require you to create a config file, restart your agents, or execute numerous commands.
Prerequisites:
OneAgent v1.85 (or higher)
HAProxy v1.4 (or higher),
HAProxy needs to be started in  daemon mode only (-D)
Configuration options
There are two configuration options available for HAProxy monitoring:
global (applicable to all hosts) The main advantage of using the global configuration option is that, once configured, when a new host running HAProxy is detected in the future, monitoring will be activated and metrics will be gathered automatically.
local (specific hosts only)
To enable HAProxy monitoring globally (recommended):
From the navigation menu, select Settings.
Select Monitored technologies.
Click Edit next to the HAProxy extension listing.

Depending on your HAProxy settings, enter either the User, Password, and URL for your HAProxy stats page (e.g., http://localhost:1936/haproxy?stats), or simply enter a URI prefix.
Click Save.
Set the HAProxy switch to On to enable HAProxy monitoring.
Ensure that the Extensions manager switch is also set to the On position.
To enable HAProxy monitoring locally:
Go to a Host page with HAProxy running.
Click Edit to configure HAProxy locally.
Expand HAProxy extension listing.
Follow 4-7 as for global config.
Note: Before you can enable the local configuration option you must first disable the global configuration option if it was turned ON previously.
Viewing HAProxy monitoring metrics
HAProxy metrics captured by the HAProxy monitoring extension are displayed on all HAProxy Process pages. Click into the infographic or click the HAProxy metrics and Further details tabs to view all available metrics.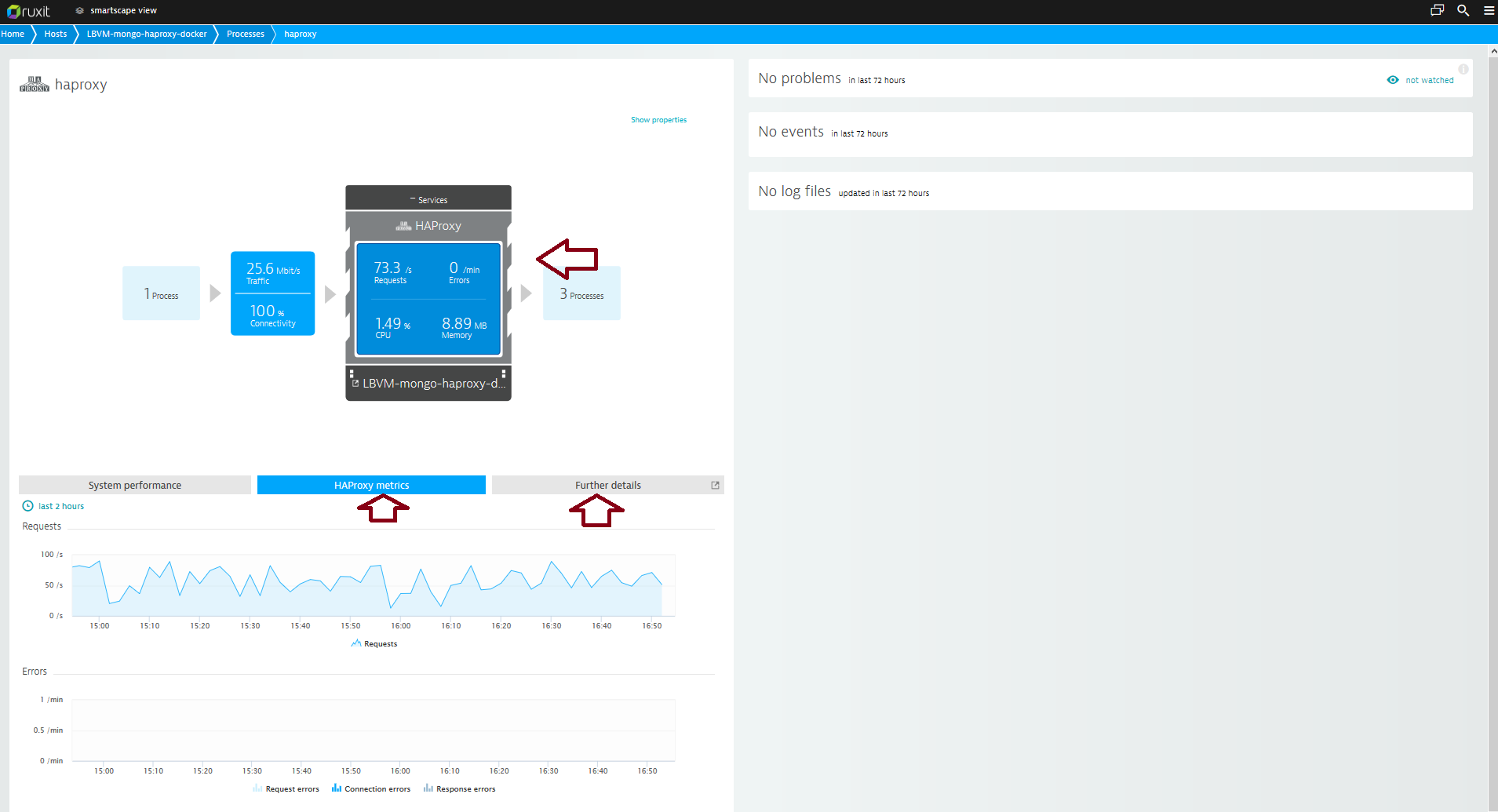 HAProxy metrics descriptions