Are you the one to decide on implementing your next project based on public cloud platforms such as Windows Azure? Is it going to be HTML5, Flash or Silverlight for your rich end user interface? Have you thought about the costs running on cloud services that seem cheaper than hosting on your own hardware? What other open questions and second thoughts do you have that keep you from making a decision?
Getting End-to-End Visibility in Windows Azure
Our partner 'software architects' already walked through these questions and concluded to deploy their time cockpit application (timecockpit.com) on Windows Azure using Silverlight as one of their client technologies for their Software as a Service (SaaS) offering. With these decisions also arose several challenges such as
How to get visibility into every end user and automate collection of client side performance and functional problems?
How to best prioritize and reduce mean time to repair of identified problems?
What are the best practices to analyze and optimize application performance on these new sets of technologies and platforms?
Leveraging Dynatrace User Experience Management (UEM), Application Performance Management (APM) for Windows Azure and the early access support for Silverlight allows them to
Automatically and centrally track all user actions, client- and server-side performance and functional problems 24/7 to answer: What exceptions are thrown in Silverlight and impact the end-user? Are errors related with the used browser or Silverlight version? Are errors caused by the application deployed on Windows Azure?
Easily perform an impact analysis of identified problems to answer: Was this a problem due to a user error or an application error? Does this happen to a specific user or for everybody? What's the severity of this error?
Analyze and correlate runtime cost of Windows Azure to user interactions to answer business questions such as: How much does it cost to provide the service for a user? How much money do we need to charge to break even? How can we optimize cost by optimizing our implementation?
The following image shows a Dynatrace end-to-end PurePath starting in Silverlight tracing all the way through their ASP.NET application hosted on Windows Azure into SQL Azure. The client side error logging (such as exceptions that impact the end user experience) and the connection with server side transactions gives them visibility they haven't had before: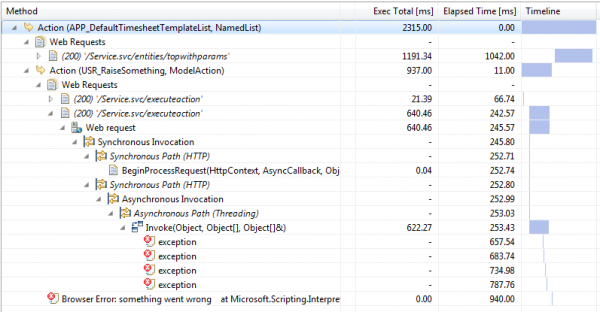 Join the Best Practices Webinar
Real End User Experience Management was one of the open questions 'software architects' had to answer when moving their application to Windows Azure and deciding to use Silverlight as one of their client technologies. Managing cost, optimizing application performance and leveraging the scalability options of Windows Azure are additional challenges they are dealing with.
If you are in the progress of moving to a public cloud platform such as Windows Azure or want to learn more about the best practices from 'software architects' then join us for the upcoming webinar on April 25th with Alexander Huber and Simon Opelt, and Daniel Kaar from Dynatrace Software.
If you are a Dynatrace Community Member you can access our Azure Best Practices.